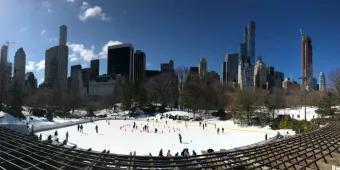 Experience ice skating in Central Park!
Ice Skating in Central Park is an iconic New York City experience. You can book your tickets now and join in the fun…
It's almost (nearly, kind of) that time of year, and here at ATD we think it's never too early to start getting excited about Christmas! If you're planning a winter break to New York City, there are lots of fun festive things to do, but one of our favourite ways to get in the Christmas spirit has to be ice skating in Central Park! If you want to join in the fun and experience this famous festive tradition for yourself, you'll be pleased to hear that tickets are now on sale!
That's right, you can now book tickets for ice skating in Central Park. The rink will open on 26th October and the good news is, it will remain open until 7th April, so if you're not visiting over Christmas, you still have plenty of time to pay a visit.
The famous Wollman Rink has been a favourite with New Yorkers and tourists alike, ever since it first opened back in 1949. It's amazing Central Park location means you not only get to admire the stunning surroundings of the park while you skate, but also the towering city skyscrapers all around you. This really is a magical experience that's not to be missed!
You might even recognise the Wollman Rink from the big screen. It has featured in countless films and TV programmes over the years, including Home Alone 2, Serendipity and Love Story to name just a few.
Top tip- After skating around the beautiful rink, make sure you get a hot chocolate to warm yourself up!
If you're visiting NYC, we're sure you've got a long sightseeing "to-do list". That's why our great value, Central Park Ice Skating ticket packages are an ideal option. These give you a real gate-ready ticket for the Wollman Rink (which includes skate rental) and also admission to some of New York City's top attractions! Whether it's the iconic Empire State Building, Top of the Rock or Madame Tussauds, we've got you covered.
You can even purchase a Central Park Ice Skating ticket package which is paired with a multi-attraction pass, giving you the opportunity to tick several of the city's most popular attractions off your list. These combination tickets not only give you the chance to visit multiple attractions, but also SAVE you money on the gate price- and who doesn't want that?
Want to experience the magic for yourself? Click here, to book Central Park Ice Skating tickets.
Liked this post? You may also like…