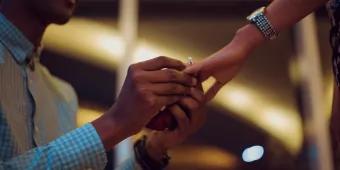 Make unforgettable memories when you propose at one of these romantic locations in Florida.
Planning to pop the question this Valentine's Day? Check out these list of romantic places to propose to your loved one in Florida, and make your holiday truly magical!
A trip to Florida is the perfect time to show someone how much you love them, and if you're planning to ask THAT question during your holiday, you'll want to do it at one of these romantic places.
We've picked out ten places we think would make a great setting for a very special, life-changing moment. 
Cinderella's Castle - Walt Disney World Resort in Florida
This magical area has been the home to many proposals across the years, and for good reason. Cinderella's Castle makes a wonderful backdrop to those all important photos, and you're bound to receive some congratulations from fellow Park-goers too. Jazz up the moment even more by donning your finest Disney merchandise, and get whisked away in the wonderful world of love and Disney. 
Lake Eola Park - Downtown Orlando
Head into the city and experience another side to Orlando, with a romantic trip to Lake Eola Park. There's many places across the Park that would be perfect for a proposal, especially when the sun is setting and the surrounding city lights start to brighten up the evening. Walking around the sidewalk is one option - the path circles the lake and makes for some wonderful views. Another idea is to rent the swan-shaped paddle boats and pop the question while on the lake itself. There's also beautiful flower-beds and great restaurants across the park area - ideal for continuing the romance.
The Wheel at ICON Park
Take in the sights of surrounding Orlando with your loved one when you board The Wheel at ICON Park. Our ICON Park Champagne Experience is the best option for those planning a proposal here, as you'll receive a glass of champagne each with your ride. Again, we recommend planning this experience later in the day so you have the spectacular sunset to add to your experience. You'll get great pictures and fantastic memories to share with everybody back home!
Discovery Cove
A visit to Discovery Cove is an unforgettable, unique experience already, so why not make it extra special by proposing to your loved one during your day there? Our Discovery Cove Packages gives you a full day's experience at the attraction, so there'll be plenty of opportunity to pop the question. We'd recommend tying it into the dolphin swim (included with the dolphin swim tickets), for a truly unique memory. After the big question, there's plenty of places to celebrate and relax across the attraction, and a selection of alcoholic drinks are also included with your ticket too, so you can even toast the occasion! 
The Wizarding World of Harry Potter - Universal Orlando Resort
If you and your other half are Harry Potter fans, there's really nowhere else in Florida that you'll want to have your proposal. The area is so immersive and detailed, that you'll feel like you really are kneeling down on the cobbles of Diagon Alley. Pick a house and don your capes, and capture those fantastic photos in front of the fire breathing dragon on top of Gringotts too. You'll be able to celebrate the occasion by sampling some of the many variations of butterbeer and taking a ride on Hagrid's Magical Creatures Motorbike Adventure attraction. Use your finest love spell and have a truly magical proposal…
Florida Beaches
While the theme park hub and bustling city of Orlando may be top of most people's Florida bucket lists, a lot can be said about Florida's outstanding beaches. Whisk your loved one away on a romantic overnight trip to the coast, relaxing along one of the white-sand, crisp blue-water beaches. Your proposal could be as simple as a quaint picnic on the beach, or maybe you'd like to do it in one of the world-class seafront restaurants? However you decide to incorporate the beach into your proposal, one thing is for certain - it will be wonderfully peaceful and spectacularly breathtaking. Our top beach picks are: Clearwater Beach, St Augustine, Daytona Beach and Jacksonville. 
Disney's Boardwalk - Walt Disney World Resort in Florida
Head to Disney's Boardwalk for timeless, romantic charm and a range of exquisite dining, unique shops and exciting nightlife. Time your proposal with a stroll along the water's edge, taking in all the excitement and pretty sights. Again, this is an area which really comes to life in the later part of the day, thanks to the glistening lights and magic of the lake. You can then celebrate your proposal with a meal at one of the many restaurants, and dance the night away at one of the bustling nightclubs. 
Balloon Ride
Possibly the most extravagant and unique experience on our list, a balloon ride over central Florida is the ultimate proposal. Soar to dizzying heights and take a relaxing journey across the Orlando area, marveling at the sights below. With our Balloon Flight Over Orlando ticket, you'll also have a champagne toast upon landing to celebrate your amazing adventure - and of course the new engagement! Our experience also takes place at sunrise, a truly magical time of the day. See the city and countryside waking up before you, and pop the question surrounded by beauty. What more could you ask for? 
Harry P. Leu Gardens   
Well-known with the locals but lesser visited by tourists, the Harry P. Leu Gardens (or Leu Gardens for short) is an amazing botanical oasis just minutes from Downtown Orlando. Explore the different gardens to find the perfect location to ask that all-important question. There's over 50 acres of greenery to choose from, so we're sure you'll find the ideal spot. You may even squeeze in a tour of the Leu House Museum too, to find out more about the attraction. An understated, yet elegant location for your special day. 
Volcano Bay - Universal Orlando Resort
Rent a cabana and spend the day lounging around Volcano Bay, one of the best water parks in Florida. You'll enjoy a secluded and luxurious experience in the private cabana, which comes with towel service, padded lounge chairs, complimentary fruit and snack basket, a small fridge with bottled water, and a concierge service too - this enables you to get any item from any of Volcano Bay's four restaurants or two bars! This experience will combine romance and fun, making for an unforgettable day and wonderful, unique proposal. 

Ready to plan your Florida proposal? Browse our Orlando Combination Ticket packages now!