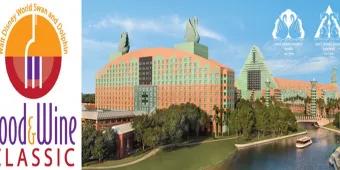 Enjoy two days of wine and beer tasting at Epcot!
Disney World's Swan and Dolphin Food and Wine Classic is held at Epcot, Disney World and invites you to enjoy an event that celebrates fine wines and refreshing beers!
As part of Epcot's International Food and Wine Festival at Disney World, Disney's Swan and Dolphin resorts hosts the Food and Wine Classic, an event solely dedicated to wine and beer! Alongside live music, the event features wine and beer seminars and tasting. The event has a number of special deals on offer that allows you to sample unlimited food and beverage for a one off cost!
If an evening of good food, fine wine and great music tickles your fancy, check out the Swan and Dolphin Food and Wine Classic event!