Rooms
Rooms available
Sleeps
Price per room

Max 5

There are no available rooms, please try searching for different dates or a different hotel.
Know Before You Go
Staying onsite at a Disney Resort Hotel is the ONLY way you can access the Disney Park Reservation System without the need to pay for your Disney Tickets in full - Secure your dream Disney holiday today with a £200 deposit
To enter a Disney Park, both a valid Disney Ticket AND a date-specific theme park reservation are now required
Disney Park reservations are subject to availability and are not guaranteed until you have a confirmed park reservation. 
Reservations for the Disney Parks can be made as soon as you receive your Disney hotel confirmation
On receipt of your Disney hotel confirmation, create an account on My Disney Experience and link your Disney booking to start reserving your park days!
Keep up to date with the safety measures and requirements in place at Walt Disney World
Overview
Surrender to the 1940's elegance of this Atlantic City-styled Resort, set against a breezy boardwalk entertainment complex and lake. Disney's BoardWalk Inn transports you back to a simpler, carefree time and is steeped in nostalgia and old-fashioned charm from the grand sitting rooms, shingled roofs and New England-style gardens to the carnival sights and ragtime sounds of the lively BoardWalk.
Magic Touches

Built around a pool with a 200-foot-long water slide, Disney's BoardWalk Inn offers a marina with boat rentals and boardwalk fun. Award-winning ales are brewed on-site and can be enjoyed at the Big River Grille & Brewing Works or for something more active, visit the Muscles & Bustles Health Club.

Dining

Enjoy burgers, nachos and hot wings while watching a game at the ESPN Sports Club, or sample American cuisine with a contemporary twist at the Flying Fish. The resort even has its very own BoardWalk Bakery, where you can try delicious cakes and pastries.

Room Upgrade

One Bedroom Villa
Two Bedroom Villa

Location

Disney's BoardWalk Villas are located in the Epcot Resort Area. Epcot is the closest Walt Disney World Theme Park to this hotel and guests can access regular boat transport which runs approximately every 15 minutes.

Parking Charges

PLEASE NOTE that as from 1st Jan 2020 nightly parking charges of $25 plus tax will apply - (payable locally & Subject to change)


Leisure Facilities

Luna Park themed pool with 200ft waterslide, two further quiet pools on-site and a children's wet play area
Fishing, bike rentals, jogging trails, health club, tennis courts
Disney movies under the stars
Community Hall for board games and arts and crafts

Resort Address

2101 Epcot Resorts Blvd

Lake Buena Vista

Orlando

32830

Florida
Why we love it
It has a fantastic location, situated right on Disney's BoardWalk. It is connected to multiple shops, restaurants and is within easy walking distance of both Epcot and Disney's Hollywood Studios, making it a great choice for those not wishing to rent a car during their holiday.
Until Further Notice: In an effort to make future visits more magical, Disney's Boardwalk Villas Resort is currently undergoing some refurbishment projects across the Resort. During this time, the Resort will be in full operation with all amenities available, including dining, merchandise and recreation locations. it is possible that construction may be seen or heard, but noise should not be heard from Guest rooms between dusk and 9.00am.

We need to tell you something! Please note that this will be an advance booking and your reservation will not be confirmed until 330 days before check-out date. Once confirmed you will receive an updated invoice confirming your reservation.

Hotel Facilities
Bar
Business Center
Concierge Services
Feature Pool
Free Transportation to Theme Parks
Hair Salon
Health Club
Pool with Slide
Quick-Service Dining
Restaurants
Signature Dining
Swimming Pool
Table-service Dining
Valet Parking
Wheelchair Access
Our top tips
You can rent lockers, towels and life jackets at both Disney Water Parks – although life jacket hire is free if you leave an ID card.
Disneys Blizzard Beach Water Park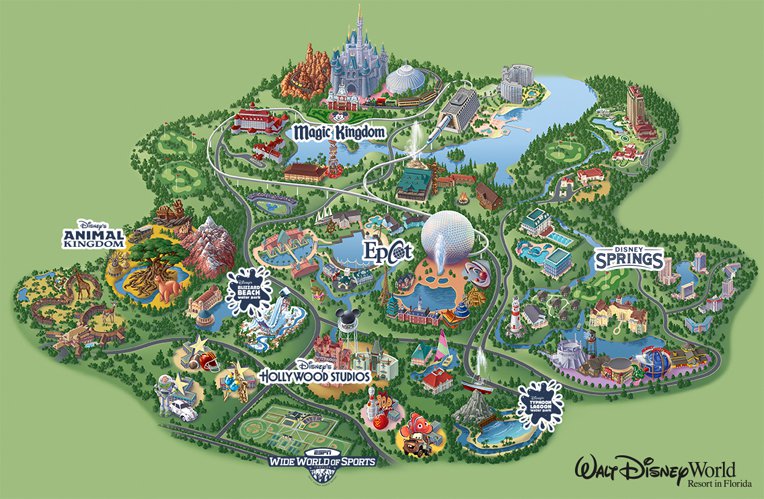 Dining
Big River Grille and Brewing Works

Watch as brew is being made, then enjoy outdoor dining with house specialties including drunken rib eye, grilled apple chops, and sesame tuna. Soups, salads, sandwiches, pasta, and meat loaf are also on the menu. Décor is contemporary and streamlined. Open for lunch and dinner.

BoardWalk Bakery

Boardwalk Bakery is an all time favourite, guests can watch through glass windows as bakers prepare delicious goodies for you to enjoy! Menu items include take-out sandwiches, bagels, pastries, breakfast burritos, and desserts. Open for breakfast, lunch, and dinner.

ESPN Sports Club

This large sports bar features an ESPN store, 100 TVs (all showing sports), and a game arcade, the bar offers a lunch and dinner menu of ribs, chilli, hot wings, steak, fish, burgers, nachos, sandwiches, and salads.

Flying Fish

The Flying Fish is a signature restaurant that offers American cooking with a contemporary twist and has a huge emphasis on seafood. Specialties include potato-wrapped snapper, "Peeky Toe" crab cakes, and oak-grilled steaks. Open for dinner only.
Reseravtions are highly recommended and can be made 180 days prior to your stay.
Room search
Basket
Travelling

Check in:

Check out:

Hotel

Tickets

Dining
Your basket is currently empty.
Added