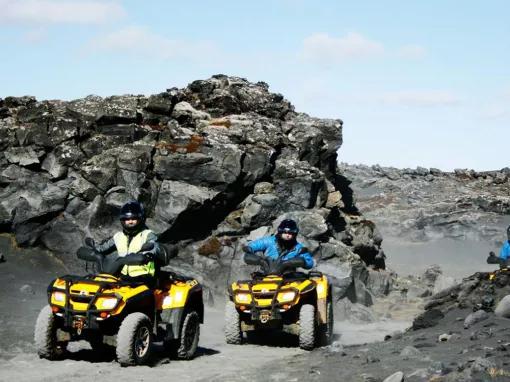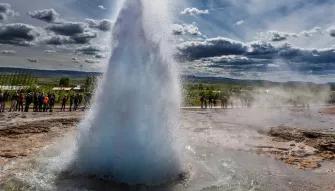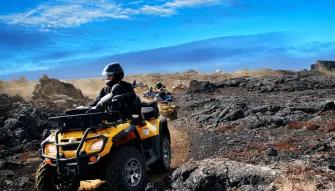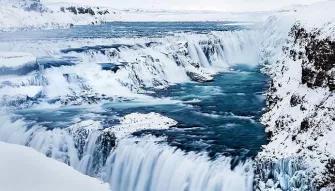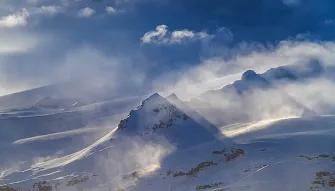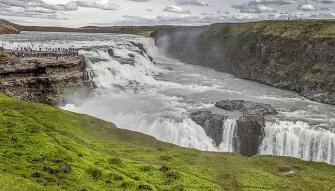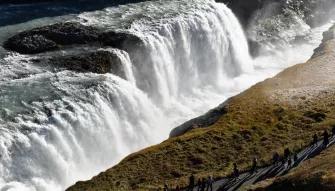 Golden Circle & ATV Adventure
Full details
This fun tour combines a ride on an ATV quad bike and the ever popular Golden Circle tour.
Our guide to Golden Circle & ATV Adventure
ATV is a great way to start an exciting day of exploring different terrains on an open-air all-terrain vehicle. The bikes are fully automatic and easy to handle. There is no need for any prior experience of driving a quad bike; the guides will be there to help. We will then get to test the ATV on different terrains, with an ever-changing landscape, that lead to the mountain top of Hafrafell, giving way to a great view overlooking the buzzing capital area.
The second part of the tour is the beautiful The Golden Circle tour. It includes some of the most popular sights in Iceland and not without reason; one of the most spectacular waterfalls in Iceland, Gullfoss, Geysir hot spring area, from which all geysers got their name and Þingvellir National Park where you can see the American and Eurasian tectonic plates.
Gullfoss, created by the river Hvítá, tumbles into a deep crevice. You do not see the plunge from every angle, so it sometimes looks like the waterfall falls into an abyss. At Geysir Geothermal Area, you can see the geyser Strokkur shoot up a column of water every 4-8 minutes. Thingvellir National Park is important both geologically and historically but there you can see the Eurasian and American tectonic plates above ground – and they are pulling apart at a rate of a few centimetres per year!
FAQs
Frequently Asked Questions for Golden Circle & ATV Adventure
General Information
What is the Golden Circle?

The Golden Circle is Iceland's most popular route between 3 of its most visited attractions, Þingvellir National Park, Geysir geothermal area, and Gullfoss waterfall.

When should I visit the Golden Circle?

The Golden Circle is a year-round attraction, although during Iceland's summer, you will enjoy longer days.
Facilities & Amenities
Are there toilets on the Golden Circle?

There are toilets during the Golden Circle tour, but some locations may require you to pay to use the facilities.
Fun Facts
How many miles is the Golden Circle?

The typical journey covers around 230Km (140 miles). You can actually drive the route in just over 3 hours, but will need to factor in time to stop and take in the sites also.
People who purchased Golden Circle & ATV Adventure also viewed...