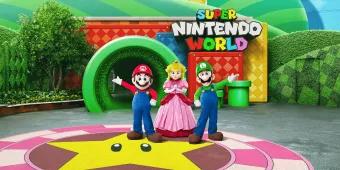 The new land will open on February 17th 2023
Let's-a-go! Get ready to step into the world of Mario, Luigi and Princess Peach in this incredible new land!
There's now no reason to delay booking a trip to Universal Studios Hollywood, as the opening date for SUPER NINTENDO WORLD has officially been announced! This is the news we have (not so) patiently been waiting for since March 2022, and now we know so much more about what the new land will have in store for us! So here are just six things you should know about SUPER NINTENDO WORLD that will have you putting those tickets in your basket faster than a Bullet Bill!
1. SUPER NINTENDO WORLD will be opening on February 17th 2023 
Almost a year after it was first announced to be coming to the California park, SUPER NINTENDO WORLD will open its gates (or pipes we should say) to guests on Friday 17th February 2023. This new land will be an extension of the existing Universal Studios park, so you can enjoy everything it has to offer with a standard admission ticket. 
2. The land will take guests into the heart of Mushroom Kingdom
To get into SUPER NINTENDO WORLD, guests will need to travel by Mario's preferred method of transportation - green pipe. From here, they'll then make their way past Princess Peach's castle and into the heart of Mushroom Kingdom. You'll truly feel like you've landed right in the middle of a Super Mario game! 
The key centrepiece of the land will be Bowser's imposing castle, complete with a breathtakingly large sculpture of Bowser himself. Guests will be able to navigate through the corridors of the castle, passing through halls of medallions and trophies. 
3. The main attraction will be Mario Kart: Bowser's Challenge
If you're known for getting a bit competitive when playing Mario Kart games with friends and family, now is your chance to take it to the next level. Mario Kart: Bowser's Challenge will use augmented reality and projection mapping, alongside a moving track and real set pieces, to make you a part of Team Mario. You'll steer through underwater courses and tracks in the clouds, collecting coins along the way, to win the Golden Cup and defeat Bowser. 
You can get a sneak peek of the ride and so much more in this video:
4. There will be interactive gameplay challenges throughout the land 
As if Mario Kart: Bowser's Challenge wasn't enough, there'll also be all kinds of interactive challenges to take on across the whole land. With the help of some augmented reality binoculars, guests can complete mini-games to collect four keys from Goombas, Koopa Troopas, Piranha Plants and Thwomps that will culminate in a boss battle with Bowser Jr. Make sure you try punching the ? blocks for the chance to collect some digital coins as well!
5. Guests will be able to buy interactive Power-Up Bands™
To enhance the guest experience even further, state-of-the-art wristbands will be available to purchase from stores both within the land and throughout Universal Studios. These can be linked to the Universal Studios Hollywood app, where you will be able to keep track of individual and team scores, collect your digital coins and obtain the keys you win from challenges. 
The Power-Up Bands will also allow guests to enjoy "extra-special interactions with Mario, Luigi and Princess Peach"... we can't wait to find out what these are! 
6. The restaurant will be called Toadstool Cafe™ 
After all those games and challenges, you're sure to work up an appetite. The Toadstool Cafe will be the land's signature restaurant, where chef Toad will be serving up a gourmet menu, including Toadstool Cheesy Garlic Knots, Super Mushroom Soup, Mario Bacon Cheeseburger, Luigi Pesto Chicken Burgers and Princess Peach Cupcakes. Chef Toad himself will even be greeting guests as they enter. 
Were you already planning a trip to Universal Studios Hollywood in 2023? Or was this announcement the sign you needed to book? Whatever your plans, when you book with AttractionTickets.com you can buy a day and get a second day free with our special ticket offer, meaning you'll have plenty of time to experience everything SUPER NINTENDO WORLD has to offer, as well as the rest of the park.