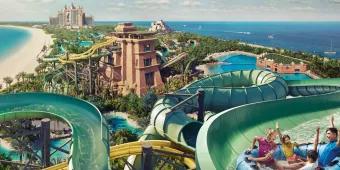 Cool off in Dubai at the country's best waterpark!
Curious about Aquaventure, Dubai's largest waterpark? Read our blog and discover five reasons why you should visit.
Located at the famed Atlantis The Palm Resort, Aquaventure is a welcome, exciting oasis amidst the heat of Dubai. Contrary to popular belief, you don't actually have to be a guest at the hotel to visit this waterpark, making it a surprisingly affordable way to spend a day during your holiday. 
Here's five reasons why we think you should visit the Atlantis Aquaventure waterpark during your trip to the Middle East. 

The Thrills
In a country that is constantly breaking records and reaching new heights, the rides at Aquaventure are certainly no exception. Thrill-seekers will enjoy taking a leap of faith on the many adrenaline pumping offerings at this waterpark, especially the Aquaconda, which is the 'world's largest waterslide'. Expect gravity-defying attractions, the 'first dual water slide within a waterslide', and insanely fast experiences from the rest of the rides at the park. You'll even emerge in a shark lagoon on one slide…
The Ticket
ATD are the only seller which are offering the one-day, single Aquaventure admission tickets for purchase. This means that you won't need to book a night at the hotel (as other holidaymakers have done in the past) to enjoy the waterpark. Not only is this a great affordable option, but it also makes planning your holiday that little bit easier too. The ticket is fully-flexible, and you can use it within two weeks either side of your chosen date. You'll also receive a mobile ticket, so no pesky bits of paper to keep track of (and lose!). 

The Beach 
Aquaventure is the only waterpark in Dubai which has a dedicated private beach, available only to its customers. So even if high-energy slides aren't your thing, a visit to Aquaventure should still be on your itinerary. Relax and unwind on 500 metres of golden sand and on clear blue waters, while the rest of your group take on the attractions.

The Food
Visitors expect excess and opulence during a trip to Dubai, and cuisine at Aquaventure promises just that. The waterpark has a whopping 16 different restaurants and food kiosks. Whether you fancy ice-cream and burgers or perhaps feel like trying something new like Dosas or Korean BBQ, there's something to satisfy every taste-bud at Aqauventure. A great place to refuel and keep that energy going to enjoy all the slides!
The Rapids
Aquaventure has over 2.3km of interconnected river rapids, meaning there's plenty of chance to enjoy a slower paced experience in the water and relax in the sun. Grab a tube and float along the lazy river, taking in the scenes of the park and enjoying the blissful Dubai weather. Grab your friends and take a much-needed rest between all that excitement and action!

Ready to take the plunge at Dubai's largest waterpark? Book your tickets to Aquaventure now. 

Like this post? You may also like…