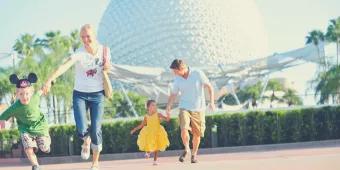 Make your trip to Epcot extra magical
Find out which Disney faces you can meet and where you will find them at Epcot...
A pivotal moment of any Disney park trip is undeniably the opportunity to Meet and Greet your favourite Disney friends - a visit to Epcot is certainly no exception to this rule.The park is divided into two sections: Future World, made up of eight pavilions, and World Showcase, featuring eleven world nations. This short guide will give you a rundown of who you can meet, and where you will find them. After reading this, there's no way you'll go home disappointed because you missed out on a selfie with Winnie the Pooh or a cuddle with Goofy!
At the Epcot Character Spot in Future World, you will find three familiar faces awaiting your arrival. Fortunately, Minnie, Mickey and Goofy are available all day long, so there is no requirement to check the times guide. In addition to this, for any savvy travellers the Fast Pass experience is available to meet three of Disney's most in demand friends, giving you the opportunity to skip the queue and jump straight in for a snuggle with Mickey.
Just across from the pathway from Mickey's Character Spot you will find Big Hero 6's plus-sized, huggable robot, Baymax in the makeshift robotics workshop.  
Two furry friends who are inevitably good fun and should be incorporated into any Disney park trip are the mischievous Chip and Dale. This troublesome pair can be spotted on the left heading towards the Land Pavilion. Unfortunately, these two don't hang around all day, so please do refer to the park guide for timings.
Move on from Future World and in to the World Showcase, where you will encounter several famous faces from all around the globe. The first port of call is Mexico where you will find Donald Duck standing on the left side of the promenade - you won't miss him in his sombrero and poncho!
As you enter the whirlwind around the world you will find Mulan in China, Aladdin and Jasmine can be found at the Lamps of Wonder in Morocco, and in United Kingdom you will meet with Alice, the practically perfect Mary Poppins AND Tigger and Pooh. Make sure your cameras are fully charged for this around the world adventure, because the way the experiences are staggered means that if you plan efficiently you can meet every single character in one day (make sure you refer to the timings guide).
In June last year, everybody's favourite Princesses landed at the Norway Pavilion at Epcot. Frozen Ever After features a magical boat ride through the kingdom of Arendelle. However, the real highlight of the "Frozen" experience is of course the Meet and Greet with the royal sisters in their new Royal Sommerhus. Inspired by a Norwegian countryside cabin, Anna and Elsa have opened their summer home for visitors.
For the ultimate character Meet and Greet experience, Epcot provides two opportunities to dine with some of your favourite Disney friends. In Future World, a visit to The Garden Grill allows you to feast with Mickey, Chip, Dale and Pluto. While, at the Norway Pavilion in International Showcase your meal will be hosted by a band of Disney princesses. During your meal, you may interact with the likes of Snow White, Cinderella, Aurora, Jasmine, and Ariel. Reservations are a must for these incredible and extremely memorable experiences. 
Epcot is undoubtedly becoming a heartland for making memories with new friends. So, what are you waiting for? Click here to view our great value deals for Epcot.
Written by Chloe Flatt
For more blogs like this try...