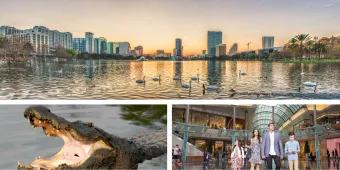 Some of Orlando's best hidden gems
Orlando has much more to offer than just the world's best theme parks. Here we take a closer look at some of the other awesome attractions available.
Orlando is famed for its collection of world-class theme parks, but the city offers many more alternative attractions.
There are lots of lesser-known Orlando attractions available to visitors and these hidden gems allow visitors to try something slightly different.
If you fancy experiencing other parts of the city, then there are lots of Orlando attraction passes and tickets available to head to these attractions. To see some of Orlando's hidden gems, check out the list we have compiled below.
Gatorland
This 110-acre theme park and wildlife preserve combines the old Florida charm with the new, and that is one of the reasons why tickets to Gatorland are extremely popular.
Opening way back in 1949, Gatorland is one of Florida's oldest attractions and offers families the chance to get a close-up look at thousands of alligators, crocodiles and endangered birds.
Gatorland has a breeding marsh with an observation tower, a petting zoo, a train ride, a splash park, a number of entertainment shows (including the famed Gator Wrestlin' Show) and a whole host of nature trails as well. If you are a bit of a thrill-seeker then the Screamin' Gator zip lines, which fly above the alligator breeding marshes, are a must.
Skeletons: Animals Unveiled
Located under the Orlando Eye on International Drive, Skeletons: Animals Unveiled is perfectly located close-by to all the theme parks.
With over 500 animal skeletons posed in unique positions and the added fun elements of meeting flesh-eating beetles and a scavenger hunt experience, the museum provides an experience unlike any other you will find in the United States.
This family-owned museum is one of only two skeleton museums in the US and visitors to Skeletons: Animals Unveiled can see skeletons of a 30-foot killer whale, elephants, penguins and more. To find out more about the museum and how it was founded, watch the fascinating video below:
Lake Eola Park
If you want to take some downtime and get away from the crowds of the theme parks, then in the heart of downtown Orlando is the beautiful Lake Eola Park.
The nine-mile walking path means visitors can take a relaxing stroll, but taking a ride on the swan-shaped paddle boats, watching a show at the Walt Disney Amphitheatre and feeding the swans are also popular pastimes for visitors.
One of the main attractions of the park is the Lake Eola Fountain, which is seen as the official icon of Orlando. The fountain was first built in 1957 and comes alive during a six-minute show set to music at 8.30pm and 9.30pm every night in the summer.
Rebounderz
If visitors have Walt Disney world Orlando tickets and are staying at a nearby hotel, then a visit to Rebounderz is a must as it is just 25 minutes away from the park.
Visitors who are looking for something different to do outside of the theme parks should definitely consider Rebounderz as a potential activity.
The attraction is a 26,000-square-foot indoor trampoline arena that also boasts basketball slams, dedicated dodgeball courts and 4-lane foam pit. Visitors can also go rock climbing. A fun laser tag arena is being built and will be installed mid-summer, and a new arcade is also set to open.
Crayola Experience
Get out your crayons and get stuck into the Crayola Experience at Florida Mall in Orlando.
The Crayola Experience is a great attraction for the family and offers a hands-on creative experience where you can colour outside the lines!
As well as a number of activities like personalising and printing a Crayola crayon label, visitors can see how crayons are made and pick up a souvenir that you will not find anywhere else in the world.
Mall at Millennia
The Mall at Millennia is a fashion shopping mecca and this upscale retail shopping centre's 150-plus shops are unique within the Orlando market.
The mall has consistently been ranked among the world's top ten shopping centres and shoppers can browse through a host of top-quality products from famed retailers such as Jimmy Choo, Rolex, TAG Heuer, Bloomingdale's, Macy's and more.
The mall is located just minutes away from the top theme parks in the city and is only 13 miles away from Orlando International Airport.
Weeki Wachee Springs
If you thought Mermaids were only found in Disney books, then think again.
Weeki Wachee Springs is referred to as the City of Live Mermaids and is a spring that is only one of its kind in the world.
An hour north of Tampa, Weeki Wachee Springs has attracted visitors for around 60 years to come and watch mermaids swim in its clear spring waters alongside manatees and turtles.
The mermaids often drink beverages and eat bananas whilst swimming underwater, and if you don't believe it then just come and see for yourself!
Madame Tussauds Orlando
The world's most famous celebrity wax attraction is undoubtedly Madame Tussauds and if you want to rub shoulders with A-list celebrities or shake hands with the president, then Madame Tussauds Orlando should certainly be on your to-do list.
Visitors can get great deals on tickets to Madame Tussauds Orlando, and another benefit of this ticket is that it is open-dated; visitors can go when they want and at a time that best suits their holiday itinerary.
Image Credit: Gatorland, Skeletons, Ricardo Mangual, (flickr.com), Rebounderz, Mall at Millennia, Weeki Wachee Springs, Jared.
Click here, to view our great value range of Orlando attraction tickets.
For more blog posts like this try...