Celebrate with all the luck of the Irish!
Get your green on and celebrate St Patrick's Day in Orlando with great food and live entertainment at all your favourite theme parks.
St Patrick's Day is a pretty big deal in the USA as well as in Ireland, and Orlando is no exception. If you're going to be in the Orlando theme parks on or around March 17th, here's a bit of inspiration to help you celebrate St Patrick's Day in style, from food to entertainment. 
Spend the evening at Raglan Road in Disney Springs
Raglan Road at Disney Springs is arguably the place to be when it comes to St Patrick's Day in Orlando. This year their Mighty St Patrick's Festival is running from March 11-17, where you can drink pints, eat authentic Irish food, watch the Raglan Road Irish Dancers and listen to traditional Irish folk music from artists including JigJam and Emerald Shore. 
On St Patrick's Day itself there are no reservations accepted so you'll want to get there early to get yourself a spot to experience all the festivities. But if you can't get into the restaurant itself, there's plenty going on on the outdoor Patio Stage for you to listen to as you're walking through Disney Springs. 
Join the St Patrick's Day Celebration at SeaWorld Orlando 
From March 17-20 there'll be plenty of exclusive St Patrick's Day entertainment to enjoy at SeaWorld Orlando. From stilt-walkers and Irish step dancers to traditional folk musicians and entertainers, each afternoon will see the Ireland Market Plaza transformed into a lively hub of activity. And, as part of the Seven Seas Food Festival, you can experience a taste of Ireland with dishes including Glazed Corned Beef, Mini Shepherd's Pie and Irish Cold Brew.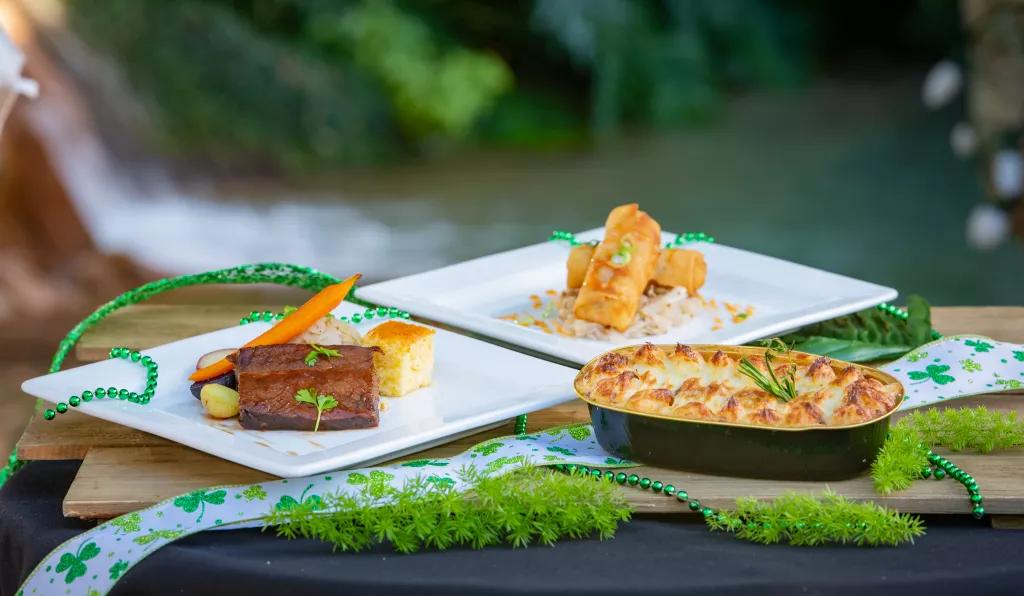 Eat at Finnegan's Bar and Grill at Universal Orlando Resort 
With a ticket to Universal Orlando Resort, every day can be St Patrick's Day! Finnegan's Bar and Grill is an Irish-American themed pub and restaurant that serves classic Irish food all year round. Our favourites include the Guinness Beef Stew, Shepherd's Pie and the Reuben Sandwich. For a truly authentic St Patrick's Day experience, there are plenty of drinks on offer too for guests over 21, including draught beers, Irish whiskeys, and cocktails like the Green Tea Clover and Ring of Kerry. 
If you're lucky, there might be some live entertainment for you to enjoy, so take your seat at the bar and sing along to some traditional Irish pub songs! 
Experience live entertainment at Sunset Walk 
The Promenade at Sunset Walk is an outdoor entertainment district full of shops, restaurants and entertainment spaces, close to Walt Disney World Resort and the Margaritaville Resort. From 2pm on St Patrick's Day, there will be an outdoor street party and celebration, with non-stop music from artists including The Hooligans and DJ Scotty B. There will also be street performers, leprechauns and speciality food and beverages at certain restaurants. And it's all free to attend! 
Celebrate St Patrick's Day in Orlando for a unique experience that you'll never forget! Whether you're visiting this year or getting ready for 2023, you won't want to miss these events. 
Liked this post? You may also like…