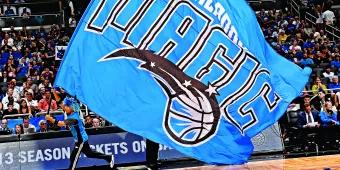 Orlando Magic are back and ready to entertain fans for another exciting season.
Sports fans, you won't want to miss this - Orlando Magic are hosting their opening game this month, which is one of the biggest matches of the season!
If you're looking for something different to add onto your Orlando holiday this month, consider indulging in a favourite American past-time by watching an exciting basketball game!
Basketball season starts up again in October and Orlando Magic - the cities basketball team - are hosting their opening game on the 23rd. This match is always a huge and entertaining event, with loads of in-game entertainment for fans to enjoy too. 
Two hours before the match, Fan Fest takes place, where guests can participate in fun activities, sampling vendors and entertainment on Church Street by the main Amway Center entrance. Once you enter the stadium, there will be a FREE Orlando Magic t-shirt waiting for you on your seat - the perfect way to remember this unique day.
This year, there's Enhanced Magic Team introductions, which include a dynamic light and video show too. Marvel at the spectacular acrobatic halftime performance, and see the new O-Town Entertainment teams headlines by the new hip-hop dance team The 407. 
With our special half-term ticket offer, you will also enjoy a free hot dog and drink while you watch some of the finest players in the world, valid for the opening game on the 23rd and the game the week after on the 30th October. Click here to purchase tickets now. 
On the opening game (23rd October), Orlando Magic will take on the Cleveland Cavaliers, while on the 30th October they will face the New York Knicks.
There's so much more to enjoy in the stadium too, making it a great day out for the entire family. The arena boasts loads of bars, restaurants, fan experiences and activities - and kids will love Stuff's Magic Castle! 

Not holidaying in Orlando this month? Don't worry - you can also purchase tickets for the rest of the Orlando Magic 2019/20 schedule here. 
If you need transportation, we also have a ticket option that includes that too. 

If you're in Orlando when there happens to be a game on, this is a sports experience not to be missed. 
Have you signed up to our email newsletter? Click here to add your details and keep up to date with all the latest news and special ticket offers. 

Read next…