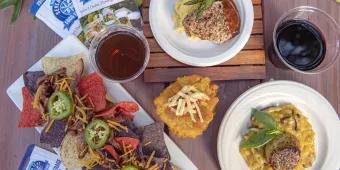 Get ready to eat your way around the world!
SeaWorld Orlando's tastiest festival returns to the park in February. Here's everything you need to know about The Seven Seas Food Festival.
SeaWorld Orlando's Seven Seas Food Festival is back for another flavourful year, giving visitors the delicious opportunity to taste their way around the world with international street food traditions. 
The event runs from 7 February - 5 May, and now includes Fridays, giving park-goers loads of chances to sample more the 180 mouth-watering options. 

Food & Drink
There's local craft beers and delicious culinary flavours on offer for guests to enjoy, at marketplaces throughout the park. Have a look at the full menu here:
 



All-American Market
Food
Tennessee Whiskey BBQ Chicken Wings (NEW) - Crispy wings tossed in a Tennessee Whisky BBQ sauce 
Chicken and Waffle (NEW) - drizzled with maple syrup and sriracha 
Brisket Nachos (NEW) - topped with queso fresco, cheddar cheese, jalapenos, and BBQ crema
Bison Sloppy Joe (NEW) - ground bison in a sweet savory tomato sauce served on a mini brioche bun 
Spicy Watermelon Salad (NEW) - tossed in a sweet thai chili sauce with fresh herbs 

Drinks
Dukes Cold Nose Brown Ale
Killer Whale Cream Ale
Arnold Palmer 
Asian Market 
Food 
Duck And Mushroom Ramen Bowl (NEW) - roasted mushroom broth and with wild mushrooms, spinach, scallions, and truffle oil 
Char Siu Bao - steamed pork bun with pickled ginger and hoisin sauce 
Skewered Pork Wrapped in Bacon - with spicy pineapple teriyaki sauce 
Bingsu Salted Vanilla Ice Cream - topped with caramel popcorn

Drinks
Sapporo Rice Lager
Ty Ku Junmai Silver
Momokawa Sake Pearl Nigori 
Frozen Lagoon Punch - lychee liqueur, blue curacao and club soda
Sparkling Pear (non-alcoholic) - pear nectar, ginger ale, simple syrup, and lemon

Brazilian Market
Food
Brazilian Picanha Steak - served with oven roasted potatoes and tomato chimichurri 
Salchipapa (NEW) - sausage and fries topped with your choice of sauce
Yucca Bites (NEW) - stuffed with cheese and served with green sauce
Chocolate Brazilian Brigadeiro (NEW) - Brazilian chocolate truffle topped with chocolate sprinkles 

Drink
Hayes Ranch Merlot
Wente Vineyards Chardonnay 
Frozen Caipirinha - cachaça (Brazillian rum), lime juice, and simple syrup 

Caribbean Market

Food
Chicken Empanada (NEW) 
Paella (NEW) - fresh seafood, chorizo, and chicken slow cooked in saffron rice 
El Jibarito Kobi Slider (NEW) - chorizo and kobe beef slider topped with cheese, ketchup, pickles and fries between tostones 
Coconut Flan 

Drinks
Red Stripe
Pacifico Clare 
Rum Runner - coconut rum, spiced rum, blackberry brandy, banana liquor, orange, and pineapple juices
Caribbean Sunset (non-alcoholic) - house made lemonade, orange juice grenadine, and Sprite 
 

Coca-Cola Market
Cricket Crusted Bison Slider (NEW) - pan seared and served on a brioche bun with arugula, cream cheese, and a Coca-Cola tomato and onion relish 

Florida Market 
Food
Shrimp Cake - with jicama slaw and key lime mustard
Wild Boar Tenderloin (NEW) - pan seared medallion served over cheese polenta with pork demi glaze
Gator Bites (NEW) - lightly breaded gator bites served with a spicy remoulade sauce
Key Lime Martini 

Drinks
Freedom Tower
La Finca Miami
Lakeridge Winery Cabernet Sauvignon 
Lakeridge Winery Southern White
Lakeridge Winery Southern Red
Frozen Key Lime Martini - vanilla vodka, melon liqueur, pineapple and lime juices and heavy cream 

German Market
Food
Wiener Schnitzel Slider - breaded pork cutlet topped with beer sauerkraut and German mustard
Pretzel Wrapped Bratwurst - served with beer cheese fondue 
German Potato Cake (NEW) - traditional potato cake served with applesauce and sour cream 
Chocolate Dipped Footlong Pretzel

Drinks
Paulaner Hefe-Weizen 
Tucher Weiss Light Beer
Schmitt Sohne Riesling QBA
Relax Pinot Noir
Frozen German Chocolate Cake - chocolate and caramel vodka, coconut rum, coconut and chocolate almond milk

Gulf Coast Market
Food
Crawfish Etouffee (NEW) - crawfish and andouille sausage etouffee served over rice and corn bread
Oyster Po Boy (NEW) - smaller version of a New Orleans traditional sandwich with spicy remoulade 
Pepperjack Mac and Cheese (NEW) - with truffle oil
Bread Pudding - drizzled with bourbon sauce 

Drinks
Pineapple Wheat
Caramel Cream Ale
Josh Chardonnay 
Gnarly Head Pinot Noir
Hurricane - rum, passion fruit, orange and lime juices
Italian Market
Food
Palermo Fontina Cheese Meatballs (NEW) - homemade meatballs stuffed with fontina cheese and fresh herbs in pomodoro sauce 
Penne Carbonara (NEW) - egg, pancetta, peas and cheese in a cream sauce 
Caprese Salad - drizzled with balsamic reduction and olive oil 
Cannoli - filled with Italian cream and mascarpone cheese, dipped in pistachios 

Drinks
Peronni
Caposaldo Pinot Grigio
Banfi Centine Rosso
Italian Sunset - amaretto liqueur, orange juice, club soda, and grenadine 
Mediterranean Market
Food
Grilled Lamb Chop - marinated with rosemary mint and served with roasted potatoes and Greek tzatziki sauce 
Traditional Tabbouleh Salad (NEW) - with quinoa and lemon vinaigrette 
Mediterranean Hummus and Garlic Fries (NEW) - homemade hummus with chili oil 
Dark Chocolate Guinness Mousse Parfait - topped with Baileys infused whipped cream 

Drinks
1664 
Gancia Prosecco 
Ouzo Lemonade - Ouzo, lemon, honey and mint 
Mexican Market 
Food
Taco Al Pastor (NEW) - beef topped with fresh pineapple, cilantro, onion and fresh green salsa 
Mexican Roasted Corn (NEW) - roasted corn with mayo, queso fresco, cilantro, chili powder and lime
Chalupas Tostada (NEW) - pulled chili chicken, green salsa, queso fresco, and cilantro on a grilled corn tortilla
Dulce De Leche Empanada (NEW) - filled with caramel and queso, drizzled with caramel sauce 

Drinks
Corona Light Draft
Dos Equis Lager
Trivento Reserve Malbec
Frozen Watermelon Lime Margarita 

North Atlantic Market
Food
New England Lobster Roll - served on a buttered roll
Cheddar Hush Puppies - cornmeal fritters served with smoked bacon and onion relish
Lobster Bisque (NEW) - served with oyster crackers 
Fish and Chips - served with homemade tartar sauce 
Blueberry Shortcake (NEW) - topped with fresh whipped cream 

Drinks
Copper Tail Free Dive
White Marlin Witbier
Riptide - spiced rum, amaretto, blue curacao, lime and apple juice

Pacific Coast Market 
Food
Chili Pesto Pan Seared Scallop - served with wild mushroom saffron risotto and chili pesto sauce 
Pacific Coast Clam Chowder (NEW) - served with oyster crackers 
Roasted Brussels Sprouts (NEW) - crispy roasted brussels sprouts tossed in a sweet and spicy sauce

Drinks
McKenzie's Orginal Cider
Beach Blonder Witbier
North by Northwest Riesling
North by Northwest Red Blend
A to Z Wines from Oregon Pinot Grigio 
West Coast Festival Sangria - white wine, elderflower liqueur, pineapple and lemon 
Polynesian Island Market
Food
Spicy Poke Tuna Bowl (NEW) - Tuna, seaweed salad, pineapple, mango, avocado, crispy onions and sweet thai chili sauce
Hawaiian Spam Bowl (NEW) - Spam, rice, edamame, pineapple mango salsa, sesame seeds, and ginger soy glaze 
Pineapple Ahi Tuna Bowl (NEW) - tuna spring mix, pineapple, mango, surimi, cucumber, and teriyaki sauce 
Hawaiian Pineapple Dream Cake - pineapple cake topped with cream cheese, whipped cream and pineapple
Pineapple Twist

Drinks
Kona Big wave
Hannalei Island
Frozen Pina Colada - pineapple, coconut, and rum 

Sweets Market 
Bananas Foster Cheesecake Cone 
Rainbow Cheesecake Cone (NEW)
Chocolate Cheesecake Cone (NEW)
New York Cheesecake Cone (NEW) 

Drinks
Jam Jar Sweet White
Jam Jar Sweet Shiraz

Vegan Market
Food
Impossible Meat Slider - caramelised balsamic onions, fried jalapeno chips, and fresh arugula on a mini pretzel bun 
Oumph Meat Slider (NEW) - served with sweet Thai chili aioli on a Hawaiian bun 
Vegan Ceviche (NEW) - soy protein marinated in citrus juices served with plantain chips 
Drinks
Magners
Accomplice Black Cherry
2 Henrys Mango Cider
Cline Farmhouse White Wine
Cline Farmhouse Red Wine
Hibiscus Flower Red Sangria 
Frozen Lynchburg Lemonade 

As well as all this amazing food and drink, guests to SeaWorld's Seven Seas Food Festival will enjoy world-class entertainment every Saturday and Sunday from 6pm at Bayside Stadium - included with your park admission! 
The first four weeks of the entertainment has already been announced:
8 February - Maddie & Tae
9 February - Trace Adkins
15 February - TBA
16 February - Night Ranger
22 February - Walk Off the Earth
23 February - Dennis DeYoung; The Music of Styx
29 February - Grupo Mania
1 March - Boyz II Men 

Ready to plan your Spring trip to SeaWorld Orlando? Browse our attraction tickets now!