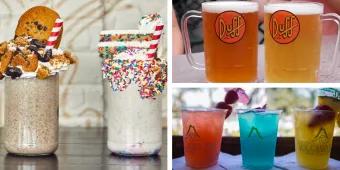 Universal's top 7 drinks!
From HUGE milkshakes to the famous Butterbeer, there are loads of amazing drinks to try at the Universal theme parks…
1. Butterbeer
If you're a Harry Potter fan (who isn't?) you'll be familiar with the popular wizarding drink- Butterbeer. If you've always wished you could try it for yourself, now's your chance! You can actually get several different varieties of Butterbeer at the Wizarding World of Harry Potter. One of our favourites, has to be the frozen Butterbeer. But, what does it taste like? Imagine an icy mouth-watering mix of caramel, butterscotch and cream soda all in one. This is the perfect sweet treat for a day in the sunshine!
Where to get it? Various locations in the Wizarding World of Harry Potter
2. Duff Beer
If you're a big fan of the Simpsons, you'll know that this is Homer's favourite drink and at Universal Studios Florida the motto is "can't get enough of that wonderful duff". Head to Springfield to sample this famous drink which has been brewed exclusively for Universal Orlando Resort. Sit in Duff Gardens and enjoy an ice-cold beer as you watch the world go by or watch your favourite episodes of the Simpsons on the tv screens. Make sure you get your photo taken with the Duff beer bottle characters while you're there too.
Where to get it? Duff Brewery & Moe's Tavern at Springfield
3. Toothsome Milkshakes
A trip to Universal Orlando Resort wouldn't be complete until you've visited the Toothsome Chocolate Emporium and Savory Feast Kitchen. This place really is amazing, boasting a selection of sweet treats like sundaes and rich chocolate cake, as well as savoury sensations like sticky coffee and chocolate stout chicken wings. The real showstoppers here though, have to be the mammoth milkshakes!
The resident robot Jacques has his own range of specialty shakes and you'll need to be seriously hungry to finish one, because these are more like a meal. Choose from flavours like Heavenly Hazelnut, Chocolate Banana Brain Freeze (featuring a chocolate covered banana) and the Confetti Shake which is topped with a huge slice of confetti cake and lots of rainbow sprinkles!
Where to get it? Toothsome Chocolate Emporium and Savory Feast Kitchen at Universal CityWalk
4. Fishy Green Ale
If you can get past the shocking name, you'll love this refreshing drink. Don't worry, there's nothing 'fishy' about it. In fact, this unique creation has a creamy consistency with a mint flavour and a hint of cinnamon. At the bottom of the cup, you'll notice a bed of 'fish eggs' or blueberry juice balls that burst in the mouth! If you're looking for something a bit different, make sure you give this a try.
Where to get it? The Leaky Cauldron, The Hopping Pot & Fountain of Fair Fortune
5. Flaming Moe
Another must-try drink in Springfield is the Flaming Moe- the "signature speciality drink in Springfield". Watch in awe as your drink starts to smoke when it's poured! You'll want to get your camera out for this one as it really does look impressive. This delicious fizzy orange drink is the perfect refreshment for a hot, sunny day. It's also served in a souvenir cup that you can take home afterwards.
Where to get it? Moe's Tavern at Springfield
6. Toasted Coconut Pineapple Cocktail
If you're spending the day at Universal's Volcano Bay water park, there's plenty to keep you entertained. But, when you're ready for a break from the thrilling water slides, there's nothing better than lazing the day away on a sun lounger- drink in hand! There are lots of tropical cocktails to choose from if you fancy a little tipple. The Toasted Coconut Pineapple is one of our favourites, made with toasted coconut rum and fresh pineapple juice. 
Where to get it? Kunuku Boat Bar & Dancing Dragons Boat Bar
7. Moose Juice & Goose Juice
Want something to keep the little ones entertained? Head over to Seuss Landing where you'll find both Moose Juice AND Goose Juice! Don't let the name put you off, these refreshing drinks are great for cooling down from the heat. Moose Juice is actually a fruity orange flavoured slush, while Goose Juice is green apple sour flavoured. These colourful drinks match the vibrant setting of Seuss Landing perfectly.
Where to get it? Moose Juice, Goose Juice
Already dreaming of your next Orlando holiday? Click here, to view our great value Universal Orlando Resort tickets.
For more blog posts like this try…
Find out all the latest news from Orlando in our BLOG