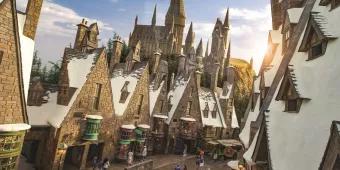 Vegan dishes that will be magic for your tastebuds
Head to The Three Broomsticks™ and Leaky Cauldron™ on your next visit to try these delicious dishes!
Great news for any vegan theme park fans - three brand new vegan food options are now available at Universal Orlando Resort! All three dishes can be found at The Wizarding World of Harry Potter™, across both Hogsmeade™ and Diagon Alley™, adding to the extensive menus of classic British cuisine already on offer. 
Here's what you can now find on the menu: 
Three Broomsticks™ at Universal's Islands of Adventure
Mushroom Pie Platter - Stewed jackfruit and mushroom pie, served with a cucumber and tomato side salad and a lemon-thyme vinaigrette 
Leaky Cauldron™ at Universal Studios
Irish Stew - Vegan beef tip and potato stew, served with vegan crusty bread and a cucumber, radish and tomato salad
Shepherd's Pasty Pie - Meatless beef crumbles and vegetable stew hand pie, served with a creamy stone ground mustard dipping sauce, apple beet salad and wedge fries
Both restaurants are quick-service locations, making them the perfect stop for a quick and delicious bite to eat in between rides on the Hogwarts™ Express! 
These dishes join the wide variety of vegan options already being served at Universal Orlando Resort, including the Vegan Sausage Wellington at Finnegan's Bar and Grill, the Plant-Based Penne Genovese at Lombard's Seafood Grille and the Vegan Eggplant Parmesan at Cafe 4. 
For more delicious inspiration for your visit to The Wizarding World of Harry Potter™, take a look at our five must-try drinks, and book your Universal Orlando tickets to experience the magic for yourself!