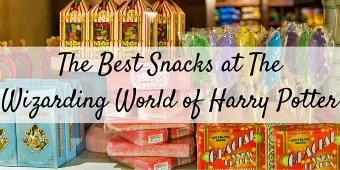 The most wizard worthy snacks!
Calling all muggles! Chocolate Frogs, Exploding Bon Bons and a jug of Butterbeer, you'll want to try them all…
At the Wizarding World of Harry Potter, the incredible theming runs throughout the entire area. From the exhilarating rides to the cobbled streets of Diagon Alley, everything you see looks as though it has appeared straight from the movies, and the food is no different. If you've already got your Universal Orlando tickets and are planning a visit to the parks, make sure you try as many of the mouth-watering culinary creations as possible. Trust us, you really won't want to miss a thing! Check out our ultimate guide for the best food and drink you can find inside the Wizarding World…
For something sweet-
Chocolate Frog:
Any Harry Potter fan will instantly recognise these chocolate frogs. Fortunately, these ones won't leap away from you like they did to Harry the very first time they were spotted in Harry Potter and the Philosopher's Stone! The tasty treats come inside a vibrant purple box, decorated with an intricate gold pattern. The question is, what are you most looking forward to inside the box; the velvety milk chocolate frog or the collectible wizard card?
Bertie Bott's Every Flavour Beans:
These are another treat made famous by the movies, although treat may be too generous a word considering the surprising flavours! Claiming to go from "delicious to disgusting" each box of the jelly bean sweets contains 20 unique flavours. No matter how hard you try there's no chance of avoiding the revolting grass, soap, earwax and vomit flavoured beans hiding amongst the rest, although that's really part of the fun! Don't worry though, you might be lucky enough to find one of the marshmallow, tutti-frutti or cherry flavours.
Chocolate or Butterbeer Potted Cream:
If you're a chocoholic, you'll love the gorgeous potted cream desserts at The Leaky Cauldron. The rich dark chocolate cream is served in a small glass jar with a drizzle of black cherry sauce and a dollop of whipped cream on the top. The latest addition to the Butterbeer collection is a Butterbeer flavoured potted cream dessert. It has a creamy mousse-like texture with a butterscotch glaze and whipped cream topping!
Florean Fortescue's Ice Cream:
Butterbeer flavoured ice cream is by far the most popular choice at Florean's, but there are plenty of other great flavours to try too! In the first Harry Potter book, Hagrid treated Harry to a chocolate and raspberry ice cream topped with a sprinkling of chopped nuts. You can either try the same as Harry or opt for a serving of Salted Caramel Blondie, Sticky Toffee Pudding, Apple Crumble or if you're feeling brave…Chocolate Chilli!
With so many different flavours to choose from, you've got the perfect excuse to come back over and over again! You can also get traditional baked goods here, like shortbread cookies, bakewell tart, Battenberg cake, scones and treacle fudge.
Extra ice cream flavours: Granny Smith, Earl Grey & Lavender, Strawberry & Peanut Butter, and Orange Marmalade.
Fainting Fancies:
Fainting Fancies have been dreamed up by mischievous duo Fred and George Weasley. The gummy disk-shaped sweets are covered in sugar, with one half lemon flavoured and the other orange. The citrus treats are soft, chewy and delicious! You can also get a special 'Skiving Snackbox' which includes a box of Fainting Fancies as well as 3 additional boxes of the Weasley's unusual creations; Fever Fudge, Puking Pastilles and Nosebleed Nougat!
Exploding Bon Bons:
A box of Exploding Bon Bons are a great souvenir to take home from Weasley's Wizard Wheezes, but be warned, if Fred and George have had anything to do with it, there's bound to be a surprise waiting when you bite into them! Each box contains 10 white chocolate covered sweets with an 'exploding' pineapple and orange flavoured popping candy filling. Hear the candy crackle as you savour the amazing fruity flavours.
Cauldron cupcake:
The ultimate chocolate feast! A soft chocolate sponge cauldron filled with chocolate fudge frosting and topped off with a white chocolate swirl, what's not to love? The spellbinding cocoa treats have become so popular that hundreds of recipes have appeared online helping fans to make their own magical creations at home. These incredible melt in the mouth cupcakes are just one of the amazing treats that will keep you coming back to Sugarplums sweet shop. Look out for the Pumpkin cupcakes and Butterbeer fudge too!
For something to Drink-
Butterbeer:
A visit to The Wizarding World of Harry Potter is not complete until you've tried Butterbeer! You've seen your favourites Harry, Ron and Hermione indulging in a glass in the movies, and now it's your turn. The deliciously sweet drink tastes like a combination of caramel, butterscotch and cream soda all rolled into one to form a taste sensation! Enjoy a refreshing glass topped with butterscotch foam or if you want to cool down from the heat, an ice-cold frozen Butterbeer is the best way!
Otters Fizzy Orange:
Otter's Fizzy orange soda is one of the most refreshing drinks you'll find at The Wizarding World of Harry Potter. Picture this, fizzy orange juice and a fresh slice of Floridian orange, with a hint of vanilla and a sugar and cinnamon coated rim! Each sip combines the sweet flavours to make the perfect drink for a sunny day! This is fast becoming one of the most popular drinks, so if you're visiting soon, make sure you give it a try.
Fishy Green Ale:
Don't let the name or the 'fish eggs' at the bottom put you off! If you're looking for something completely unique, you have to give this a try. An eye-catching bright green drink and a deliciously creamy mint taste with a hint of cinnamon. The 'fish eggs' are actually juicy blueberry flavoured Boba tea balls, with a straw just big enough to suck up the eggs and let the flavour burst in your mouth.
Gilly Water:
Turn your water into something much more magical at the Eternelle's Elixir of Refreshment Stand. Purchase a bottle of Gilly Water and head to the stand to create your very own potion. The small bottles of elixir will transform your drink into a colourful concoction before your eyes (something children will absolutely love!).
Choose between Draught of Peace (a fusion of blueberry, raspberry, blackberry and cherry), Babbling Beverage (a tropical fruit punch), Fire Protection Potion (a blend of watermelon, peach and strawberry) or the Elixir to Induce Euphoria (pineapple flavoured with a hint of apple and mint).
For something Savoury-
Fish & Chips:
The famous Leaky Cauldron pub is notoriously dark and dingy, but don't let that put you off! At The Wizarding World of Harry Potter, you're welcomed inside to try traditional British cuisine. Our favourite is the mouth-watering fish and chips! Enjoy 3 flaky cod fillets coated in crispy batter with plenty of chunky chips and tartar sauce on the side. If you're looking for somewhere to go for lunch you can't go wrong with these filling pub dishes. 
Cornish Pasties:
At The Three Broomsticks you can order 3 mini Cornish pasties that come with a crisp side salad. Each pasty has the perfect flaky pastry crust, and is stuffed with ground beef, fresh seasoned vegetables and rich gravy. You can also find Cornish pasties at The Hopping Pot stand. These hearty treats make the perfect accompaniment to a cold draft beer.
Great Feast Platter:
Another option from The Three Broomsticks is the mammoth Great Feast platter. This is ideal for groups as there's enough food for four people. This offers both great value for money and great tasting healthy food! Enjoy an incredible platter loaded with succulent ribs, flavoursome smoked chicken, potatoes, vegetables, salad and corn on the cob. This will cost you around $60 which might sound like a lot, but for four people it works out as one of the cheaper options.
 
If you'd love to try these quirky snacks click here, to get your Universal theme park tickets and start planning an unforgettable holiday!
For more blog posts like this try…