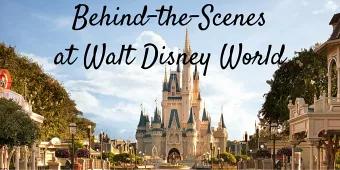 Become a Disney VIP!
Check out our favourite behind-the-scenes Walt Disney World tours for the ultimate fan experience…
At Walt Disney World, there are a number of exciting behind-the-scenes tours that give you exclusive access to areas of the park that are usually closed to guests. You'll be treated like a VIP and be able to enjoy a truly once-in-a-lifetime opportunity as you discover some of Disney's best kept secrets. Transform your holiday into something unforgettable with one of these incredible Walt Disney World tours:
Disney's Family Magic Tour:
This is one of  the more affordable Walt Disney World tours. The fun filled adventure is perfect for families and will make your Disney experience even more special! The villainous Captain Hook has stolen items belonging to your favourite Disney characters, and Mickey needs your help to get them back. If you're up for the challenge, get ready to embark on an interactive scavenger hunt that will take you across the Magic Kingdom in search of the stolen items. Answer questions and solve clues to find out where they might be, but don't worry if you're stuck, you'll get some help along the way from a familiar face! One of the best parts of this great value tour is the opportunity to skip the queue and search for a clue on-board one of the park's rides!
Price: $39
Park: The Magic Kingdom
Backstage Magic:
This is the ultimate Walt Disney World tour for any dedicated Disney fan, where you'll get to go behind-the-scenes and discover things you didn't even know existed! For example, did you know that the Magic Kingdom is built above ground level to make room for secret underground tunnels used by the cast members? Well, in this 7-hour tour, you'll be taken "backstage" to witness exactly how the magic is brought to life. Walk through the secret tunnels, visit all four parks and learn extraordinary inside knowledge from your expert tour guide. One of the highlights though, is the chance to visit the costume department, where you can see the seamstresses hard at work creating spectacular outfits for your favourite characters. Considering Mickey has over 150 different costumes, that's a lot of work!
Price: $255 - $269
Park: Magic Kingdom, Disney's Hollywood Studios, Disney's Animal Kingdom, Epcot
The Ultimate Day of Thrills VIP Tour:
If you're all about the rides, you'll absolutely love this Walt Disney World tour! Skip the queues and try some of the most thrilling attractions Walt Disney World has to offer. Start your day at the Magic Kingdom where you'll soar through space on Space Mountain, rocket round the track on Big Thunder Mountain Railroad and make an impressive landing on Splash Mountain. Enjoy a tasty lunch before heading to Disney's Hollywood Studios to rock out with Aerosmith on the Rock 'n' Roller Coaster before braving the petrifying Twilight Zone Tower of Terror. Your final stop is Disney's Animal Kingdom, where thrill-seekers can face an exhilarating 80-foot drop on Expedition Everest.
Price: $299
Park: You'll visit Magic Kingdom, Disney's Hollywood Studios and Disney's Animal Kingdom (transport and lunch is also included with your tour)
Epcot Seas Adventure – Dolphins in Depth:
Have you ever dreamed of swimming with Dolphins? If so, this is the tour for you! Before you get into the water, you'll be introduced to the expert trainers who take care of the dolphins every day. They'll teach you everything you need to know about the mesmerising creatures, let you sit in on a training session, and share a few funny stories about their playful personalities. The highlight of course comes when you get the chance to actually meet the dolphins with 30-minutes of interaction in the water! Make sure you're ready for your close up, as you'll be given a complimentary photo to keep as a souvenir. 
Price: $199
Park: Epcot
World Showcase- DestiNations Discovered:
At Epcot there's so much to see, and on this tour you'll get the chance to visit each of the 11 themed pavilions of the World Showcase. Journey across the world and admire the beautiful architecture and stunning landscapes as you go. Wander through Parisian streets, marvel at beautiful temples and get up close to the extraordinary 3D replicas of some of the world's most iconic buildings. Lunch is included too, and will be served in the Morocco Pavilion, giving you the chance to savour the flavoursome Moroccan cuisine.
Price: $109
Park: Epcot
Backstage Tales:
Disney's Animal Kingdom park is all about wildlife, with over 1,500 animals (250 different species) calling this place home. During this tour, go behind-the-scenes and explore the animals housing areas. You might be shocked to discover that a staggering 4-tons of food are prepared for the animals to feast on every single day! You'll also be able to see how they are cared for and what it takes to look after so many different creatures with a visit to the veterinary hospital. You might even get the chance to witness animals being treated while you're there.
Price: $90 (a portion of the tour proceeds are donated to the Disney conservation fund)
Park: Disney's Animal Kingdom
If you'd love to experience one of these amazing Walt Disney World tours, check out the official Walt Disney World website for more details, latest prices and information on age restrictions.
Click here, to view our range of Walt Disney World Resort tickets and experience the magic for yourself!
For more blog posts like this try…