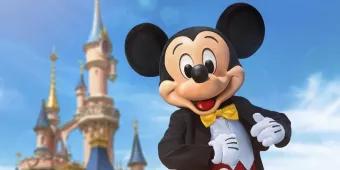 Top tips for visiting Disneyland Paris on a budget!
Visiting Disneyland® Paris on a budget? Check out these top money-saving tips from these Disney-loving bloggers.
Book your tickets in advance through an agent
Booking your tickets through an agent means you won't have to queue when you arrive and can just breeze right through the gates. Not only will you get to experience all the fun much quicker, you'll also be able to receive some fantastic extras.
Abigail from Abigail Kathleen also agrees that purchasing your Disney Paris tickets and Disneyland Paris hotels through a travel agent is a great way to get more value for money. "I would advise booking through an agent as they often include Half Board Meal Plans, photo passes and so much more within their packages."
At AttractionTickets.com, we offer our customers as much added value as we can with discounts and added extras that will make their holiday as magical as possible. These include offers like free souvenir prints, Disney Spending Money, and even 12 months of Disney+ on us!
Travelling by Eurostar? Change at Paris Gare de Nord
If you're catching the Eurostar, Hayley from Strangeness & Charm says the cheapest way to get to Disneyland Paris is to change at Paris Gare de Nord instead of getting a direct train to the Parks.
"It usually costs almost double than just getting the train to Paris. Each time I've been, I've got the Eurostar to Paris Gare du Nord and have then got the Metro over to Chatelet Les Halles. From there, I switch to the RER to Marne-La-Vallée which costs just a few Euros. This takes just over an hour, but you'll save a lot of money!"
Kariss from Shy Strange Manic also recommends doing this as it also gives you some flexibility to explore Paris.
"I definitely recommend getting off the Eurostar at Paris and then getting the RER train (which is similar to the London Underground). This will only cost you around €4 and won't take much extra time. You can even leave your suitcase in the station and explore Paris for a few hours before heading to the parks if you wish.
"Also, getting the Eurostar to Paris from London lets you take advantage of any special offers, I recently got a midweek return for under £40." 
 
Visit off-peak or mid-week
This might not always be possible, but if you do have the flexibility, travelling off-peak is without a doubt the cheapest time to go to Disneyland Paris. If you're travelling by Eurostar, mid-week fares are much cheaper than weekend prices, and this is generally the case with accommodation too. If you're not visiting Disneyland Paris with little ones, travelling outside the school holidays will also save you money, so this is something to bear in mind if you can.
Off-peak park tickets are often cheaper, too. Depending on the season, you'll often find cheaper tickets during the quieter times of the year. These won't be available at the gate though, so booking in advance is a must! During these quieter periods, Lize from Lize in Disneyland recommends keeping an eye out for Disney ticket deals that offer extra nights for free.
"If you're able to visit Disneyland Paris out of term time, I would always suggest waiting until the tickets include extra nights for free. We go in March, for my birthday mainly, but around that time you can often get a couple of nights free because it is generally so quiet. Doing this makes it easier for us to afford to stay in a Disney hotel, as the room prices are also lowered when it's off-season."
Stay in a non-Disney or off-site hotel
Before you book your accommodation, it's important to consider the pros and cons. Staying on-site at a Disney Hotel could be slightly more expensive than staying off-site, but there are some great benefits including being within walking distance to the parks, Extra Magic Time (which means more time in the park for hotel guests only!) and you may even get to meet some of your favourite characters in the comfort of your hotel.
Bee from Queen Beady recommends staying on-site, but in a non-Disney hotel. "Firstly, you can save hundreds and hundreds of pounds. Also, most of these hotels have their own Disney-themed shop or boutique, so you don't feel like you're missing out on all the fun! Another benefit is that transport-wise, the hotels have shuttle buses that run to and from the park until close."
Staying off-site can often be cheaper, so if you're on a budget, this might be a more suitable option. You will have to consider transport though, as the further away you stay, the costlier transport will be. Jade from Mummies Waiting says not to let this put you off though, as you get more bang for your buck by being able to explore the local area: "When booking your accommodation, it's worth looking at off-site, partner hotels too. Places like Les Villages Nature® Paris will likely give you more for your money as you can visit Disney and enjoy a few days trying out the aqua lagoon, farm and kids play areas. It's a great way to visit Disney and make sure you still have plenty of time to see Paris too."
Wherever you may decide to stay, you'll want to make sure you're close to transport links so that it's easy to make your way to and from the parks. We'd recommend staying in the Marne-la-Vallée area, as does Nele from The Navigatio: "If the Disneyland hotels are above your budget, book a hotel a bit further away. Many hotels near Val d'Europe offer transfer between the hotel and Disneyland Paris for free. Alternatively, you can take the metro to Marne-la-Vallée. The entrance of Disneyland Paris is right outside the station."
 
Take advantage of freebies and vouchers
Who doesn't love a freebie? Save some pennies by looking out for free perks during your visit. Victoria from Victoria's Vintage recommends taking advantage of FASTPASSES and Birthday badges in particular.
"Use the free FASTPASSES to save on queuing times. You can make a reservation and enjoy certain attractions with little or no wait by getting a FASTPASS from the dedicated machines. And if it's your birthday, go to city hall to grab a free birthday badge - the cast members will write your name on it and then everyone will wish you a happy birthday!"
Got a breakfast voucher included in your ticket price? Abigail has a great tip for enjoying a cheap and cheerful breakfast that will set you up for a perfect day in the parks: "My best advice for a decent breakfast using your voucher would be to head to Annette's around 9.30am to beat the queue before they open at 10am. Annette's serves up a full-cooked American breakfast with a hot drink and choice of juice, they deduct your voucher and the remaining balance payable is just €2, so worth it!"
Bring your own snacks
There are lots of amazing snacks available in the parks, and while we're sure you'll want to try some of them, we'd recommend packing a few snacks of your own too, as the cost of eating inside the parks can add up quickly.
Nele recommends bringing a packed lunch and some snacks if you're particularly concerned about costs. "Though trying Disney snacks might add a little bit of magic to your trip – it can put a dent in your bank account. I highly recommend bringing some packed sandwiches and snacks with you to the park, this way, you'll avoid having to buy lunch, dinner and any necessary snacks during your day." 
As Sarah from Champagne & Petals mentions, it helps to have extra food on you to munch when queuing for popular rides and attractions. "Like most people, I would say take snack bags with you for each person, at least one for each day. As well as cutting down on costs, it's a big help if you suddenly get hungry in the lines waiting for rides or meet and greets."
Please note, at Disneyland Paris, you're allowed to bring in small snacks, just nothing in a large container or cooler.
If you prefer snacking or eating little and often, like Lize does, you and your wallet might be better of splitting meals between two. "For me personally, I prefer eating little and often. So my boyfriend and I will order meals that come with a side and drink, and split it! My favourite meals to do this with are the Double Fish and Chips at Toad Hall, and the Pizza and Garlic Bread meal at Pizzaria Bella Notte. That way, we've both eaten, and for the price of one meal! That's more money to spend on merchandise!"
 
Bring a bottle of water
If you're spending the whole day in the parks, you could easily spend a lot of money on staying hydrated. That's why Claire from Daily Deals Blog's top money-saving tip is to bring a bottle that you can refill during the day.
"Disneyland Paris is one of my favourite places on earth, but as a money-saving blogger, I am always on the lookout for ways to make it a little easier on the budget. My top tip for any Disney fan trying to save a little money is to bring your own water bottle. There are loads of drinking water fountains dotted throughout the park which makes the day a whole lot cheaper.
Sarah has another little tip if you're not a huge fan of water: "If your kids (or you!) prefer to drink squash, then I recommend bringing one of those small, high-concentrate squeezy squashes to add."
There are several water fountains throughout the park, but if you can't find one, just ask a cast member. Make sure you bring a plastic bottle, as glass bottles aren't allowed.
Buy your souvenirs before you arrive
It's hard to recommend how much spending money to take to Disneyland Paris. Whether you're visiting with kids or adults, it can be hard to resist all the merchandise when you're inside Disneyland Paris' souvenir shops! There are so many amazing souvenirs all around you (think Mickey and Minnie ears, cuddly toys and Disney clothing) that it's almost impossible to resist blowing your spending money in one go.
Becky, blogger at Art of Healthy Living, shared with us her top tip for resisting temptation.
"At Disneyland Paris, it is so easy to haemorrhage money when you're there - especially on the Disney garb that you simply must have. One of which is the legendary Disney Mickey or Minnie ears. My top money-saving tip is to buy the ears or any other souvenir before you go. You can find some amazing creations on Etsy for a fraction of the price, and on top of that, you can ensure you'll still look the part and no one else will have the same ears as you... well, unless they've read this top tip too!"
Want to experience the magic for yourself? View our great value range of Disneyland Paris tickets.