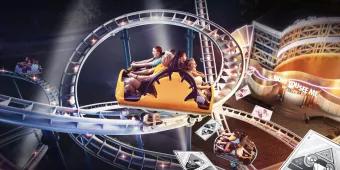 The two coasters are brought to you by Lionsgate
MOTIONGATE Dubai is home to some incredible unique attractions, themed after a wide range of blockbusters, and two more have recently been added to the list!
Dubai Parks and Resorts is the largest integrated theme park resort in the Middle East, with three theme parks and one water park all in one place. MOTIONGATE Dubai is just one of these theme parks, and it's full of movie-themed attractions from all kinds of franchises and studios including Dreamworks and Columbia Pictures.
And now there are two more incredible high-flying attractions for guests to enjoy, joining the Hunger Games attractions in the Lionsgate Zone - Now You See Me: High Roller and John Wick: Open Contract. Take a look below to see what all the fuss is about! 
Now You See Me: High Roller
Based on the Now You See Me film franchise, this spinning coaster will take you on a wild ride as you help the Horsemen carry out one of their heists. There will be twists and turns, quite literally, as their secrets are revealed… or are they? 
This coaster reaches top speeds of up to 70km/h on a 500m long track, making it the world's fastest single-car spinning roller coaster! 
John Wick: Open Contract
This is a ride that's not for the faint of heart! John Wick: Open Contract is a 10-storey 4D free-flying coaster that will have you spinning upside down as you move along the track, experiencing G-forces of 2.8. 
With an open contract out for infamous assassin John Wick, you must decide whether you're on his side, or if you're joining the hunt to find him on behalf of the High Table. Whichever you choose, you're in for an adventure of epic proportions when you stay at The Continental. 
Buy your MOTIONGATE Dubai and Dubai Parks and Resorts tickets to benefit from the best prices, and the most flexibility for your holiday. Browse our tickets below. 
®, TM & © 2022 Lions Gate Entertainment Inc. and related companies. All Rights Reserved.