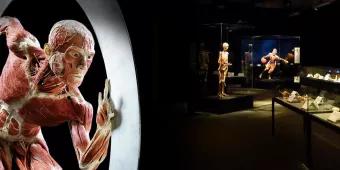 The innovation of Body Worlds provides a unique educational experience
Introduction
London has always been a popular tourist destination.
Favourite stops include Buckingham Palace, Westminster Abbey, Hyde Park, Big Ben and the London Eye.
Body Worlds is an innovative gem located in the heart of Piccadilly Circus.

A Brief History
Body Worlds London features both human and animal specimens preserved using a process known as plastination.
Plastination was pioneered in 1977 by Dr Gunther von Hagens.
Dr von Hagens' discovery revolutionised the study of anatomy.
Body Worlds originated in 1995 and established its permanent London home in late 2018.
Other permanent Body Worlds exhibitions are located in Amsterdam, Berlin, Guben, Heidelberg, and San Jose.

A Look Inside
The museum is filled with various specimens, including full bodies staged in a variety of activities.
There are also body slices, organs and more for visitors to study in detail.
The purpose of these exhibits is to inform interest in the astounding structure of the human body.
Body Worlds can encourage children to pursue careers in medicine and science.

An Innovative Approach
Body Worlds' main focus is on teaching about the body and comparing healthy and diseased specimens.
In addition, Body Worlds depicts the impact of illnesses, stress and exertion.
The aim is to encourage people towards a healthier lifestyle.

Education
Body Worlds London encourages learning by providing a unique and memorable experience.
The real specimens provide an interactive educational experience for students.
Teachers are allowed free entry in order to familiarise themselves in advance of school trips.
Visitors are provided with an Audio Guide which enhances the overall experience with facts and stats, in-depth explanations and tips.

Encouraging Learning In Children
Body Worlds is for everyone but is an especially invaluable resource for students and children.
Its innovative approach sparks children's curiosity, imagination and fascination allowing them to develop a desire to learn more about anatomy.
Children learn the importance of a healthy lifestyle and the impact of unhealthy choices.

Animal Inside Out
Body Worlds also includes animal plastinates – a particularly imposing example of a horse is on display at the London premises.
Their popularity encouraged Dr Angelina Whalley and Dr von Hagens to create Animal Inside Out.
This show explores the captivating biology of the animal kingdom and is an informative adventure for children and animal lovers alike.
Specimens include a 16 foot tall giraffe and an elephant with a trunk consisting of 40,000 muscles.

Conclusion
Body Worlds provides a vital educational opportunity.
Exciting and informative, Body Worlds London is a must-visit stop for both educational trips and quirky tourists.
Body Worlds exhibits continue to travel across the globe, recently in Abu Dhabi, and are currently on display in Calgary and Minnesota.

Author Bio
Stella Lincoln is a fitness buff who loves yoga, nature walks and surfing the web to find delicious health food recipes. Currently, she is working as Product Manager at Academist Help and has previously served as the Associate Product Manager at Educator House.