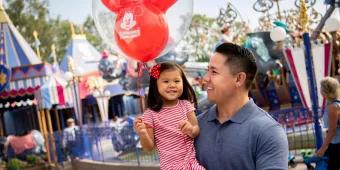 Your little ones are sure to love these attractions
These rides in Disneyland Park and Disney California Adventure Park have little to no height restrictions, making them perfect for the younger members of your family.
From Space Mountain to the Incredicoaster, Disneyland Resort in California has plenty of attractions for those looking for a bigger thrill… but what about the youngest members of your group? If you're visiting Disneyland Park and Disney California Adventure Park with toddlers or younger children these are some of our favourite attractions that the whole family can ride together!
Disneyland Park 
"it's a small world" 
Height Restriction: None 
This classic Disney attraction is a must do for guests of any age, but little ones especially will love the bright colours, geometric shapes, and sparkly costumes on this boat ride around the world… and of course the catchy song! They'll also have fun looking out for some recognisable Disney Characters in their appropriate locations, including Cinderella in France, and Woody, Jessie, and Bullseye in the U.S.A.'s Wild West. 
Peter Pan's Flight
Height Restriction: None 
What kid wouldn't want to experience riding on a flying pirate ship?! This attraction will have you soaring over the London skyline, past the second star to the right and straight on til morning! The magic of Neverland will come to life below you, full of pirates, mermaids and a certain ticking crocodile. 
Finding Nemo Submarine Voyage
Height Restriction: None
Board a yellow submarine and get ready for an underwater adventure with Nemo, Squirt, Marlin, Dory and even more characters from the Disney Pixar film. Each guest has their own porthole to look through as you sail past scuba divers, ancient artefacts and more. Just watch out for any sharks!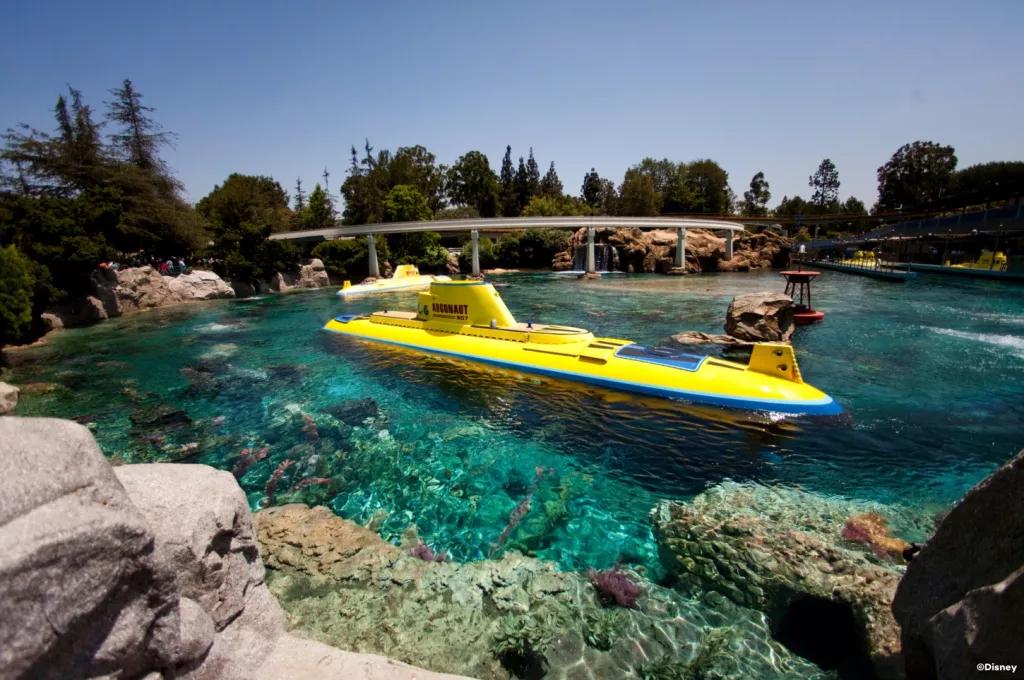 Alice in Wonderland 
Height Restriction: None 
Follow Alice down the rabbit hole and into a Wonderland adventure where you'll encounter the Mad Hatter, Cheshire Cat, Tweedle Dum and Tweedle Dee, the Queen of Hearts and more, all while riding aboard a colourful caterpillar. Your journey will end high above Fantasyland, giving you a birds eye view of the Mad Tea Party and the Matterhorn. 
The Many Adventures of Winnie the Pooh 
Height Restriction: None 
With bright colours, larger than life scenery, and the recognisable faces of Winnie the Pooh, Piglet, Tigger and all their friends, even the littlest of guests will enjoy this journey through the Hundred-Acre Wood on the hunt for some delicious honey. 
Dumbo the Flying Elephant 
Height Restriction: None 
Your kids will love being in control on this ride as they use the lever inside your Dumbo-shaped gondola to move higher or lower as you fly in the skies above Fantasyland. 
Mickey's Toontown 
The whole Mickey's Toontown area is the perfect playground for young kids! This cartoon-style town has interactive play areas, fun dark rides and a coaster that's ideal for anyone looking for their first big thrill! You can even take a tour through Mickey and Minnie's houses! Don't miss: 
Mickey & Minnie's Runaway Railway (Height Restriction: None)
Roger Rabbit's Car Toon Spin (Height Restriction: None) 
Chip 'n' Dale's GADGETcoaster (Height Restriction: 35") 
Donald's Duck Pond (Height Restriction: None)
Goofy's How-to-Play Yard (Height Restriction: None)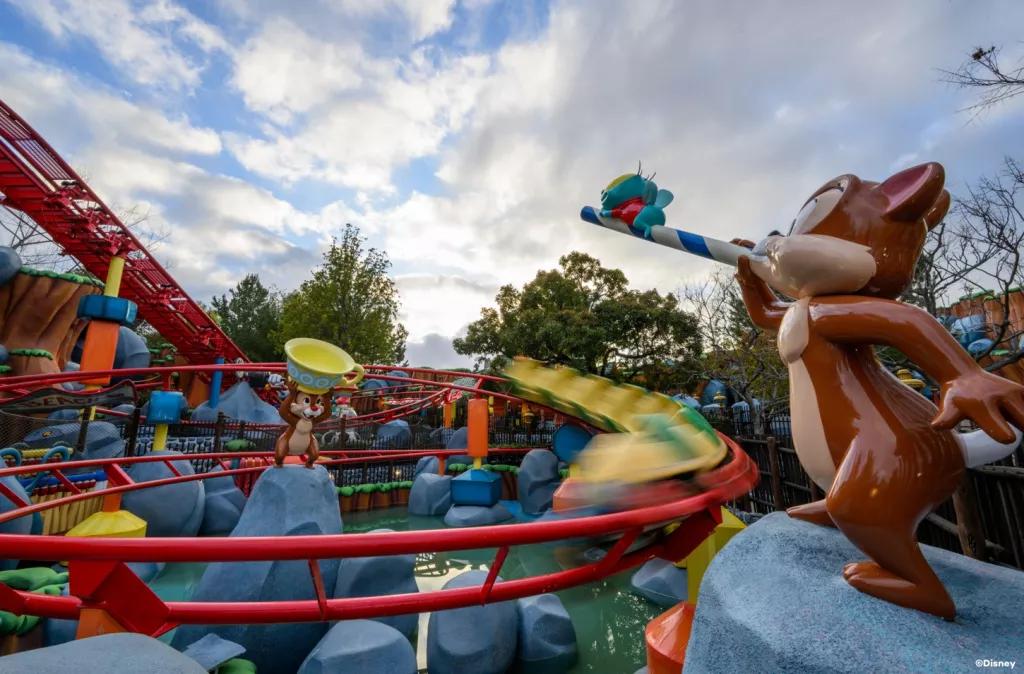 Disney California Adventure Park 
The Little Mermaid - Ariel's Undersea Adventure 
Height Restriction: None 
Take a seat in your clam-mobile and journey under the sea to relive the story of The Little Mermaid, complete with songs including "Part of Your World", "Under The Sea", and "Kiss The Girl". You definitely won't miss Ursula lurking in her cave, because her animatronic is 12 feet wide! 
Monsters, Inc. Mike & Sulley to the Rescue! 
Height Restriction: None 
This is another attraction that will place you directly into scenes from a film, this time Disney Pixar's Monsters, Inc.! After you board a taxi for your tour of Monstropolis you'll encounter Mike and Sulley as they help to get Boo back to her door and the human world. 
WEB SLINGERS: A Spider-Man Adventure 
Height Restriction: None 
Spider-Man needs your help to stop his rogue Spider-Bots from causing havoc across the WEB Workshop and Avengers Campus! Your little ones will love this interactive adventure that will have them donning some 3D glasses and competing for the highest score in your vehicle. 
Cars Land 
Kids can definitely get their kicks on Route 66 in this land entirely dedicated to the Disney Pixar Cars franchise. After exploring all the sites in Radiator Springs and maybe stopping for a bite to eat at the Cozy Cone Motel or Flo's V8 Cafe, there are three main attractions here that kids will love, especially if they're big fans of Lightning McQueen and friends! These rides do all have height restrictions, but they're at the lower end, meaning most kids aged 3 and over will be able to ride. 
Mater's Junkyard Jamboree (Height Restriction: 32") 
Luigi's Rollickin' Roadsters (Height Restriction: 32")  
Radiator Springs Racers (Height Restriction: 40")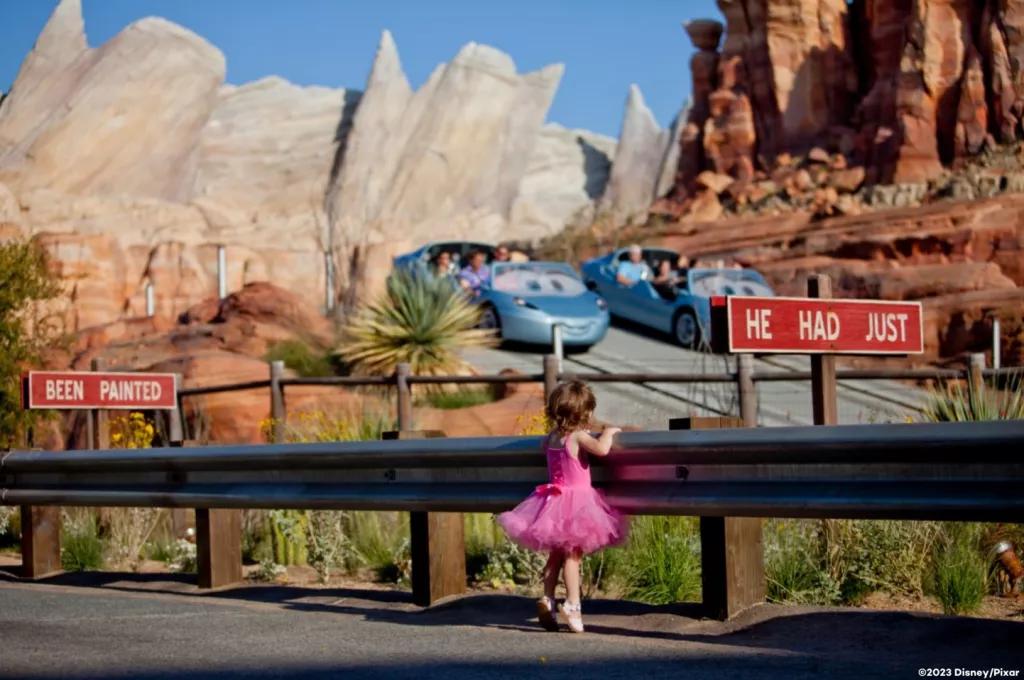 Golden Zephyr 
Height Restriction: None
Soar through the skies above Disney California Adventure Park in a retro sci-fi gondola that rotates around a steampunk-style tower. This attraction has no height restrictions, meaning guests of all ages can ride together, but if you have slightly older children there's also the Silly Symphony Swings, where each guest has their own seat! 
Inside Out Emotional Whirlwind 
Height Restriction: None 
This ride might be inspired by all five of Riley's emotions from Disney Pixar's Inside Out, but the only emotion your little ones will be feeling on this ride is joy! As you take a seat in one of the Memory Movers you'll fly up and around the headquarters of Riley's mind, creating core memories as you go! 
Jessie's Critter Carousel 
Height Restriction: None 
Choose from rabbits, turtles, skunks, racoons and more and saddle up on one of these critters for a rootin' tootin' spin around Woody's Roundup from the Toy Story franchise. 
These are just some of the incredible attractions throughout Disneyland Resort in California that are perfect for little ones, but there are even more to explore for yourself (including some which are opening day attractions). 
And now there's even more reason for your family to experience all these rides with up to 65% off 2- and 3-day child tickets for arrivals from 8th January to 10th March 2024*! So book your Disneyland Resort Tickets today!
*T&Cs Apply