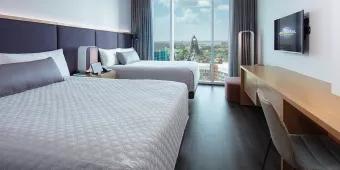 A full tour of the coolest theme park hotel!
When we stayed in Universal's Aventura hotel in September 2019, we were blown away by how sleek and modern this new Universal theme park hotel is - especially when you consider the price! Not that we should have been surprised when the creative minds behind Universal's other resort hotels have come up with such amazing results. On our visit, we created this video tour to help you understand more of the features of this fabulous hotel:
Entering the lobby of this modern new hotel, it won't just be the friendly staff waiting to welcome you. Quirky robots are also often seen patrolling the lobby offering help (and sweeties!) when you interact with them. As well as welcoming you to the hotel with sweet treats, these robots are also used to deliver room service straight to your door!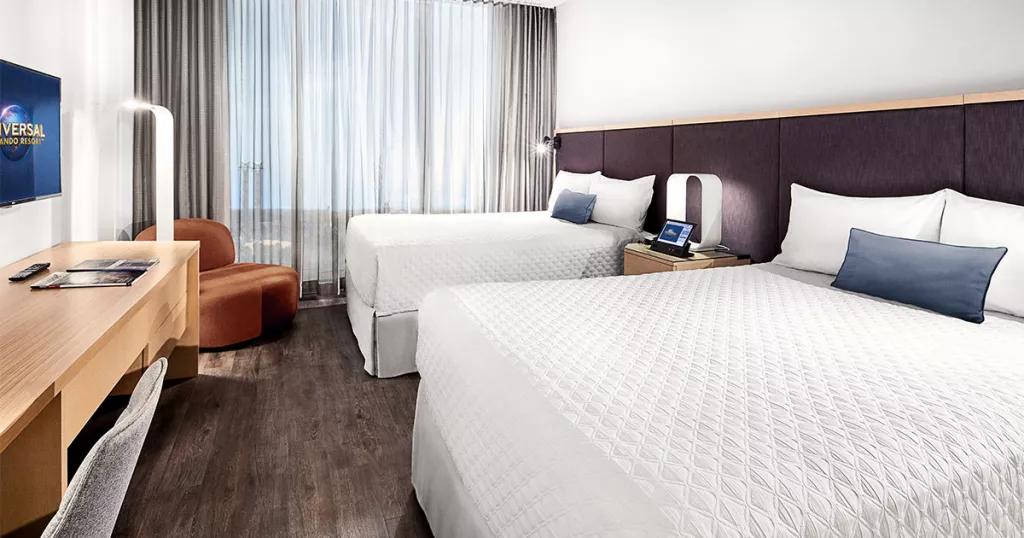 Upstairs in the rooms, there's even more new technology to check out. Bedside iPads allow you to control loads of the room's features including the TV, lights and music (Bluetooth speakers are also available!) as well as order room service via our robot friends. Very handy if you forget to turn the lights out after a long day at the theme parks, as you don't even need to leave your bed! Aside from these bits of technology, the rooms are tastefully decorated with wooden flooring, crisp white linens and bathrooms big enough for sharing.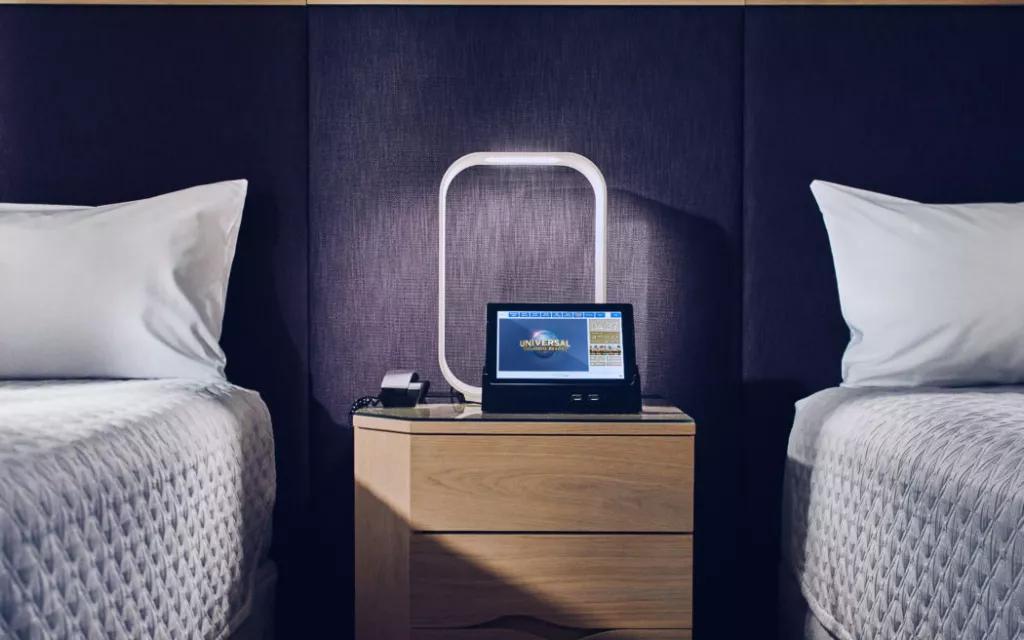 We mentioned earlier that we were blown away by the price of these rooms. It is in Universal's 'Prime Value' category and rooms here start from as little as £105 per night. This is for a standard 2-queen room so perfect for a couple wanting a little more space or even for a family happy to share.
Out by the pool, the outdoor facilities have a distinctively grown-up feel to them. The pool is slightly smaller than at some of the other Universal hotels but also felt quiet and peaceful, probably because this hotel is popular with older groups and couples. There's still plenty of space for a splash about though, plus two lovely hot tubs if you'd prefer to chill out. Keeping things on a very chilled out holiday level, pull up a stool at the poolside bar, Bar Sol, for some frozen cocktails.
So far though, we've neglected to talk about the biggest selling point of this hotel (in our opinion). But they do say you save the best for last!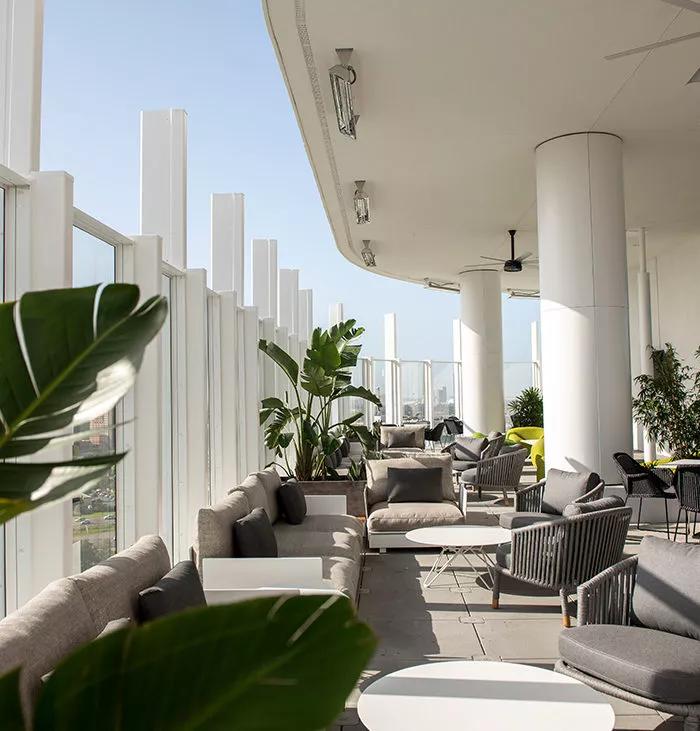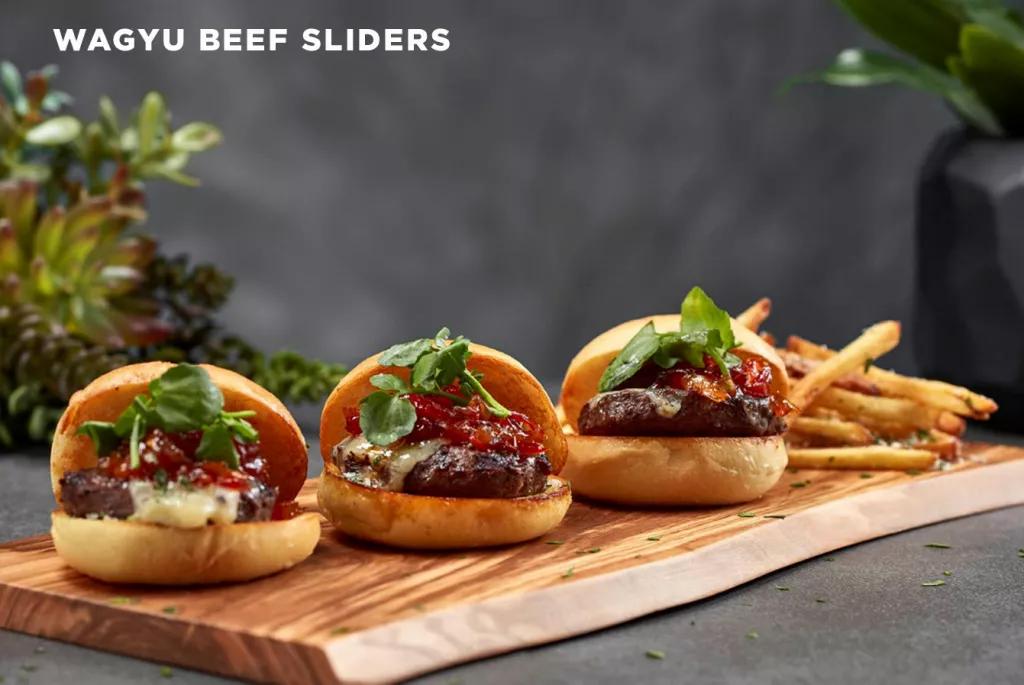 Up on the top floor of this hotel is Bar 17 Bistro, an incredible rooftop bar offering stunning views over your favourite Universal theme parks. And, if this is possible, the food might even out-do the views! Choose from a wide selection of tapas and sharing style dishes as you take in the views, which are particularly stunning at sunset. Honestly, we would stay at the hotel again and again just for this bar (and for a million other reasons, but mainly this rooftop bar!).
During our stay, we also had the opportunity to visit Urban Pantry, Aventura's grab and go dining location located just off the lobby of the hotel. It's perfect for grabbing breakfast in the morning, with a range of hot and cold options available. At lunch time, you can choose from freshly made pizzas, burgers and there's even a wok dish station - something for everyone basically.   
To find out more about staying at Universal's Aventura hotel on your next Universal Orlando Resort holiday, click here.