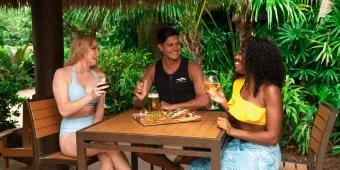 Fantastic extras with your tickets!
All our Discovery Cove tickets are all-inclusive, meaning you can enjoy a day at the park with some amazing extras (even food and drink!) included for free…
From swimming with beautiful bottlenose dolphins and snorkelling amongst tropical fish to relaxing on pure white sandy beaches, Discovery Cove is a tranquil paradise that offers an experience like no other. With only 1,300 guests admitted daily, this park provides a peaceful break from the busyness of the other Orlando parks, and with plenty to do, this is an unforgettable day out you really shouldn't miss.
And to make things even better, all of our Discovery Cove tickets offer guests an all-inclusive day at the park! With everything you need included in the cost of your ticket, you'll be able to save time and money, and start enjoying your day as soon as you arrive. Check out these 7 things that are included in the all-inclusive package that comes with a ticket to Discovery Cove…
1. Food
All of your food is included during your visit to the park, meaning you can eat as much delicious food as you want without having to spend a penny! Start the day with a buffet of tasty pastries, fresh fruit and a hearty hot breakfast at the Laguna Grill restaurant. For lunch, choose from an extensive menu of mouth-watering dishes including Caribbean spiced salmon, grilled jerk chicken quinoa salad, chicken tenders and penne pasta marinara with meatballs to name just a few! Or head to the new Hibiscus Hideaway for a BBQ Chicken or Margherita flatbread pizza.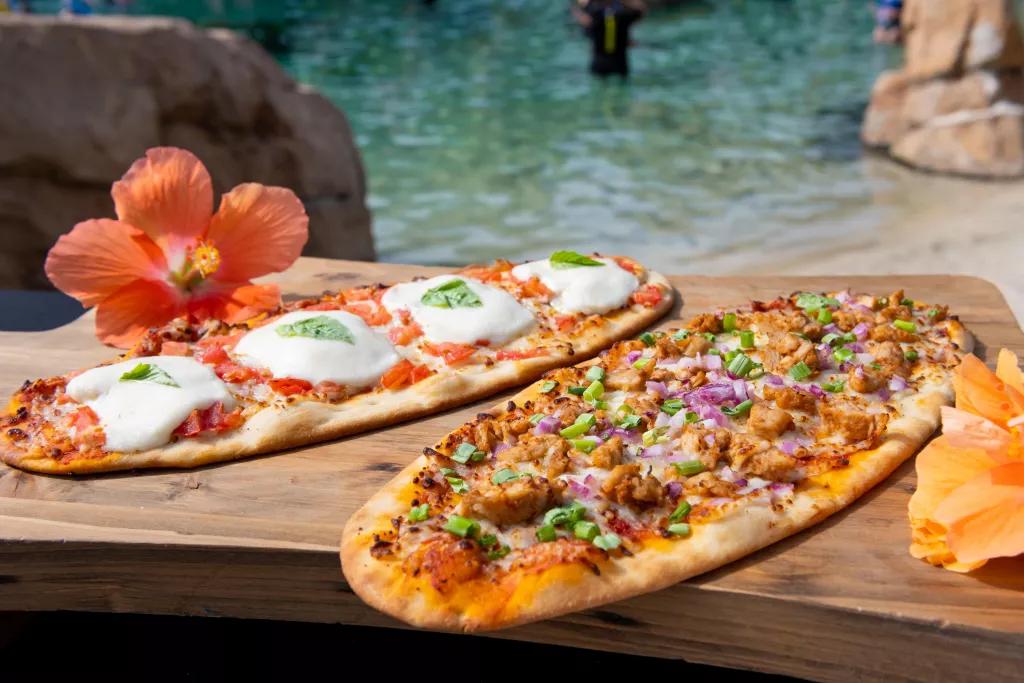 While that might sound like a lot of food, the desserts at Discovery Cove are so good, you'll definitely want to save some room. Our favourites are the decadent chocolate cake and the pina colada cupcakes, although we wouldn't say no to any of them! You can also get New York cheesecake with a strawberry topping, carrot cake, soft-serve ice cream, fresh fruit and delicious pastries. If you're feeling peckish during the day, you can stop for some snacks whenever you like. Choose from warm soft pretzels, crisps, fruit, 'Snow Icee' and sugar-free cookies (does that mean we can have two?).
*Discovery Cove can also cater to any special dietary needs you may have, and provide alternative dairy and gluten free as well as vegan menus.
2. Wetsuits
If you want to make the most of the activities at Discovery Cove, you're going to need a wetsuit! Don't worry though, the park will provide this for you, as well as shower amenities and towels to dry off after splashing around with the playful dolphins. There are also lockers that you can use to save carrying your belongings around, and these are free of charge too.
3. Snorkelling Gear
Your ticket gives you unlimited access throughout the day to the Grand Reef - the place to go if you want to snorkel. Discover the surprises that lie underneath the surface as you explore the home of thousands of exotic fish. Look out for the rays too! You'll be provided with a Discovery Cove snorkel and mask (although you can bring your own if you want to) and they even have a small number of prescription masks too.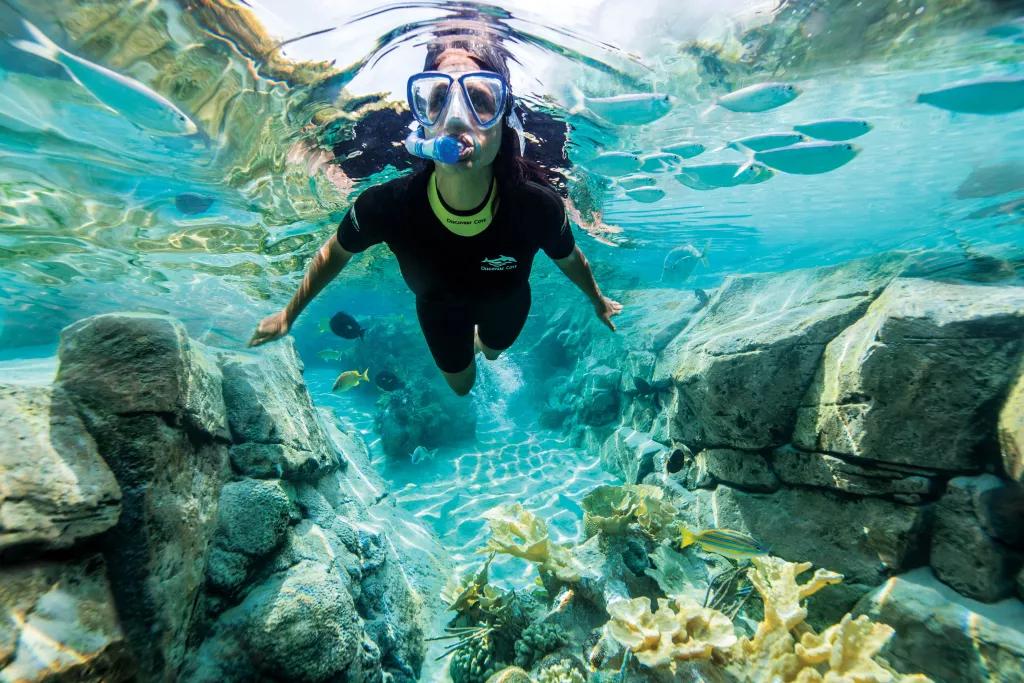 4. Drinks
As well as food, certain drinks are included too, so you can quench your thirst whenever you like with assorted soft drinks, coffee, hot chocolate and plenty of bottled water. For the grown-ups, complimentary beer and wine selections are available from bar locations throughout the park. Premium liquor offerings like custom cocktails and draft beers can be purchased for an additional fee, or are included if you have a premium drinks package.
5. Parking
You might like to know that parking at Discovery Cove is included with your tickets, so you can take the whole family out for the day and not have to worry about the expensive cost of parking. If you're not driving, Discovery Cove offers free transportation from SeaWorld Orlando.
6. Sun Cream
The park provides guests with complimentary specially formulated sun cream to keep them protected from the Floridian sunshine. The special sun cream makes it safe to use in the animal habitats too.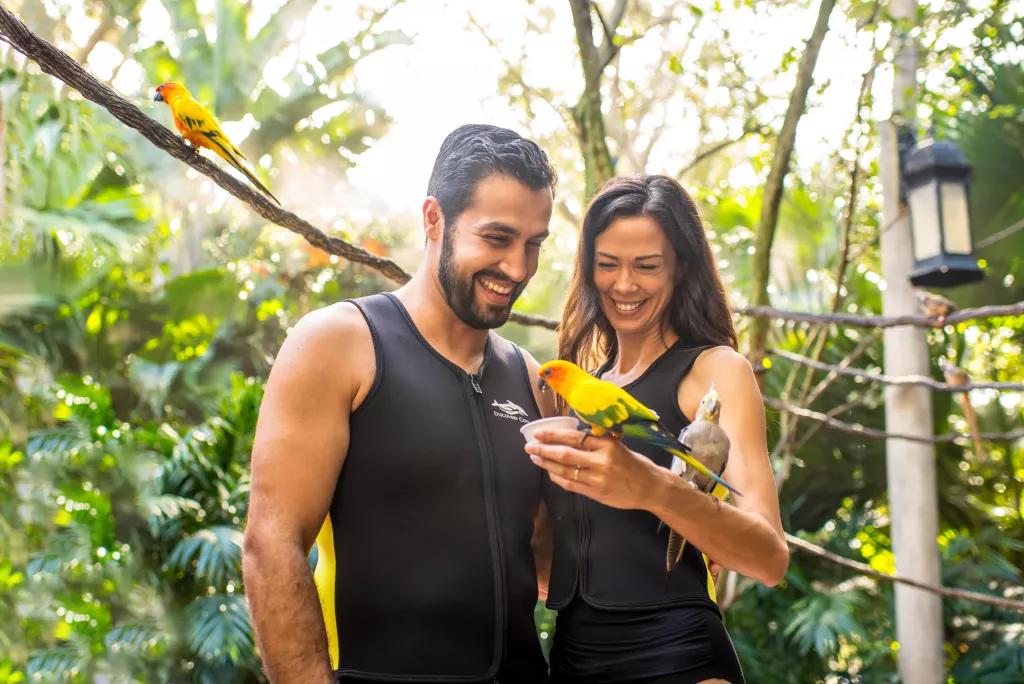 7. Admission to SeaWorld Orlando and Aquatica
Our Discovery Cove tickets also include admission to some of the other Orlando parks. With the standard Discovery Cove package you'll get 14 days consecutive admission to both SeaWorld and Aquatica, and with the Ultimate package, you'll get 14 days admission to Busch Gardens too!
Watch this video to learn more about the all-inclusive offerings at Discovery Cove:
View our great range of Discovery Cove tickets and book yours now!