By AT.com's Florida Experts, Susan and Simon Veness
Our Florida experts get an exclusive preview into the new Value Category hotel at Universal Orlando Resort: Endless Summer - Dockside Inn and Suites.
They've done it again. Universal and Loews have gone and taken a budget-conscious Value hotel and turned it into an amenity-packed resort with huge appeal for families, couples and singles. With its theme of sun, sand and surf, you'll be immersed in full Sunshine State holiday mode, 24/7.
Dockside Inn and Suites is the sister hotel to Surfside Inn and Suites, which opened on International Drive in 2019 as the first part of Universal's Endless Summer Resort complex. Surfside Inn and Suites now sits on what was once the Wet 'n Wild water park, while Dockside Inn and Suites has risen from the park's former car park. 
And that distinctly Floridian, overtly waterside theme lives on through each hotel's décor, and also through the cheeky addition of aptly named cocktails at Dockside Inn's Oasis Pool Bar (more on that later). 
Dockside Inn's lobby is punctuated by four massive columns designed to look like driftwood, along with woodgrain walls, flooring, and even seating elements. Seating is broken up into several convivial areas, so while the lobby is huge it maintains a distinctly comfy feel, and you won't have to hunt for a chair.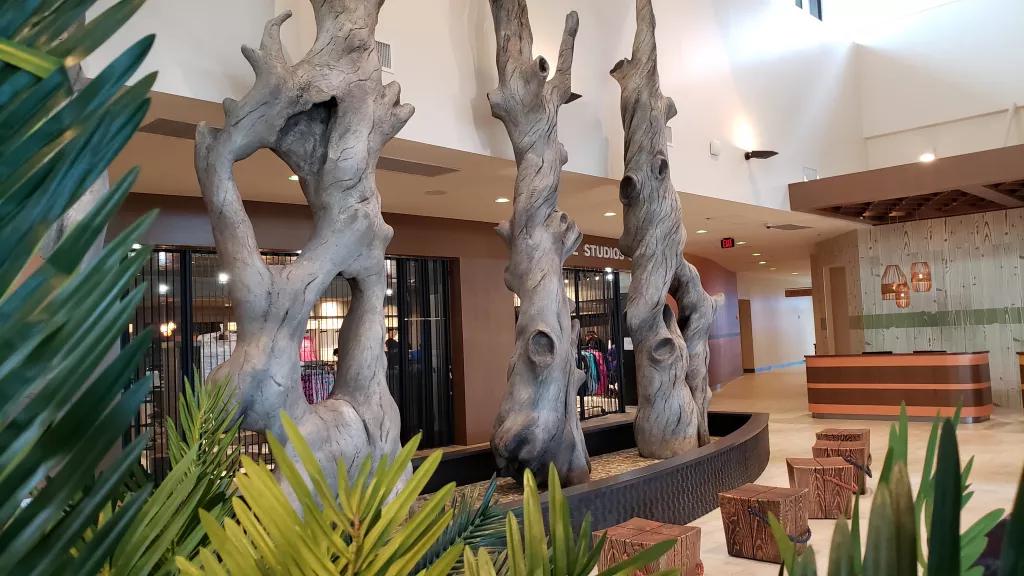 Belly up to the van after a full day in the parks! Retro-style Sunset Lounge lobby bar is meant to look like a VW bus, the funky mode of transportation favoured by beach bums and their bikini-clad gals. Its ceiling light fixtures mimic VW headlights, and the countertops have a throw-back, beachy, natural asphalt appearance about them. Cool detail? Tinctures and syrups for Sunset Lounge's hand-crafted cocktails are made in-house.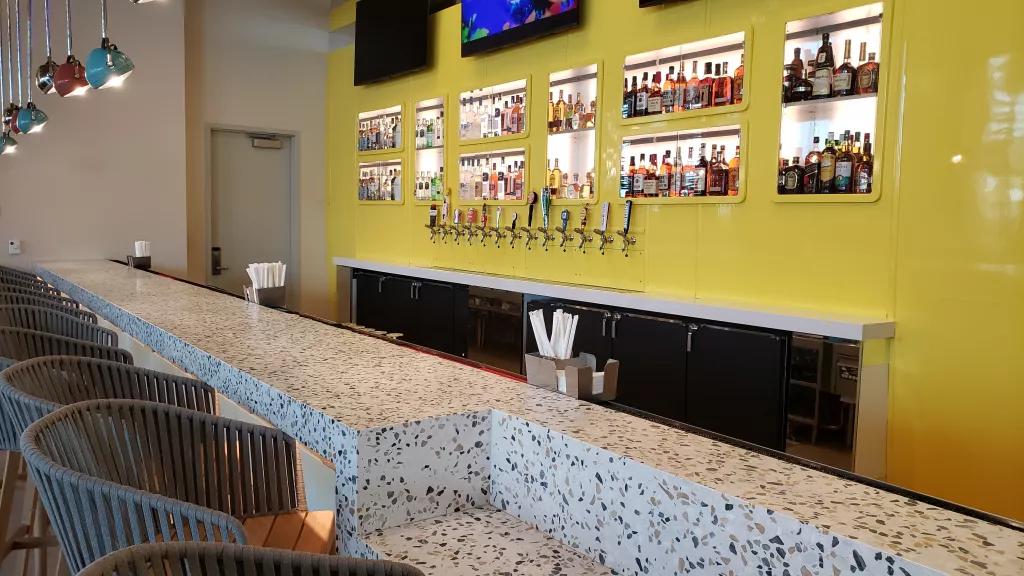 There is one dining outlet onsite, but it's a good one. Pier 8 Market includes a Grab And Go plus counter service stations, and it's open for breakfast, lunch and dinner. Just want something quick and light? Find snacks, drinks, and even health-conscious Avocado Toast or Sabra Snackers (hummus and mini pretzels) at the Grab And Go. Also watch for counter service fish and chips, popcorn shrimp, burgers, pasta and more at lunch and dinner, plus breakfast burritos, egg muffins, pancakes and more at breakfast, with vegetarian and vegan options available at all meals.
Have a family to feed? The popular Chicken and Waffle station serves up a bucket of 8 pieces of fried chicken along with  mashed potatoes and gravy, coleslaw, grilled corn on the cob, savoury-scone style biscuits, mac & cheese, waffles and your choices of sauce or syrup for the waffles (bourbon bacon maple, spicy barbeque or buffalo style). Also available in 2-piece meals.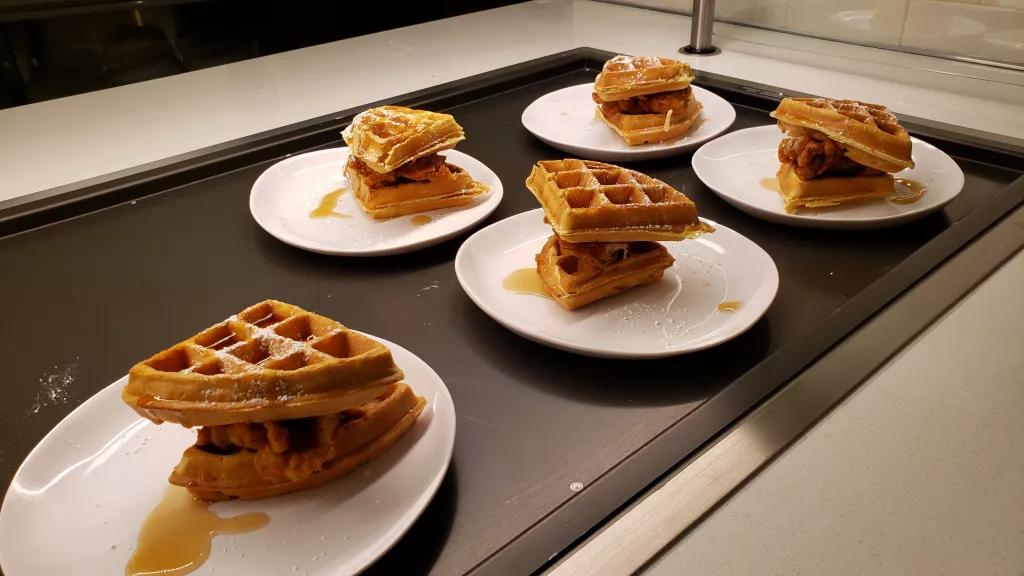 Or choose from the Bakery, Pizza Station, full create-your-own Salad Bar, Hot and Cold Sandwiches (try a pressed sandwich, Sloppy Joe, chicken salad sandwich, or the healthy option Caprese sandwich). Nothing on the menu is over $12 (£9.31), and that's a real boon for families who can sometimes become a bit sticker-shocked by restaurant pricing.
Guests also have a choice when it comes to the dining room. Choose a table "under the pier" (look up and you'll see planks above you that look like you're…well…under a pier!), out in the sunshine (provided by rows of lightbulbs on long cords, giving you all the "sunshine" with none of the sunburn) or the slightly tucked-away row of booths and tables with television viewing.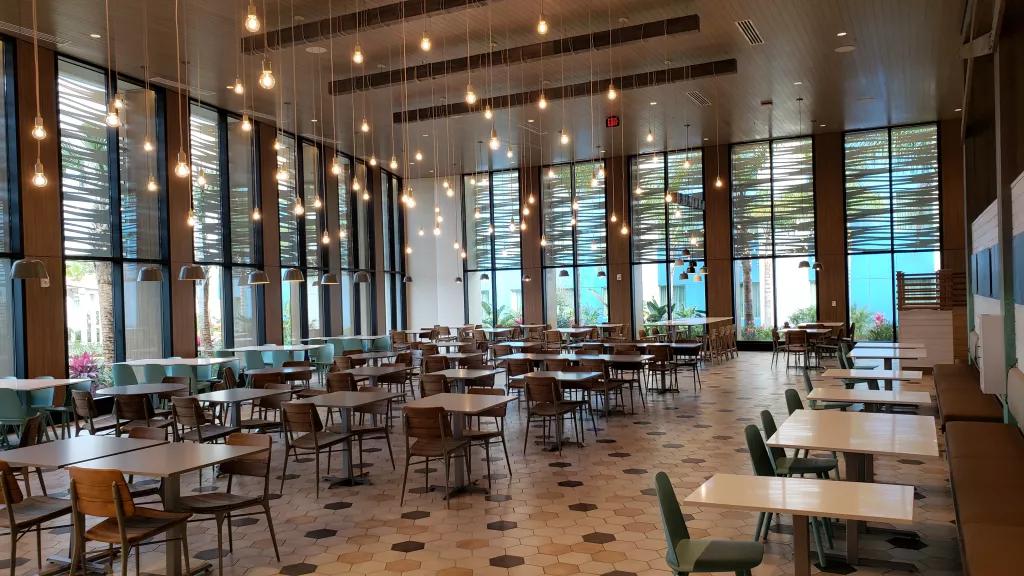 When you're ready to really soak up the sun, you can even take your selections out to the pool area, just a few dozen steps away. In keeping with Universal and Loew's penchant for ensuring everyone gets a lounger without having to be up at 5 a.m., there are an ample number of laid-back recliners and beach umbrellas (though the umbrellas are more limited).
Guests visiting with young children will especially appreciate the splash pad and "sandy beach," with plenty of lounger seating that allows adults to keep an eye on their young 'uns while still relaxing (ideally with a cold drink in hand).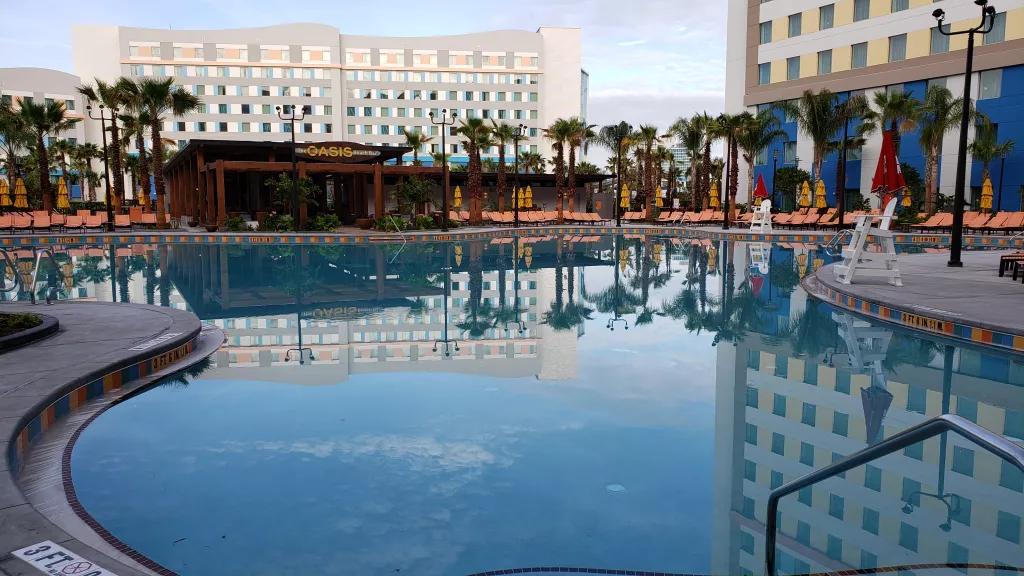 Speaking of which, remember those Wet 'n Wild-inspired cocktails we mentioned? Who's up for Bubba Tub, Surge, or The Blast from The Oasis Beach Bar? Bubba Tub and Surge were inner tube slides and The Blast was a head-first mat-slide at the now-extinct park, but they, along with sweet Disco-H20, vodka-based Endless Summer Lemonade, and the resort's own Mango Blonde Ale, as well as other libations, now whet your whistle instead of your swim costume. Be aware, Bubba Tub is nearly what it says it is: it's a 32-ounce bucket loaded with your choice of cocktail!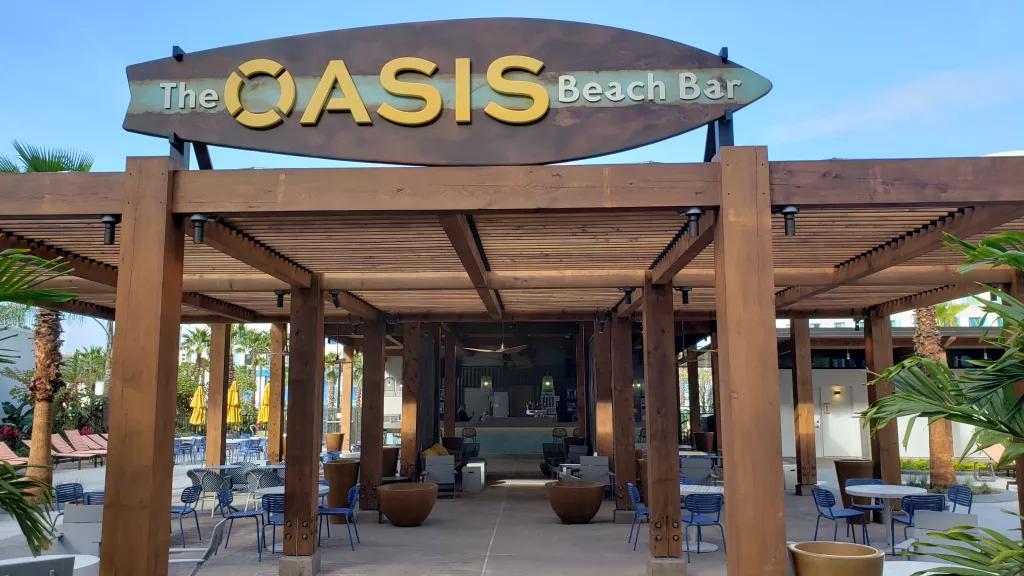 What about the rooms, we hear you ask, and our answer would be, "Worry less, surf more!" (Actually, that's the hotel's motto; we just wanted to sneak it in here.)
Standard rooms (sleeping up to 4) are generously sized, fitted with two Queen beds; chair; three clothes drawers; television; a closet with iron, ironing board and wall safe; and split bathroom with sink, vanity and hair dryer in one room, divided by a door from the toilet and shower area (some rooms have tubs, and all showers have multi-option spray). Showers with tub feature a shower curtain, while those without tubs are large and glass-fronted.
Suites (sleeping up to 6) add a second bedroom with Queen bed; dining table with chairs and bench; kitchenette featuring a microwave, Cuisinart coffee maker and mini-fridge; and two sinks in the bathroom vanity. All rooms have ample plug and charging points to keep your technology topped up.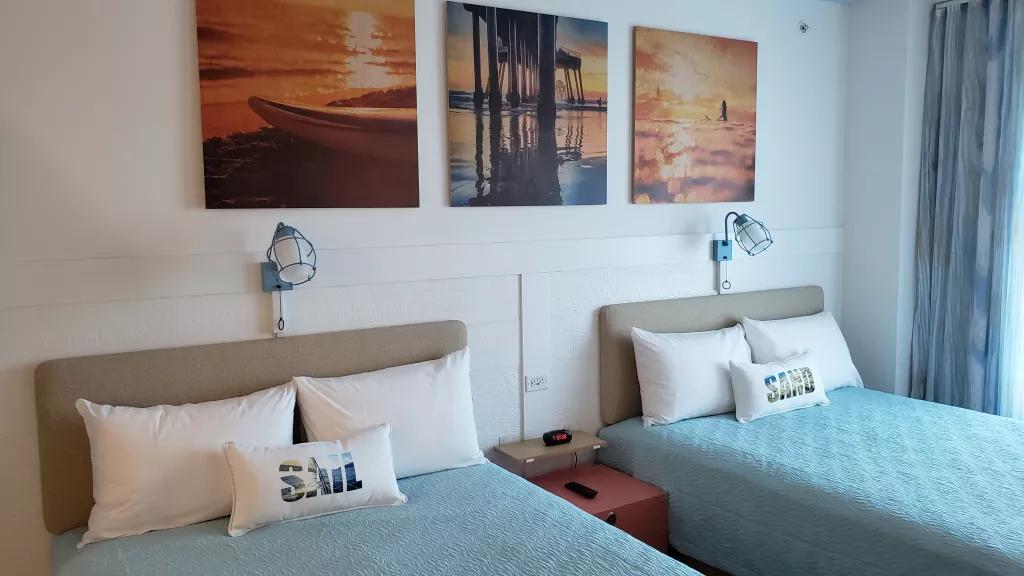 Thoughtful amenities at Dockside Inn include refillable mugs that guests can purchase and use for the duration of their stay (price based on number of days), Starbucks with grab-and-go items, guest laundry, fitness centre, games arcade, ATM, onsite car hire, shuttle transport to Universal's theme parks, a dedicated theme park ticket and holiday planning desk, and a printer station for printing your boarding pass when your final day in Orlando arrives.
Naturally, you'll also find a big Universal store in the lobby area, filled with tee-shirts, sweatshirts, hats, souvenirs and more. Forget something? You'll probably find it here. Hit with an unexpected hot day in winter or chilly day in spring? They've got you covered. Rainy day? No problem. Forgot your tot's swim diaper? They've got those, too.
Don't forget, any time you stay in one of Universal Orlando's Value hotels, you get the fab perk of Early Entry into the Wizarding World of Harry Potter areas at Universal Studios and Islands of Adventure, and be sure to take full advantage of your resort-wide charging privileges and access to special live entertainment venues, both embedded on your room key card.
It all adds up to a holiday filled with fun, excitement, relaxation and memories, with all the trappings of a smart hotel wrapped up in a wallet-friendly package.
Standard rooms start at $79 per night, Suites at $120 (plus tax) based on a 5-night stay.
Have questions about Universal's new Dockside Inn and Suites? Are you staying there and want to share your excitement? Join us on AttractionTickets.com's discussion forums!