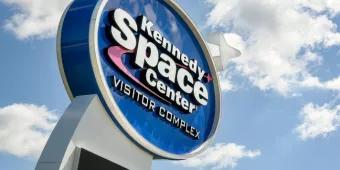 This official certification has just made the space coast more accessible
The Visitor Complex has been enhanced with updated signage and designated low-sensory areas, and all front-line team members have been given extensive training.
Kennedy Space Center Visitor Complex is already a favourite Florida attraction among families, but it has now become even more inclusive thanks to a partnership with the International Board of Credentialing and Continuing Education Standards (IBCCES) to become a Certified Autism Centre! 
Visiting a large attraction like Kennedy Space Center Visitor Complex can be an overwhelming experience for people with sensory sensitivities, and becoming a Certified Autism Centre ensures that these guests are accommodated with the following features and services: 
On-Site Sensory Guidance - Signs have been placed throughout the Visitor Complex that provide detailed information as to how each experience will impact each sense. This is designed to help guests plan their activities around specific needs and preferences. 
Designated Low Sensory Areas - Specific areas of Kennedy Space Center Visitor Complex have been designated as safe spaces for guests with sensory issues to recharge and relax in a less stimulating environment. 
Trained Team Members - Every front-line team member has been given extensive training to equip them with the necessary skills and understanding to assist guests with autism and sensory sensitivities, helping to make sure every visitor feels supported and welcome. 
Sensory Guide - A full sensory guide is now available on the Kennedy Space Center Visitor Complex website and app, meaning guests can be prepared for their visit and plan their day to accommodate their sensory needs in advance. 
Speaking about the certification, COO of Kennedy Space Center Visitor Complex, Therrin Protze, said: "This certification is just one way we are working to ensure that Kennedy Space Center Visitor Complex is accessible to each of our guests. The extensive autism sensitivity and awareness training our staff has undergone has already impacted the way we interact with all families and children with of all abilities, but specifically those with autism and other sensory sensitivities."
Kennedy Space Center Visitor Complex is not the first attraction in Florida to become a Certified Autism Centre. LEGOLAND Florida, SeaWorld Orlando and Discovery Cove are all recognised by the IBCCES for their inclusivity for autistic and sensory-sensitive guests. 
Ready for a day of fun at Cape Canaveral? Book your Kennedy Space Center Visitor Complex Tickets today to experience Gateway: The Deep Space Launch Complex, Space Shuttle Atlantis, the Apollo/Saturn V Center and more!