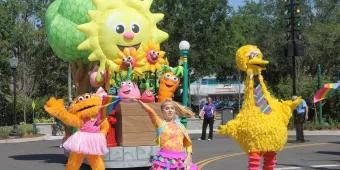 By ATD's Florida Experts, Susan and Simon Veness
Imagine walking through a New York style neighbourhood, where lovable monsters greet you with a big hug, a gigantic yellow bird tells stories, and there's a parade every day. Imagine no more, because Sesame Street, based on the groundbreaking children's show, has opened in SeaWorld.
Furry friends such as Big Bird, Grover, Elmo, Cookie Monster and Oscar the Grouch have been teaching American children their A-B-Cs and 1-2-3s since 1969, and they've become as much a part of quality children's television history as Thomas the Tank Engine, Peppa Pig and (for the older generations), Blue Peter, Play School and Jackanory are in the UK.
In the spirit of immersive lands such as Diagon Alley and Hogsmead at Universal Orlando, and the upcoming Black Spire Outpost in the Star Wars: Galaxy's Edge area of Disney's Hollywood Studios, Sesame Street is big on 'realism' even though it's a relatively small area. Beloved icons such as Mr Hooper's Store are life-sized, creating a true sense of place. You can even sit on the front steps of the show's most famous address, 123 Sesame Street, where countless conversations between grown-ups, pre-schoolers, and fuzzy monsters have taken place.
There are five kid-friendly attractions here, too, and visitors who have been to SeaWorld before and remember the former Shamu's Happy Harbor will notice a marked similarity to its junior-sized rides, now re-purposed with Sesame Street themes. Each has a height restriction, but none are more than 3ft 5inches, so the average 5-year-old can likely ride everything.
One of the main highlights for youngsters is Elmo's Choo Choo Train, a gentle circuit through a garden setting.  Along the way, children are encouraged to watch for various garden bugs, such as butterflies and caterpillars. Kids who watch the television show will also recognise Elmo's little friends, the Twiddlebugs, hiding amongst the landscaping.
Bigger thrills are found on Super Grover's Box Car Derby mini roller coaster, the perfect introductory coaster for kids born into thrill-seeking families.  Families who have visited SeaWorld with young children in the past will notice a strong resemblance to the former Shamu Express!
Fairground-style rides Slimy's Slider rocking boat ride, Big Bird's Twirl 'N' Whirl teacup-style ride, Abby's Flower Tower drop tower and Cookie Drop spinning samba tower round out the offerings here, each designed to let pre-schoolers feel a little bit challenged, and walk away feeling successful.
Although children who attended our media event loved the meet-and-greets with Big Bird, The Count, and Oscar the Grouch (complete with his trademark trashcan!),  even adults were eager to meet the characters they know so well. There are two additional meet-and-greets, in a more formal setting. Cookie Monster and Elmo greet guests in a dedicated Photos with Elmo theatre-style setting, with the option to purchase photos.
Big Bird also holds a Storytime session multiple times daily, and while it feels like an exclusive experience, it's actually free with park admission.
Two spontaneous-play features that are rare in theme parks will be another big hit here, with the water play area of Rubber Duckie Water Works, inspired by Ernie's bath time buddy, Rubber Ducky (sing the famous song with us: "Rubber Ducky, you're the one. You make bath time lots of fun! Rubber Ducky I'm awfully fond of…Rubber Ducky I'd like a whole pond of….YOU!") and the Count-Around Playground giant climbing structure.
There are a host of other interactive elements in the land, including the Two-Headed Monster Pipe Telephone (speak into the pipe and your voice comes back as a monster); Bert and Ernie's Doorbell (ring the doorbell to trigger conversation from the resident roommates); Oscar's Trash Can (he's not called Oscar the Grouch for no reason, and if you knock on his trash can you'll find out why); Bike Shop Tricycle Challenge digital game; Elmo's Window (an interactive song and dance element); Sesame Street Apartment Intercom (favourite characters respond when you push the intercom button for their flats); plus a Laundromat game, Cookie Monsters Foodie Truck Challenge, Yip Yip's Mail Slot and Create A Monster. 
SeaWorld has never featured a daily parade, but that's all changed now, too. Watch for the superb Sesame Street Party Parade, with giant, colourful floats bearing favourite characters such as Bert and Ernie, The Count (a lovable Dracula-like character who teaches kids to count, of course!), Cookie Monster, Elmo, Big Bird and more.
As wonderful as the land itself is, the parade is truly something special. As it winds along Sesame Street, it comes to a stop and the characters hold a dance party, first with each other, then with children and families who want to join in. An adorable jump-rope session caps things off, and it's so tame even toddlers can manage it (the rope never leaves the ground).
You don't have to worry about where you're located along the parade route; there are several characters, and they each dance in the location where their float stops, so the entire street can participate in the party.
Food and beverages are offered at the Eats on the Street food truck section, featuring crispy chicken tenders, Asian tempura tenders or Hawaiian grilled chicken tenders, French fries, fruit, cookies and drinks at the ABC Eats truck, and four kinds of grilled cheese sandwiches (Hawaiian, Italian, Turkey Melt and Veggie), French fries, cookies and drinks at the Yummy Yummy Nom Noms truck, plus smoothies, Icees with soft serve, salad, string cheese, fruit and cookies at Sesame Sips. Adults, take note: there is no alcohol served at the food trucks, though it can easily be found in neighbouring lands.
And, of course, you can pick up souvenirs from your visit at Hooper's Store. The must-have item here? It is undoubtedly the Elmo's Interactive Light-Up Bubble Wand, which not only spews out little bubbles, it also unlocks surprise elements as you walk around Sesame Street!
Whether the children you love know the characters or not, Sesame Street will surely be a highlight of their visit to SeaWorld. In fact, once they get there, they may not want to leave!
Don't have your SeaWorld tickets yet? Find the right one for you, here.
Liked this post? You might also like...
™/© 2019 Sesame Workshop