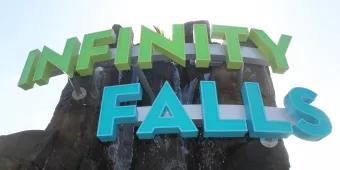 By ATD's Florida Experts, Susan and Simon Veness
The steaming heat and the torrential flow of a long-forgotten river are your constant companions as you journey through the rainforest. And then you hear it: the sound of a raging waterfall, and you're heading right for it! What will happen when your raft topples over the top? Find out on SeaWorld's brand-new Infinity Falls.
Adventurers who want to dedicate their life (at least, a good 5 minutes of it) to rainforest exploration, without a long aeroplane ride and a painful round of vaccinations, can make that dream come true. SeaWorld has just opened its newest attraction, Infinity Falls, and its focus is firmly on fun, with an undertone of "freshwater conservation and how you can play a role in it." Before you take that role on, though, you'll need some experience of the ecosystem you intend to save, and you're going to get it when you board your raft and set out into the rainforest. But there's one catch, and it's a big one.
Infinity Falls is named that for a reason, and when your 8-person raft begins its plunge down the 40-foot waterfall—the largest water raft ride drop in the world—it's going to feel like you're plummeting into infinity. But that isn't even the most hair-raising part of your journey. First, you're going up. Way up!
SeaWorld Parks and Recreation has already delved into vertical lift technology at their popular Cobra's Curse roller coaster in Busch Gardens Tampa, and it was a resounding success. Now they've brought the concept to Orlando, with a 67-foot tower housing the lift mechanism, designed in a style that is reminiscent of sister coaster, Cheetah Hunt's, iconic first drop tower. But don't worry. This is still a family-friendly ride (though there is a height requirement of 42 inches/107cm), and nearly anyone who makes height can do it.
Infinity Falls officially opened on 4 October, and we attended the Grand Opening event, with the chance to experience the journey first-hand.
The queue for the attraction winds through lush landscaping, and while there are no interactive elements as you make your way toward the boarding area, there are lots of opportunities to watch other riders as they roll along the river. The area is extremely photogenic, with plenty of spots for terrific selfies.
Once onboard, the rafts are large and comfortable, with seatbelts that restrain two riders per belt. Boarding is via a continuous-motion set-up, meaning, your raft will be moving slowly as you board, which helps keep the queue moving, too. You'll have enough time to get settled, though, as the interval between sitting down and launching is ample. And then, you're off!
The river is placid to begin with, but quickly devolves into a white water rapids as your raft makes the first turn. Keep watch as you round the bend; the flamingos that make their home along a water hole next to the river are likely to strut alongside you as your raft goes by!
Straight away you're into a rapids, and it's here you'll get your first interaction with the river's cooling properties, because the waves are going to become one with your raft…and your feet. Unlike other raft rides, this one is a dangler, meaning, there is no central foot rest to keep your feet dry, and additionally, no central "dry storage" bin. While you can put any belongings you want to keep dry into a locker before you queue up ($2 per locker), you must keep your shoes (and shirts) on, so plan your footwear accordingly.
A second section of white-water rapids isn't far beyond the first, and it's so turbulent you can actually see the peaks and valleys as the waves shoot up and tumble down, which is what your raft is going to be doing, too. We affectionately nicknamed this one The Bottom Soaker, for obvious reasons. Wearing a poncho? It will help, but only as far as your upper regions are concerned!
As your journey unfolds, you'll encounter soak fountains, nods toward an 'ancient civilisation' that once lived along the riverbanks, and moments of genuine tranquility, but you're not likely to feel overly peaceful. This is, after all, a thrill ride, and you've got that aforementioned lift hill and 40-foot plunge coming.
Once you've traversed the rapids, your path is blocked by a gigantic rock outcropping, where trickles of water hint at what's on the other side. In a clever use of technology, your raft is moved into position in preparation for that ascent we mentioned earlier. Worried about taking a lift up a 67-foot tower? Don't be. The ride is smooth and surprisingly quick, and before you know it you're looking out over the river from the top of the 40-foot waterfall. That's your cue to hang on tight!
It's pretty much a given that you're going to come through it unscathed—though you are very likely to come through it soaking wet!—and, once you've reached the bottom, it's smooth sailing from there. Paid-for drying stations are located across from the lockers, but if you're visiting in summer or in warm months, you'll probably dry off quickly, nature's way.
The usual ride warnings apply (including no expectant mothers, no recent surgeries, no back or neck problems, and those prone to motion sickness should not ride), but the overall experience is extremely family-friendly, and even the youngest guests who make height are going to love it. Although the rafts do bump against the riverbanks now and then, the effect is more of a bounce than anything truly jarring. To our great delight, the typical river-ride issue of being bumped into by the rafts behind you seems to have been sorted out as well. The only real impact comes from your waterfall splash-down!
What about those freshwater-conservation elements? There are two interactive stations, one on either side of the pathway that leads to the attraction, with touch-screen kiosks geared toward conservation issues, but they're really secondary to the ride itself. In a park dedicated to all things oceanic, Infinity Falls is not only a reminder of our unique connection to the world's rivers and the life they support, it's also a great way to cool down on a hot day. From young explorers to grandma and grandpa, it's a thrilling family adventure!
Join us on the Attraction Tickets Direct discussion forums for more on Infinity Falls!