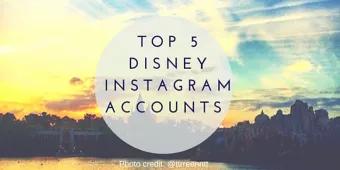 5 Disney fan Instagram accounts you should be following!
Our top 5 favourite Disney Instagramers...
If you would like to stay up to date with the latest news and share your thoughts on your favourite attractions and where to indulge on the best Disney snacks, then you must see our top favourite Disney Instagram accounts.
These Disney fans share their incredible images from Walt Disney World, from a sunny shot of Cinderella's Castle to the best macaroon in the France Pavilion at Epcot. You can share and interact with all other Disney fans and even learn some hidden secrets from the world's most magical theme park!
@disney_nuts
This account is filled with all things Disney, of course! Run by a long term fan, Luis has over 126K followers. Luis's commitment to his Instagram is truly remarkable, posting everyday with amazing photography and videos. Be sure to check his Instagram and Twitter @Disney_nuts to keep up to date with the latest from Walt Disney World Resort.   
@OhYeahDisney
A bright and colourful Disney Instagram account that is bound to put a smile on your face. These two Disney fanatics have over 46k followers on Instagram. Follow their Disney journey as they share their Disney first, laughs and more! We just can't get enough of them. Be sure to follow them on Twitter too - @ohyeahdisney_
@takeme2disneyworld
This 'Disney Princess' at heart shares all of her magical experiences from her many visits to Disney Parks. With 104K followers, you know you will not be disappointed with her visual portrayal of all things Disney!  
@mickeyspremium
Calling all Disney fans to follow Meaghan on Instagram and Twitter @mickeyspremium! An Disny Instagram account filled with Disney characters, parks, attractions and delicious eats. Meaghan's love for Disney is truly portrayed in her light-hearted imagery and fun snaps of our favourite characters. 
@wiiked26
And last but not least, Wiiked26 is another to add to your list. Follow this account to receive your daily fix of Disney magic! This talented photographer shares all of his incredible captures, from characters to parks, you'll be in for a treat!
Let us know what you think of our favourite Disney accounts and be sure to give us a follow on Instagram and Twitter for even more magic from Orlando Ticket Deals.