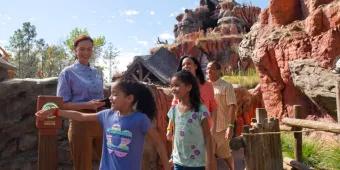 by Oliver Brendon, founder of ATD
Just like you, we love theme parks, but hate the prospect of big queues. It needn't be like this though, for there are a number of ways you can beat the dreaded lines...
We see the same questions over and over again about the queues in Orlando. "What are the queues like in Orlando in July?", 
"What are the queues like in Orlando in August?", "When's the quiestest time to visit Orlando?". Although we give lots of great advice on when's the best time to visit for shorter queues among other advice in our Expert Guide, we also love to recommend the following tips and tricks for beating the queues in Orlando...
One of my children calls me 'the most impatient man on earth' and whilst that is probably a slight exaggeration, it is certainly true that I don't like queuing which can be a problem at theme parks.  I was in Florida over Easter and we spent 5 days in Orlando during the US Spring Break which is a really busy time as it coincides with Easter.  Here are my top tips for avoiding long queues.
Things you can do for free
1. Get there early.  This is always, always the number one tip but it's amazing how many people ignore it.  We got to Blizzard Beach at 8:30am, the park opened at 9am and we had gone down every water slide by 10:30; By the time we left at lunchtime, the park was fairly packed.  Similarly at Universal Studios, the park seemed quiet before midday but after lunch, queues for the major rides were all over 60 minutes.  We tended to arrive early, go back to the hotel in the afternoon during the hottest part of the day and go back to the parks in the early evening to do a few rides and watch the fireworks.
2. Do the newest, most popular rides first.   
3. Go to the back of the park first and work towards the front. 
4. Pre-purchase real tickets, not vouchers.
All of our tickets to the major theme parks are actual, gate ready tickets which are delivered digitally to your inbox so you will be able to go straight into the park rather than queue to exchange a voucher for a ticket.  It is always better value to pre-purchase.
6. Avoid US School holidays if you can.  
Spring break tends to be at the beginning of our Easter school holidays and US schools usually go back during the 3rd week of August but there are other holidays to watch out for also;  for example, Thanksgiving Weekend is usually the third weekend of November and the parks are packed from Thursday to Sunday.  If you can visit in September, you won't queue long for a single ride and you'll also probably get great weather.
Things that you can pay for
1. Buy Disney Genie+ for days when you are visiting a Disney Park. You can purchase this at 7am each day once you are in resort and this will allow you to pre-book times for 2-3 attractions per day, saving you time waiting in line. 
2. Buy a Universal Express ticket.  
Express queues at Universal Studios and Islands of Adventure are usually a maximum of 15 minutes long.  You can buy an 
Express ticket 
from our website and save time and money by pre-purchasing in advance. 
3. Stay at an on-site hotel.  If you stay at a Disney property, you will be entitled to visit their parks during Magic Hours every day.  The parks are not open to off-site guests during Magic Hours so the queues are considerably shorter.  All of the Universal Orlando hotels allow you to access the Universal Parks before they open to the general public and three of them (The Portofino Bay, The Hard Rock and The Royal Pacific) also entitle you to Universal Express.
Best wishes from Sunny Florida.
Olly Brendon
Founder, Attraction Tickets Direct
Like this post? You might also like: