Excitement and thrills, right on your doorstep!
We highlight the best theme parks in the UK, our favourite rides, and some exciting new additions to come in 2021...
The UK is home to so many different attractions, so a day out can be as simple as jumping in the car and driving to the seaside, a zoo or one of the many national parks on offer. More often than not though, a UK theme park day out is the most popular destination of choice. 
There's nothing we at AttractionTickets.com love more than to try out the latest in theme park imagineering, such as the world's first 14 loop rollercoaster or experience a brand new innovative ride, the likes of which we have never seen before. So, let's dive in and see which parks we consider to be among the best theme parks in the UK.
Alton Towers Resort
Located in Staffordshire, Alton Towers is the UK's largest theme park spanning over 900 acres of land, making it one of the biggest theme parks in the world. Set around the ruins of the stately home 'Alton Towers' (where you can even experience the legend of the towers on the ride 'Hex'), it opened in 1980 as the Alton Towers we know today.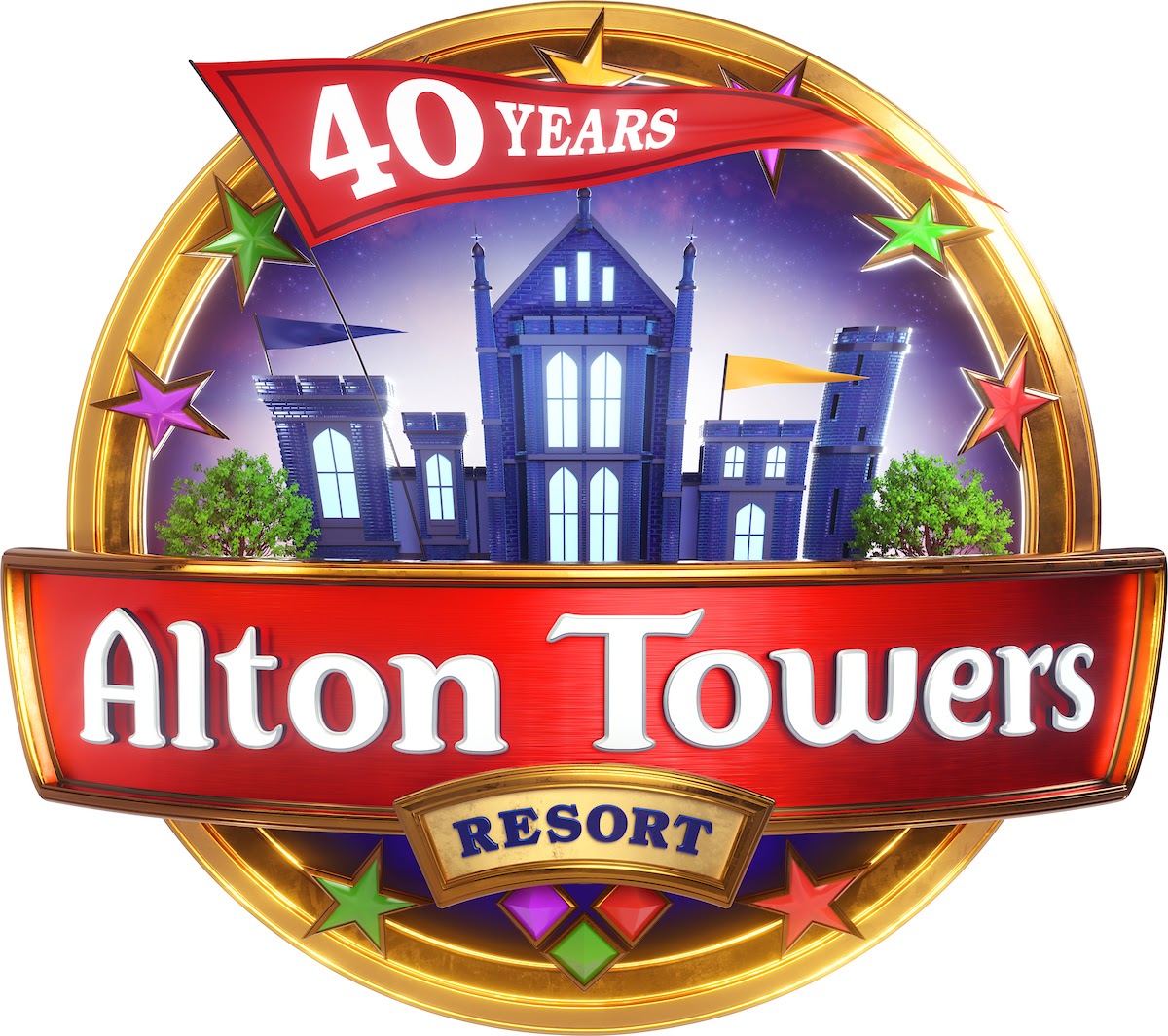 Over the years, the park has been praised for its imaginative designs in producing some of the 'World's First' type rides, where Alton Towers is the only place you can experience it.
Wicker Man
The first wooden roller coaster to open in the UK in 22 years, the Wicker Man was introduced in 2018, and is the first wooden coaster in the world to incorporate fire! If you like an old school type coaster, Wicker Man certainly delivers. Check out what we thought of Wicker Man below:
The Smiler
Built in 2013, The Smiler still holds the world record for most inversions on a rollercoaster with an impressive 14! Not for the faint of heart, however this will definitely leave a smile on the faces of the thrill seekers among you.
Nemesis
Europe's first inverted roller coaster was introduced all the way back in 1994, and it still proves to be one of the most popular rides in the UK.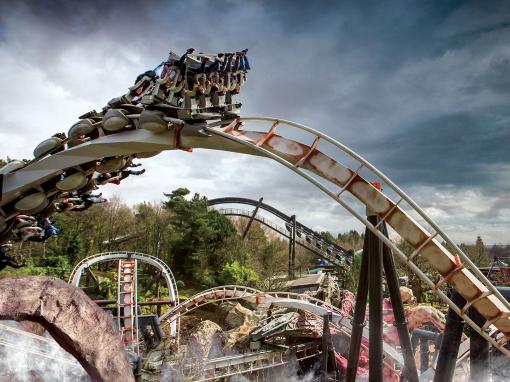 Reaching speeds of up to 50mph, this classic certainly packs a punch.
Other Alton Towers attractions not to be missed...
Alton Towers also houses other world first coasters such as Oblivion, the first vertical dive coaster of its kind, and Th13teen, the world's first vertical free-fall drop coaster. Mix this in with family favourites such as Spinball Whizzer, Congo River Rapids and the Runaway Mine train, as well as CBeebies Land for the little ones and you've got a fantastic day out for the whole family.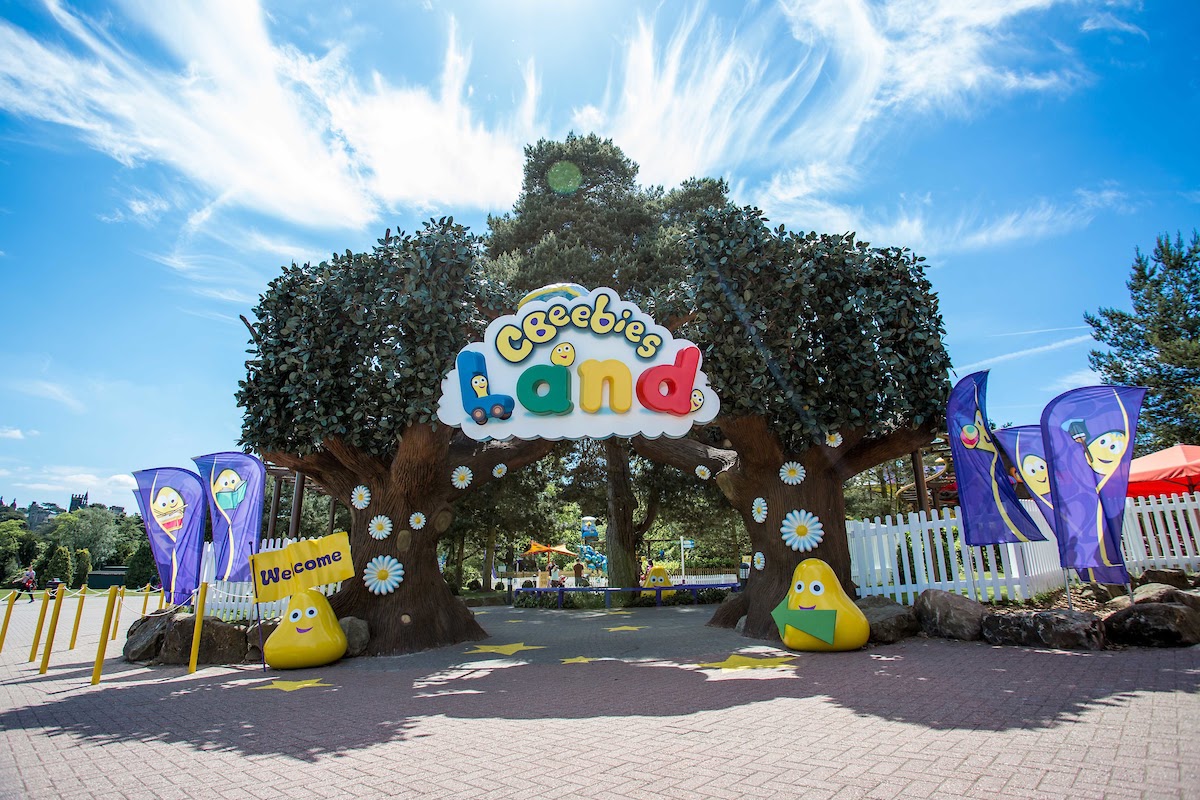 In 2021, the park will be welcoming an all new land for younger children, inspired by the World of David Walliams, featuring a brand new ride based on the popular book 'Gangsta Granny'.
A day at Alton Towers Resort sometimes isn't enough, so a second day might be needed to enjoy all the fantastic attractions the park has to offer. With 10 roller coasters and many other attractions for different age groups, all this makes up for the reasons why Alton Towers is one of the top theme parks in the UK.
Thorpe Park
Thorpe Park might be almost half the size of Alton Towers, but it certainly makes up for that in imagination and innovation. 
Located just off the M25 near Chertsey, Thorpe Park is home to some of the leading roller coasters and attractions in the UK, with theming rivalling that of the Orlando and US based theme parks.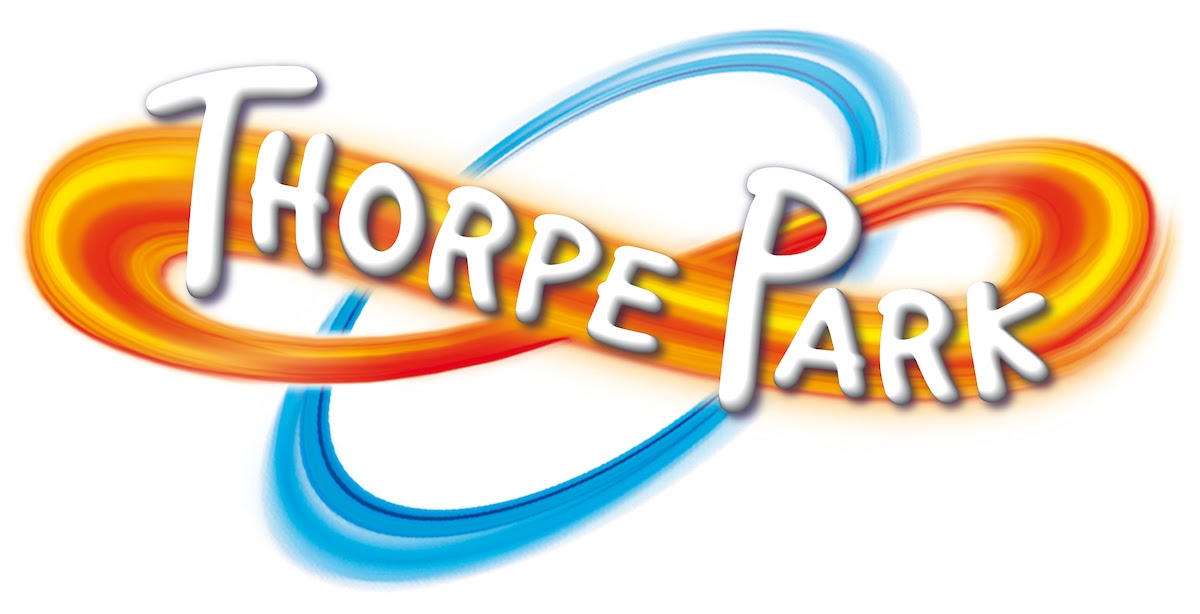 Since opening in 1979, it has grown from being a small amusement park to one of the best theme parks in England, boasting over 25 different attractions. Let's take a look at some of our favourites.
The Swarm
Set in the aftermath of a swarm of mechanical creatures who have destroyed the area, fly and weave your way through this warzone of crashed aeroplanes, upturned ambulances and a partially destroyed church. Built in 2012, this was the first ever winged roller coaster in the UK.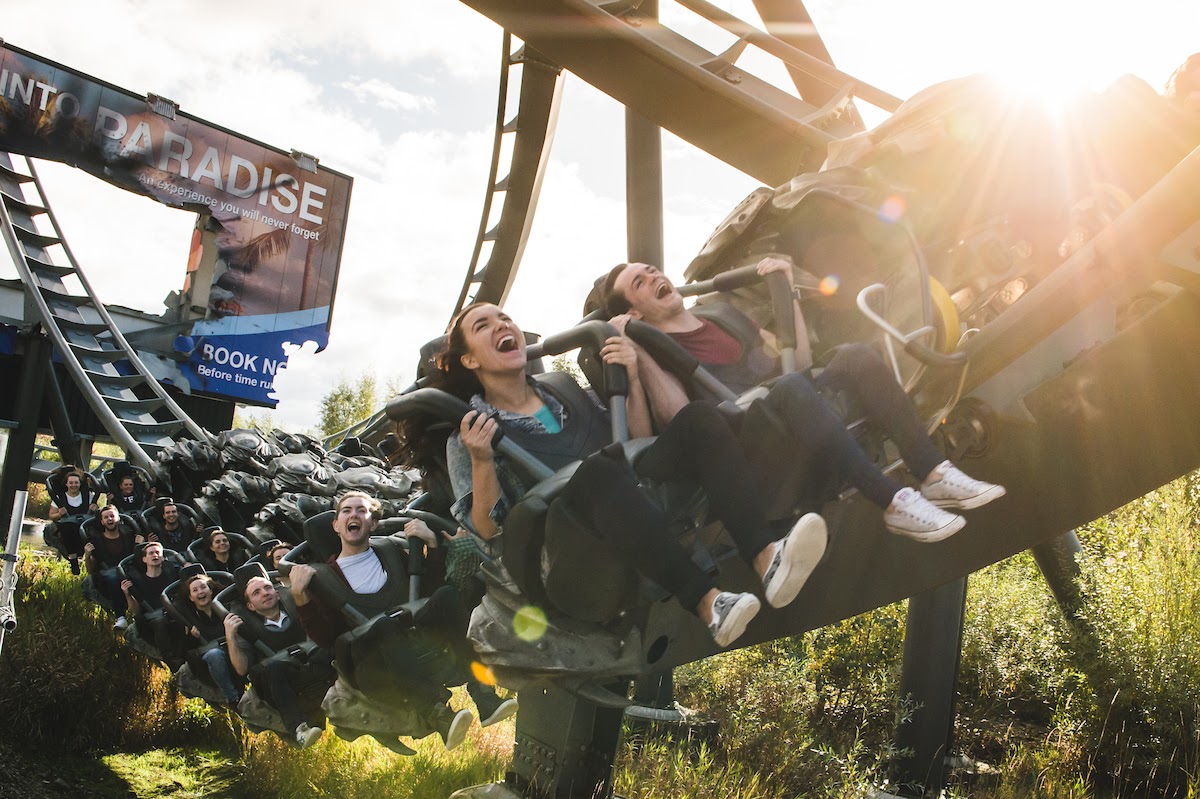 Saw: The Ride
One of two attractions in the park based on a well known TV show/film (the other being The Walking Dead), this was labelled as the world's first horror roller coaster.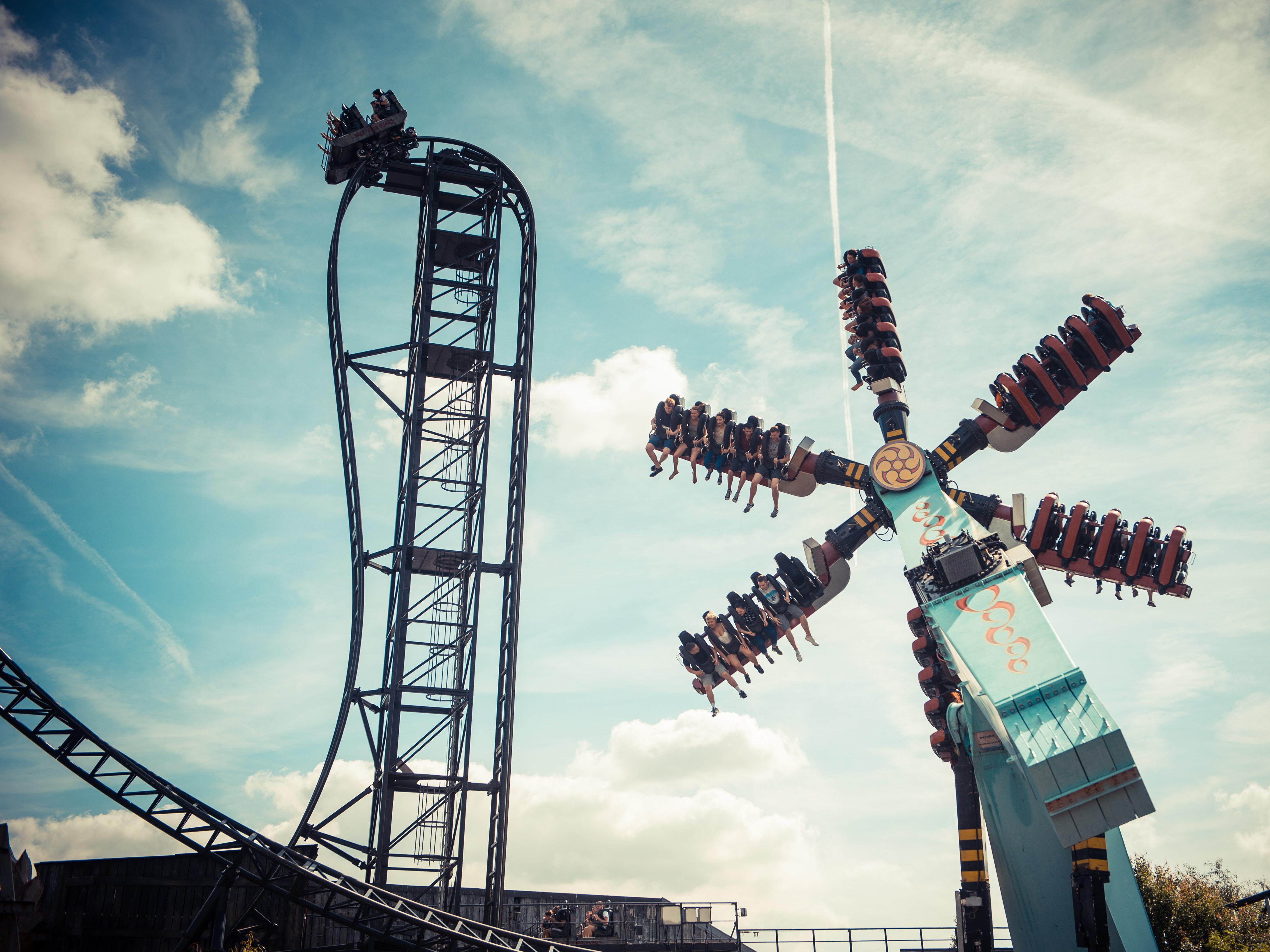 It starts inside Jigsaw's lair, before sending you down a beyond vertical drop into 3 inversions and speeds of upto 55mph! If horror and roller coasters are your thing, Saw: The Ride is bloodcurdlingly good fun!
Stealth
Not only is this the second tallest coaster in the UK, it is also the fastest roller coaster in the UK, with a launch speed of 80mph in just 1.9 seconds!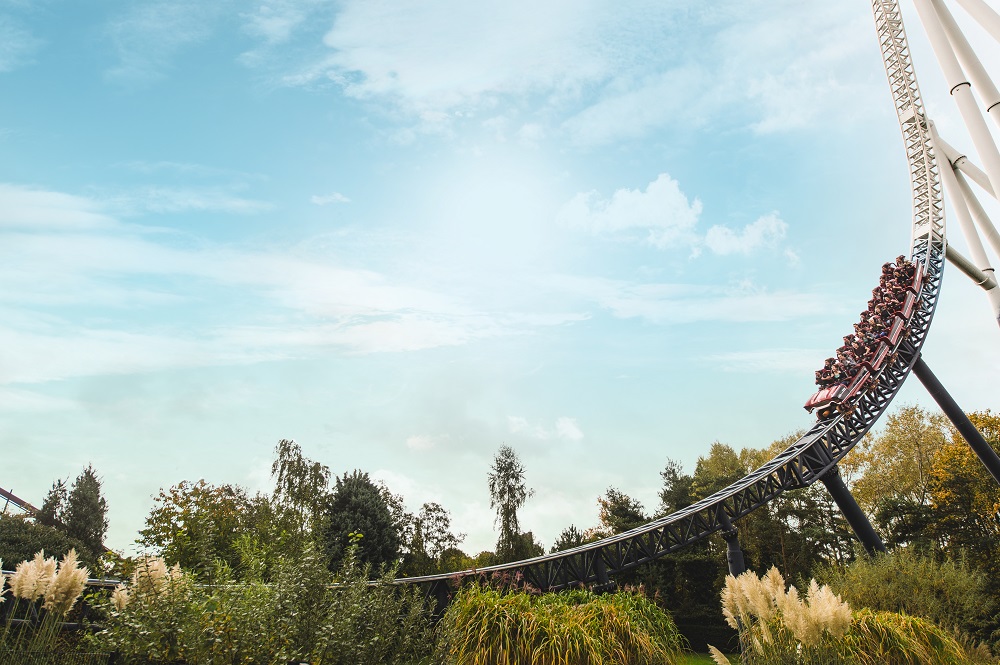 It's over in a flash, but this amazing coaster still managed to get top spot on our 'Top 10 UK Roller Coasters' post.
Other Thorpe Park attractions not to be missed...
New for 2021, is Black Mirror: Labyrinth. This brand new walk through attraction will be coming for next season. We don't know much about it yet, but if you're a fan of the show expect it to be a feast for the eyes, as it promises to be a weird but wonderful experience.
Where Thorpe Park used to be more for younger children and families, it has grown to be one of the best parks for thrills in the UK, with rides including Colossus, Samurai and Nemesis Inferno still managing to tickle the adrenaline taste buds. There are still plenty of exciting attractions for smaller riders such as Angry Birds Land, Storm Surge, Rumba Rapids and Rocky Express amongst others. A day at Thorpe Park is a fun day out for anyone!
Chessington World of Adventures
Unlike Thorpe Park & Alton Towers, Chessington World of Adventures boasts the unique combination of being both a theme park and a zoo. Located in Surrey, featuring over 30 rides and hundreds of animals from tigers, sea lions, meerkats, llamas, gorillas and so much more, Chessington is a family- friendly park with rides perfect for those of a younger age group.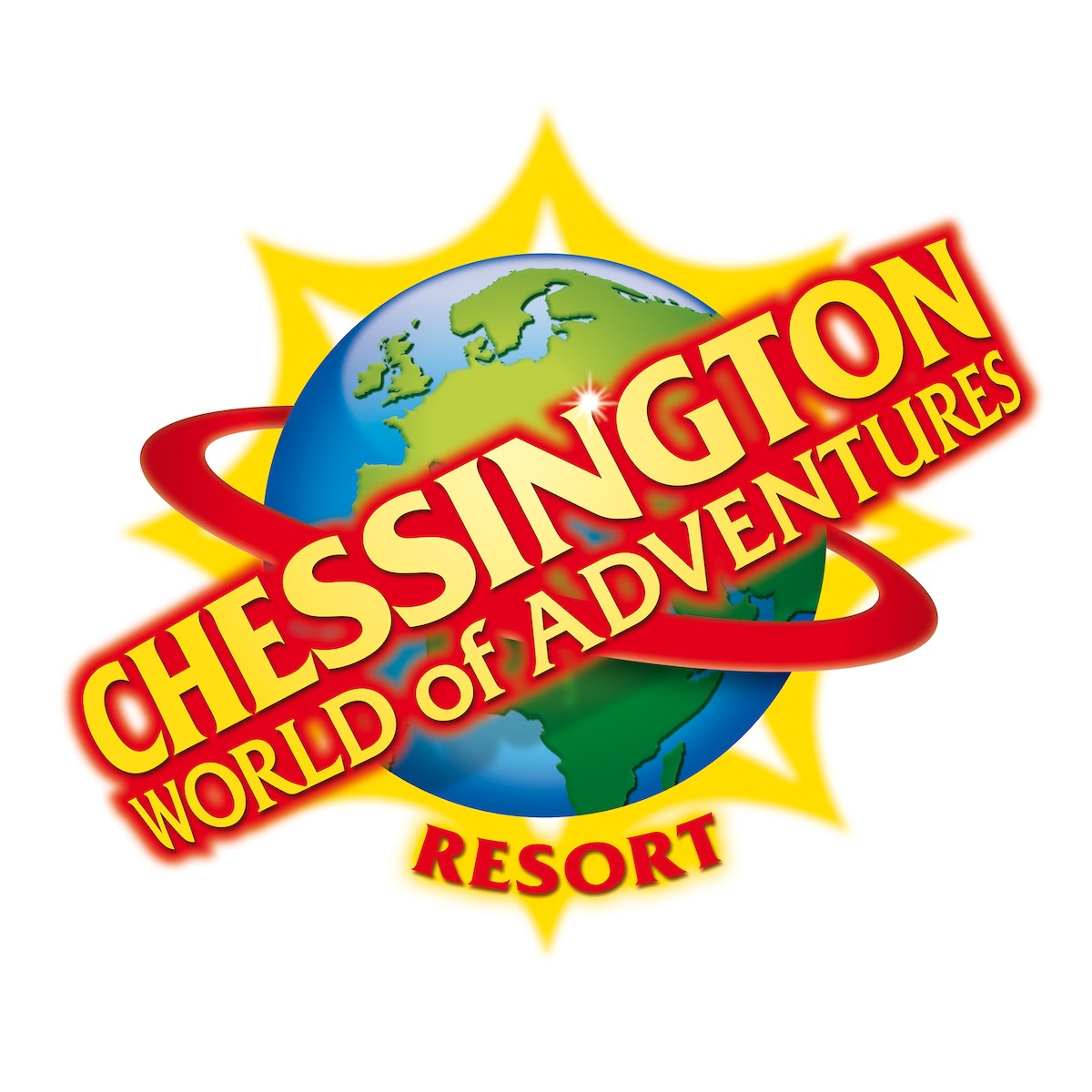 Vampire
One of Chessington's oldest and most well known rides, Vampire, is a brilliant suspended coaster for all the family. Spooky in tone, this ride may give you chills as well as thrills.
Dragon's Fury
Arguably the most thrilling ride in the park, Dragon's Fury is a spinning roller coaster taking up to four people in each car.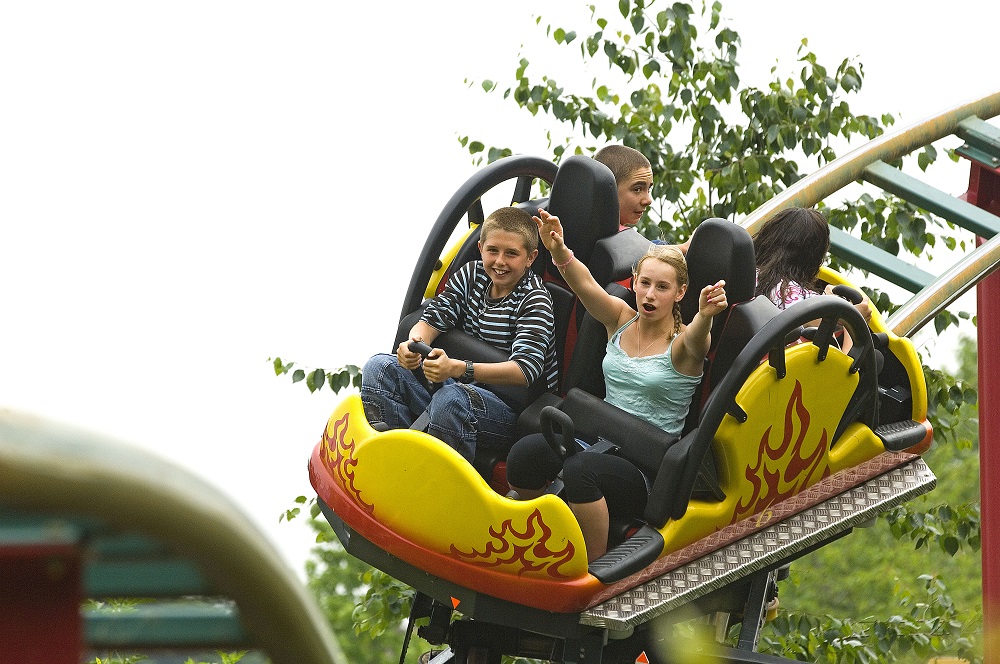 A hugely enjoyable family coaster that spins you all the way round the track undoubtedly leaving you in fits of laughter (if a little dizzy) by the end.
The Gruffalo River Ride Adventure
Formerly the classic Bubbleworks, this was re-imagined in 2017 to the theme of the popular children's book series, the Gruffalo.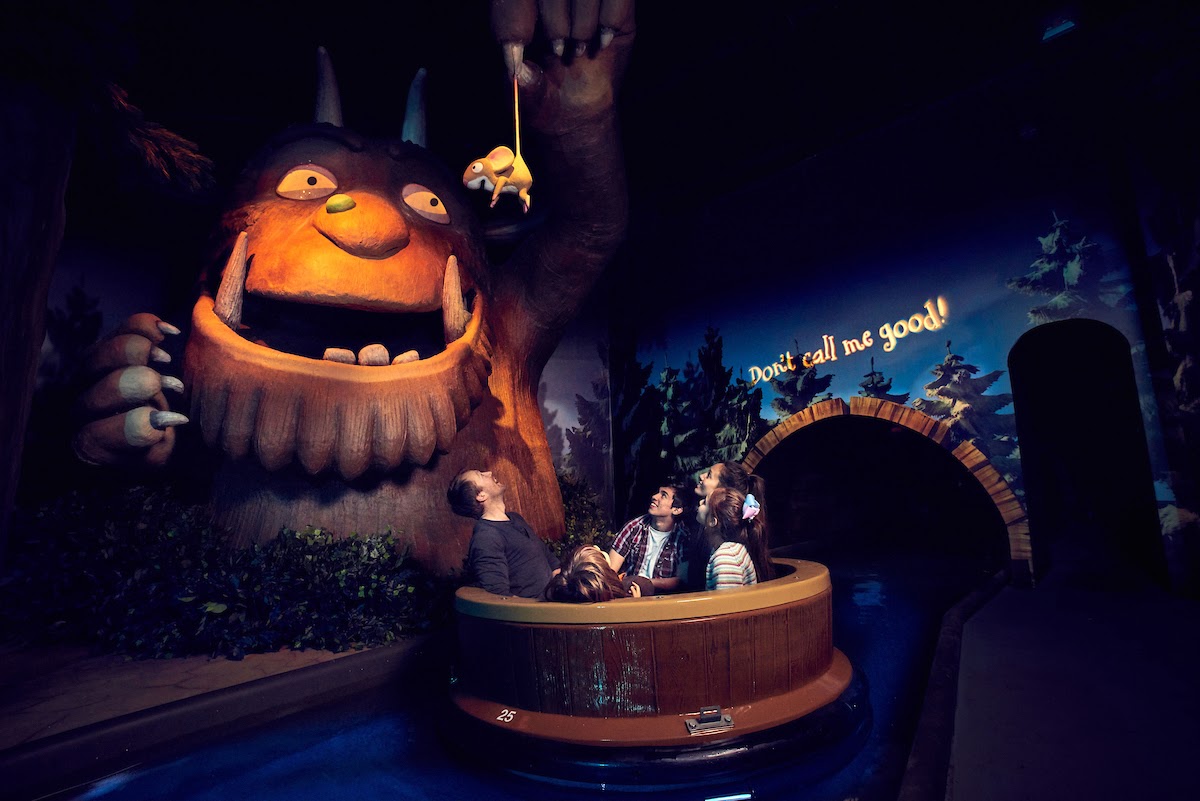 A slow moving boat ride featuring projections, water features and animations, it follows Mouse through the woods meeting more characters from the books. A relaxing adventure for the little ones.
Other Chessington attractions not to be missed… 
2021 will see a brand new ride in the Forbidden Kingdom area of the park themed to the ancient Egyptian God, Sobek. We know it is likely to be a drop tower of some kind, but new information will likely filter through in the coming months. 
Also for 2021, the old Black Buccaneer swinging ship will be replaced by the Blue Barnacle, expected to be a re-imagination of the old classic.
Chessington World of Adventures is a perfect family fun day out. Mixing rides with wildlife, it can be educational for children to learn about the different animals but still enjoy the thrills of some of its classic rides too. Rattlesnake and Tiger Rock provide plenty of excitement and the kids will love the vast array on offer exclusively to them, such as the Flying Jumbos, Jungle Rangers and many more. Chessington cooks up a perfect blend for everyone!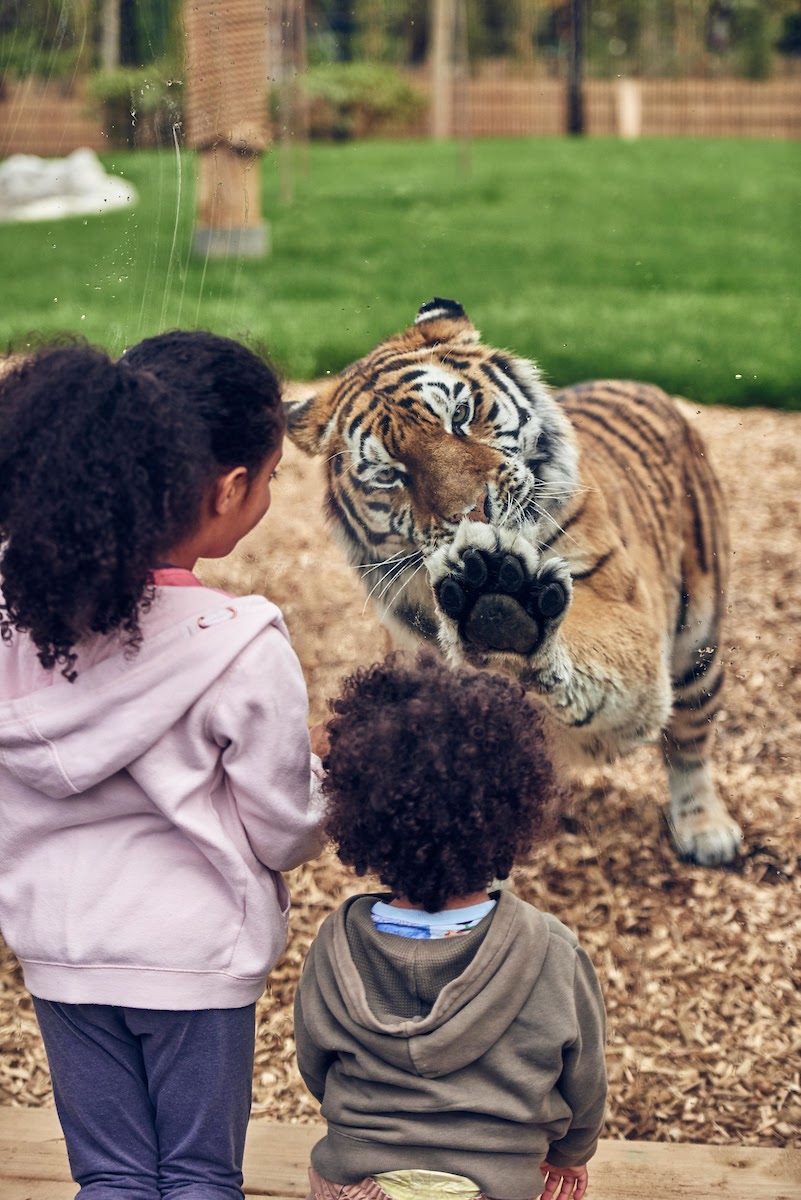 The youngest park on our list, Legoland Windsor opened in 1996, becoming what was the UK's most visited theme park in the 2019 season. Primarily aimed at small children, the park consists of over 50 attractions, and often introduces younger tots to their first ever ride. Split into 12 themed lands, each area of the park brings Lego to life in some form so not only will children love it here, it will also appeal to Lego enthusiasts of all ages.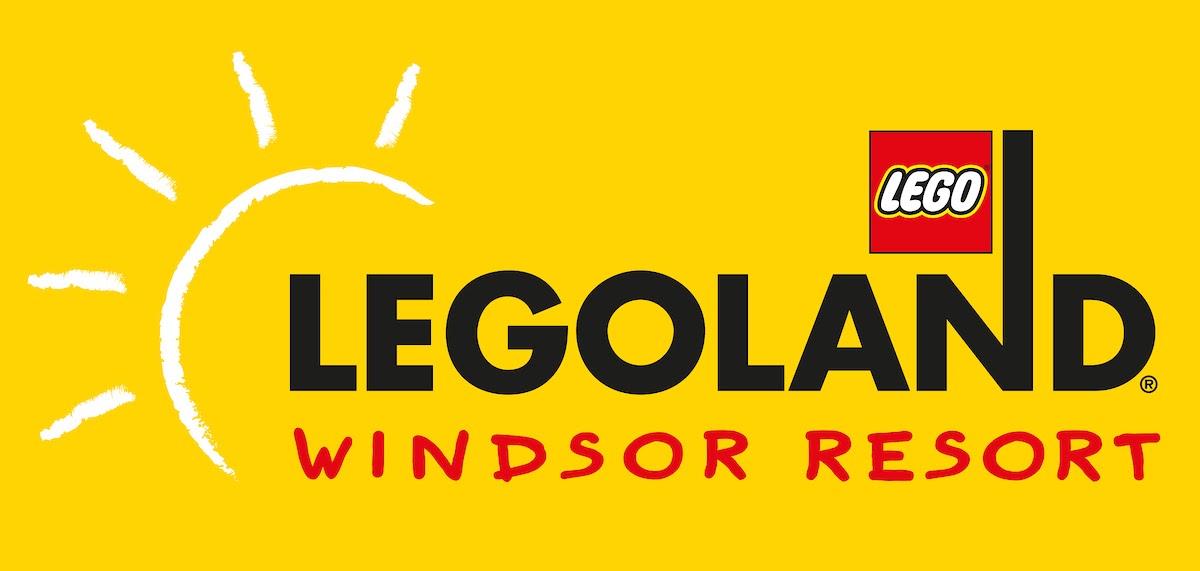 The Dragon
A classic family coaster, opened in 1998 takes you on a journey through a castle filled with Lego built kings, queens and jesters before a dragon sends you outside for a wild ride of Lego fuelled magic.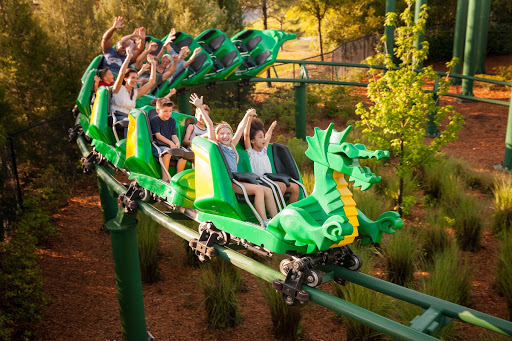 Ninjago: The Ride
A highly innovative dark ride that, simply put, is an arcade game that moves! Use your hands to shoot 'power balls' at the bad guys in this interactive ride where you can compete with the whole family to see who gets the best score. Our money is on the kids!
Miniland
No trip to Legoland is complete without a trip to Miniland. Featuring over 40 million Lego bricks, models include depictions of famous landmarks in London, Europe and the USA such as Big Ben, the London Underground network and Kennedy Space Center. This whole area is filled with clever designs and nods to TV and film we know and love, so be sure to look out for them on your next visit. It's very easy to stay in this area for hours!
Just announced, the new world of Lego: Mythica, land of mythical creatures is coming in Spring 2021. Information is still limited, but Legoland has promised a new 'UK first' attraction that will be built within the new land.
For little ones starting out their theme park adventures, Legoland Windsor Resort is the perfect way to introduce them to the world of rides and attractions. With old favourites such as the Lego Driving School and Pirate Falls, there is a perfect mix of interactive fun and educational experiences that makes Legoland one of the top theme parks in the UK.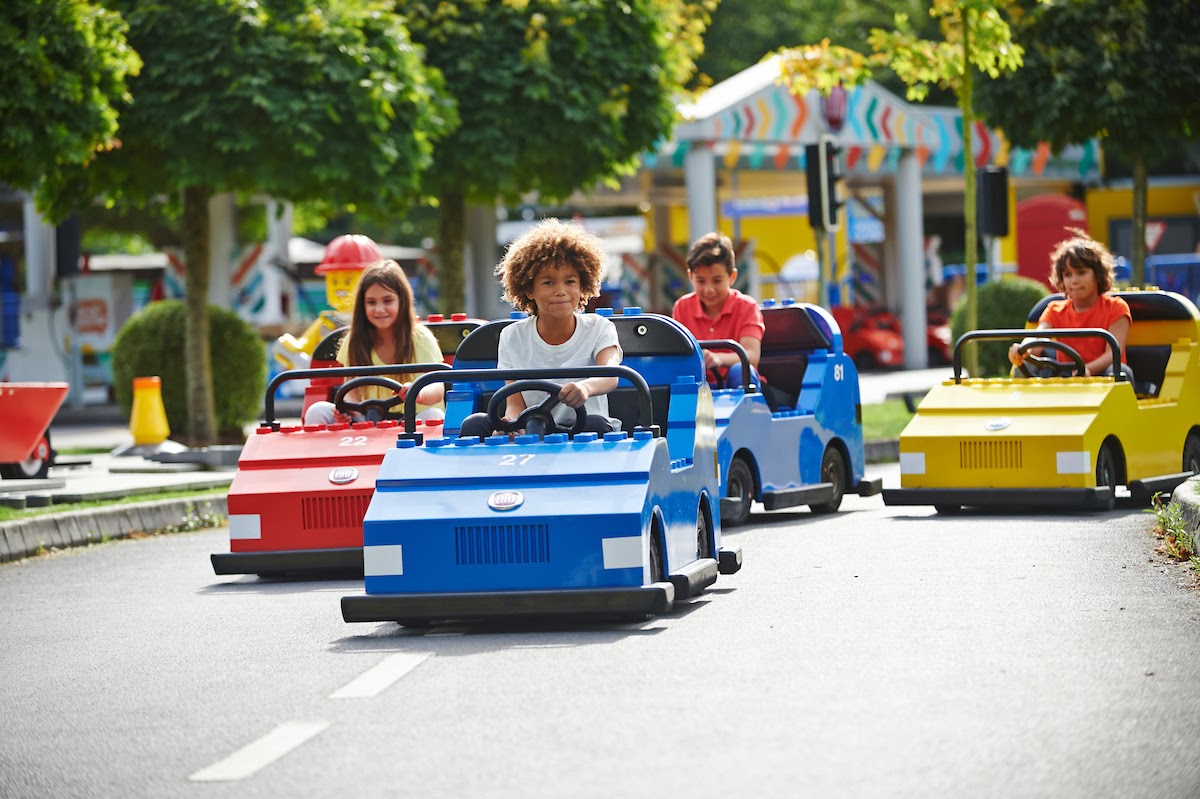 For the 2021 season, all these parks will introduce new and exciting additions for younger children and those looking for something a bit more grown up. We are blessed with so many fantastic UK theme parks and attractions, so why not spend some quality time with your family and friends at one of the above in 2021!