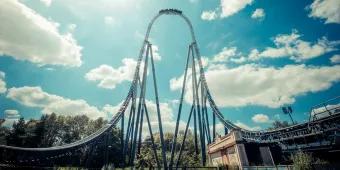 With Alton Towers, Thorpe Park and more in the UK, competition is fierce!
From the never-ending loop-the-loops of The Smiler to the heart-stopping speeds and heights of Stealth, we've narrowed down the top 10 UK roller coasters.
While Orlando may be considered the theme park capital of the world, there are plenty of incredible roller coasters to ride right here in the UK. With a variety of amazing UK theme parks to visit up and down the country, there are lots of adrenaline-fuelled roller coasters to exhilarate the thrill-seeker in you.
Whether you like heart-stopping vertical drops, thrilling high speeds or dizzying loop-the-loops, we've put together a list of the top 10 best roller coasters in the country to tick off your theme park bucket list, from the fastest to the tallest roller coasters in the UK.
What are the top 10 UK roller coasters?
1. Stealth
Thorpe Park
Buckle up and get ready to take on one of the fastest roller coasters in Europe and the fastest roller coaster in the UK. As one of the park's most popular rides, your Thorpe Park tickets will certainly be well spent ticking this heart-racing ride off your list.
Stealth goes from 0-80mph in less than 2 seconds, launching you up a 205ft-high track. That's the same brake horsepower as not just one, but two Formula 1 cars. As the lights change from red to green, brace yourself for an experience like no other as you fly through the air at breath-taking speeds.
Stealth
Height
205ft
Speed
80mph
Length
1312ft
2. The Swarm
Thorpe Park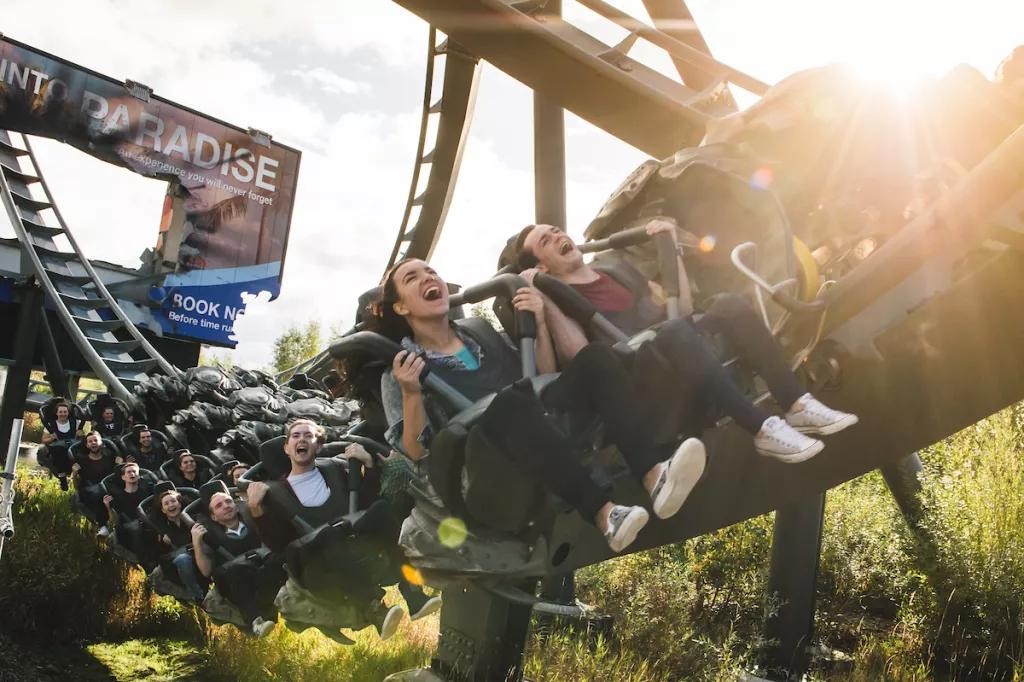 An impressively themed roller coaster, The Swarm will make you feel as if you've been transported to a post-apocalyptic world taken over by, in this case, killer bees (hence the name!). Unlike traditional roller coasters, The Swarm seats its brave riders on either side of the track, which allows for a 'near-miss' feeling while zig-zagging through well-thought-out props and scenery at high speeds.
The ride is meant to replicate the feeling of flying through a post-disaster crash scene, so be on the look out for a partially destroyed church, an upturned ambulance, a half-submerged fire engine and a damaged helicopter. You'll also experience a close-call when soaring through a crashed aeroplane!
The Swarm
Height
127ft
Speed
59mph
Length
2543ft
3. Oblivion
Alton Towers
You'll need to visit Alton Towers to experience Oblivion, the infamous 90-degree drop coaster! 
"Oblivion is a roller coaster that is short in track length, but still packs one hell of a punch!" Says blogger Kariss from Shy Strange Manic. "What it lacks in ride time it makes up for in pure adrenalin. The short pause as the ride holds you over the 90-degree drop never fails to excite and scare even the most seasoned roller coaster enthusiasts!"
Francesca, blogger at Super Mummy Secrets, also agrees that the drop is spinetingling, yet addictive.
"This is a ride I love, and I'm also terrified of at the same time. If you want to imagine what it would be like to jump out of a plane, then I think this probably gives you a small glimpse of that!
"The moment it stops and you are looking down the black hole you are about to plunge down into is terrifying. That is the moment you regret getting on the ride but before you know it, you have already plunged down and are queueing to go on it again thinking 'what am I doing?!' It is one ride you just simply HAVE to experience for yourself!"
Oblivion
Drop
180ft
Speed
68mph
Length
1244ft
4. The Big One
Blackpool Pleasure Beach
The Big One was once the world's tallest and steepest roller coaster. It still holds the crown for being the tallest roller coaster in the UK but has since been knocked off the top spot for being the steepest. Opened in 1994, Blackpool's beloved roller coaster still thrills and excites all who dare to ride down its hair-raising 205-ft high, 65-degree drop, before twisting and turning along Blackpool Pleasure Beach.
To make the experience even more magical, consider riding the roller coaster at night when the Pleasure Beach is lit up in bright and dazzling colours for views like no other. The Big One was once the world's tallest and steepest roller coaster. In the UK however, it still holds the crown for being the tallest roller coaster but has since been knocked off the top spot for being the steepest. Opened in 1994, Blackpool's beloved roller coaster still thrills and excites all who dare to ride down its hair-raising 205-ft high, 65-degree drop, before twisting and turning along Blackpool Pleasure Beach.
The Big One
Height
235ft
Speed
74mph
Length
5497ft
5. Colossus
Thorpe Park
Colossus at Thorpe Park held the world record for being the roller coaster with the most inversions for some time, and even though it has since been overtaken, this is still one seriously scary coaster! Colossus features a total of ten stomach-churning inversions, a vertical loop, double corkscrews, a cobra roll and the UK's only quadruple barrel roll - that's a lot of twists for just one ride!
Colossus
Height
98ft
Speed
45mph
Length
2789ft
6. Wicker Man
Alton Towers
Wicker Man is one of Alton Towers' newest rides, and it also happens to be one of the scariest! This is the first wooden coaster to be built in the UK in more than 20 years, but thrill-seekers will be pleased to hear that this isn't just any wooden coaster, this is a wooden coaster that features scorching flames and a 58-foot burning effigy of the Wicker Man himself.
As you approach the ride, you'll discover the secret Beornen community who live deep in the woods. They want people to reject the modern world and reconnect with nature and they don't take too kindly to trespassers. If you think you've got what it takes, climb on board and get ready to face the wrath of the Wicker Man. You'll burst through his chest not just once, but three times at impressive speeds of almost 44mph!
A roller coaster connoisseur, Kip Hakes loves the fact the ride is up there with some of the best in the country, even though it is made out of wood.
"Despite using a very old school method of building a ride, the Wicker Man is an incredible feat of modern engineering. The music in the queue changes as you get further in, it's darker, moodier, and the pre-show before the ride is mind-blowing and builds up a real atmosphere.
"Wicker Man is a family ride, but don't let that fool you, it's fast, and furious and you find yourself having to remember to breathe as you fly through the Wicker Man's chest as it erupts into flames."
Kip also has a little tip for the best time to ride the Wicker Man: "It's best to catch Wicker Man near the end of the day. You'll also want to sit in the back row for the most intense experience!"
Two members of our brilliant team were lucky enough to be some of the first people to ride this distinctive roller coaster when it first opened in March 2018. Check out the video below to see how they fared against the Wicker Man's wrath.
Wicker Man
Drop
72.2ft
Speed
43.6mph
Length
2608.3ft
7. The Smiler
Alton Towers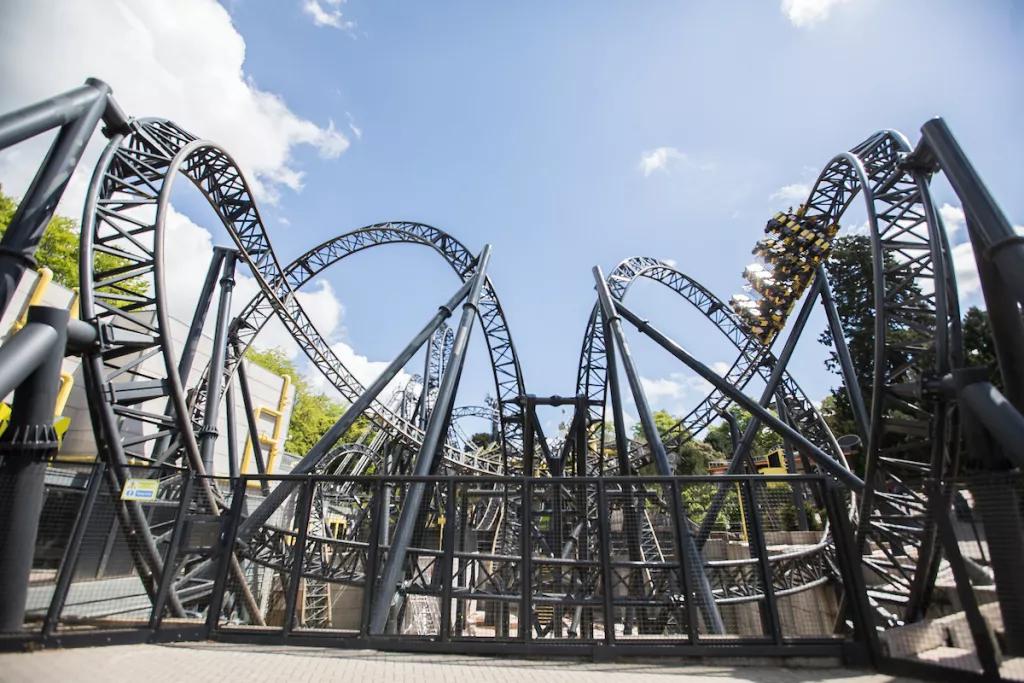 The world's first 14-loop roller coaster, The Smiler will certainly have its riders doing just that! Not for the faint-hearted, this ride will take you on corkscrew twists and turns as well as its various inversions for a real adrenaline-fuelled roller coaster ride you won't forget in a hurry.
Taking the world record away from Colossus for having the most inversions, this rollercoaster is the ultimate ride for lovers of loop-the-loops.
The Smiler
Speed
52.8mph
Length
3838.6ft
8. Dragon's Fury
Chessington World of Adventures
If you prefer roller coasters to have crazy twists and turns, then you'll certainly want to face up to the beast on Dragon's Fury at Chessington World of Adventures. Up to four guests can ride in one carriage, making this a great choice for friends and families. This spinning coaster sends you swirling around the track, but how fast you go depends on where you sit. Think you've got what it takes to face the dragon?
Kip told us why this dizzying roller coaster is one of his all-time favourites.
"This spinning roller coaster is now an icon of Chessington World of Adventures. It swoops and zooms across the Land of the Dragons and feels like it is going on forever as you fly across the track. You might find yourself doing the various twists and turns backwards, forwards or even sideways! It's a fun, family ride that will leave you smiling. Don't forget to check out the dragon in the cave near the entrance to it - although don't touch his treasure, you may regret it!
Dragon's Fury
Height
50.8ft
Length
1706ft
9. Vampire
Chessington World of Adventures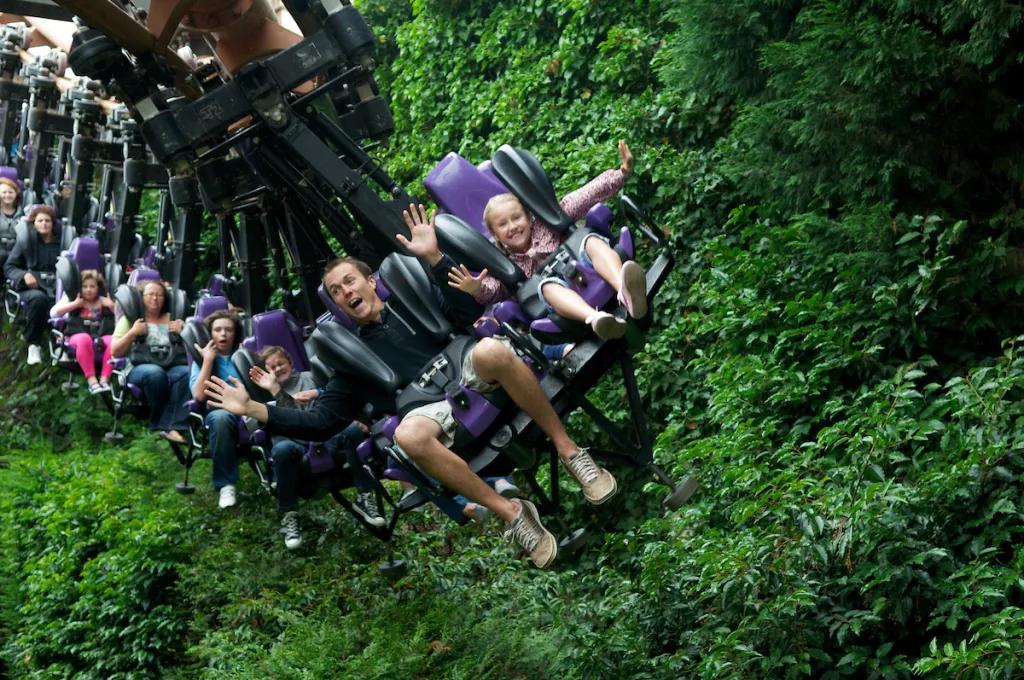 The only Arrow-suspended roller coaster with free-hanging carriages outside of North America, Vampire will have you dangling as you snake around the track at a heart-racing 45mph, giving you the experience of flying through the air like a vampire bat.
Without a floor to support you, riders swing freely through bat cave-like tunnels and above the Wild Woods area of the park, as well as zooming through the towering trees in the nearby woodland.
Vampire
Height
70ft
Speed
45mph
Length
2200ft
10. Nemesis
Alton Towers
Although it's more than 20 years old, Nemesis is still considered to be one of the best roller coasters in the world. As the story goes, the construction of this huge coaster disturbed a lethal monster that had been lying dormant for years. The monster soon started causing havoc and destruction, with the only way to stop it being to restrain it with 250 tonnes of steel. Twisting all around the creature, the steel keeps it restrained and under control, but as you race around the track, you can still feel its fury!
Nemesis was also Europe's first-ever inverted roller coaster, leaving your legs dangling as you ride. If this wasn't enough to increase the thrill factor, you'll also take on twists, turns and corkscrews on this unforgettable adventure.
"Nemesis is my favourite rollercoaster of all time," says blogger Samantha from Coco Travels. "As you ride this inverted rollercoaster, your legs dangling freely - the floor is lowered before the carriages depart. It's one minute and twenty seconds of pure thrills as you're twisted amongst two corkscrews, a zero-gravity roll and a vertical loop."
Kariss has fond memories of riding Nemesis from a young age, and still loves all the 'creepy' added extras of the ride.
"Nemesis recently celebrated its 25th birthday and there is a good reason why it is still so highly regarded by coaster lovers. The red 'blood' river running under the ride adds to the creepy anticipation and its snaking track is thrilling yet smooth. I've been riding it since I was a young teenager and it never gets old, and I still can't resist swinging my legs when the floor below drops away at the start!"
Having also ridden Nemesis as a child, Francesca can see why the ride is still ever-popular.
"It is such a thrilling ride with great views too as it is so high up! I went on this ride again not that long ago and I remembered why I loved it so much. Whilst it is fast and exciting, I quite enjoy how smooth the ride is and I actually find the air flowing through my hair quite therapeutic!"
Nemesis
Drop
104ft
Speed
45mph
Length
2349ft
What is the tallest roller coaster in the UK?
 
The biggest roller coaster in the UK is The Big One at Blackpool Pleasure Beach which is 213ft (65m) tall.
Although this fantastic roller coaster used to be the tallest (and steepest!) in the world, it has since lost out to the likes of Red Force at PortAventura World (367.4ft), Spain and Kingda Ka at Six Flags Great Adventure (456ft) in Jackson, New Jersey.
What is the fastest roller coaster in the UK?
 
The fastest roller coaster in the UK is Stealth at Alton Towers, which reaches 0-80mph (128.7 kmph) in just 1.9 seconds.
After reaching top speed, the track turns 90 degrees and rapidly ascends the ride's famous 'top hat'-shaped peak before descending down the other side. Riders also get to experience a fleeting moment of weightlessness mid-ride.
Want to try these incredible roller coasters for yourself? Check our fantastic range of UK theme park tickets today.