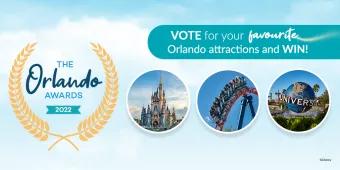 Have your say!
Do you have a favourite Orlando theme park? Or maybe a favourite dining experience or character? Let us know by voting in the Orlando Awards!
Have you got an extensive Minnie ear collection, or do you prefer to wear your wizarding robes and wand? Do you love experiencing new rides for the first time, or are you more of a fan of the classics? However you would describe yourself as a theme park fan, we want you to have your say and vote for your Orlando favourites in the Orlando Awards! 
And as a thank you for voting, you could win a £1000 AttractionTickets.com gift card or 1 of 10 theme park goody bags!
Here are this year's categories: 
Best THEME PARK 
Best NEW ATTRACTION 
Best CLASSIC ATTRACTION  
Best Theme Park WATER RIDE 
Favourite WATER PARK 
Best NON-THEME PARK ATTRACTION 
Favourite THEME PARK CHARACTER 
Best LIVE THEME PARK SHOW 
Favourite RESTAURANT or DINING EXPERIENCE 
Favourite ANIMAL EXPERIENCE
We've put some of our favourites in there but if yours aren't included you can let us know what they are too! We also want to know about your most memorable holiday moments from your previous trips to Orlando.
Voting begins July 8th and will end at 23:59 on September 30th so make sure you pick your favourites before then! Any votes submitted outside of these dates will not be counted towards the awards or be included in the prize draw.
Liked this post? You may also like: