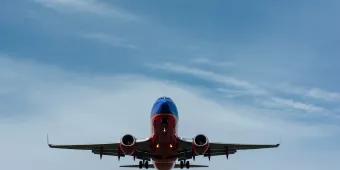 Flights to Orlando don't have to break the bank.
Find out more about how booking your flight to Orlando separately could save you money…
Millions of people fly to Orlando every year, making it one of the most affordable and available long-haul flight you can buy on its own. In fact, you can fly to Orlando from as little as £305pp* if you're flexible with your dates and are savvy about looking for a good deal when they come up. But how do you find these cheap flights? Here are some of our favourite 'hacks'!
Tip 1: Use a price comparison site
Flight comparison sites like skyscanner.net or kayak.co.uk do the hard work for you. They compare prices from all different carriers and on different websites, not just the original point of sale, to make sure you get the best deal.  
You can search exact dates if you know them but, we would recommend that you…
Tip 2: Be Flexible on dates
If you're SUPER flexible, we would recommend starting your search with the 'cheapest month' function on Skyscanner.
Or, if you don't know your exact dates but you did have a month in mind, you can also search by month here, and view a calendar of live pricing, helpfully marked in green, yellow or red to indicate the relative cost to other flights.
Kayak have a similar system and it is worth checking both as prices can differ.
Tip 3: Avoid the school holidays
We know this isn't possible for everyone, but if you can avoid the school holidays you can save as much as £300pp on your flights. The cheapest times to travel in 2018 are May and June, although there are bargains to be had in September, October, November and December too.  It probably comes as no surprise that the most expensive time to fly to Orlando is August!
Tip 4: Set up price alerts
Browsing flights and seen a price you like but want to hold out on booking? Set up a price alert for the route you're looking at and both Skyscanner and Kayak will send you updates on expected price increases, if flights go into the sale and news on whether the flight prices are expected to go up or down.
Tip 5: Share your best flight-finds!
Just booked a really good flight deal and want to tell the whole world about it? Tweet us @ATDAttractions and we'll share the love with our followers. Or, check out our Orlando forum, where you'll find other flight tip-offs as well as general Orlando holiday tips from our Florida experts Simon and Susan Veness.
*Flights based on a 7-night holiday 5th May – 12th May flying out with Thomas Cook Airlines and flying back Norwegian Airlines booked on edreams via Kayak.