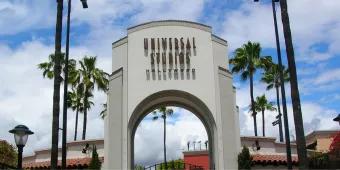 A handy one-day guide
If you're planning a visit to Universal Studios Hollywood and are a bit short on time, you need to check out our one day itinerary to help you make the most of your day…
There is so much to do at Universal Studios Hollywood, from thrilling rides, to breath-taking shows and unforgettable behind-the-scenes tours. If you've got enough time, we'd definitely recommend spreading your visit out over 2 days, but for those of you who only have one day and are desperate to be a part of the action, don't worry! We've put together a handy one-day guide to help you pack in as much as possible.
Our top tip for planning a visit to Universal Studios Hollywood is to book your tickets in advance, as this will save you both time and money. You'll receive a gate ready e-ticket which means you can go straight through the gate and into the park. So… let's get strated!
Morning:
If you're a Harry Potter fan (who isn't?) we strongly recommend that The Wizarding World of Harry Potter is your first stop. This area is always bustling with muggles, so if you want to avoid waiting in long queues and get straight on those rides, we suggest you arrive early and head straight there. Harry Potter and the Forbidden Journey is one of the park's most popular attractions, so make sure you add this to your 'must-do' list. The exhilarating ride is perfect for thrill seekers, taking you on an epic adventure as you soar high above the grounds of Hogwarts School of Witchcraft and Wizardry. If you're visiting with little ones, try Flight of the Hippogriff- a family-friendly coaster that speeds around the pumpkin patch past Hagrid's Hut.
Once you've conquered the exciting rides, it's a good time to snap some selfies in front of the iconic Hogwarts Castle. This is the first thing you'll notice when you step inside The Wizarding World of Harry Potter, and if you're a true fan, you'll feel right at home. 
Fancy trying the famous Butterbeer? Grab an ice-cold glass from the Butterbeer cart and watch the quirky Frog Choir perform. The first performance of the day is usually around 10:30am, so you should be just in time. 
Mid-Morning:
Now it's time for some thrilling theme park action! The next stop is Springfield- home of the Simpsons. The Simpsons Ride uses state of the art digital projectors and hilarious animation to immerse you in the story. Get ready to join Homer, Marge, Bart, Lisa and Maggie on a wild visit to Krustyland theme park. Be warned though, there's plenty of surprises in store! Make sure you've got your camera handy, as The Simpsons, Krusty the Clown and Sideshow Bob are all waiting to meet you! Before you go, you have to try one of the HUGE pink doughnuts from Lard Lad Doughnuts. These delicious doughnuts are literally the size of your head, and a visit to Springfield isn't complete until you've tried one!
Did you know, that Universal Studios Hollywood is the world's largest working movie studio? One of the highlights of a visit here, is without a doubt the amazing Studio Tour, that lets you go behind-the scenes of some of the most famous movies of all time. If you're a bit of a movie buff, you'll absolutely love it! We suggest doing this mid-morning, before the park is at its busiest. You'll board a tram, before setting off on a tour of the backlot ­with Tonight Show host Jimmy Fallon acting as your hilarious video host.
You can expect to see the eerie plane crash from War of the Worlds, Wisteria Lane from Desperate Housewives, and encounter Norman Bates at the legendary Bates Motel from Psycho! The tour also includes the award-winning King Kong 360-3D attraction, which puts you right in the middle of a deadly battle between the mighty Kong and a 35-foot T-Rex. That's not all though, there's a spectacular grand finale waiting to surprise you with Fast & Furious Supercharged. We don't want to give too much away, but the high-speed chase will engulf you in a world of "cutting-edge, hyper-realistic special effects". The tour generally lasts between 45-60 minutes, so after working up an appetite­ on your action-packed adventure, it's time for lunch.
Midday:
There are so many places to choose from when it comes to dining at Universal Studios Hollywood. If it's a light bite you're after, Springfield has plenty of options like the famous Krusty Burger, Suds McDuff's Hot Dog House and Bumblebee Man's Taco Truck. For a hearty meal, try The Three Broomsticks in The Wizarding World of Harry Potter. This rustic tavern serves up traditional and tasty dishes like Fish & Chips, Bangers & Mash and Shepherd's Pie. For something fun that the whole family will love, head to Gru's Lab Café. The menu of Despicable Me-inspired dishes includes the Minion Meatball Sandwich, Dr. Nefario's Lab Salad and Vector's Grilled Cheese with Pulled Pork Sandwich. If you just want an escape from the heat and a nice relaxing drink, Mulligan's Pub & Spirits is a fully-fledged Irish bar that can be your haven.
Early Afternoon:
Back to the big thrills! The Walking Dead attraction officially opened on 4th July 2016, and is one of the park's newest attractions. Inspired by the hit TV series, it brings you face to face with the terrifying 'walkers' and forces you to fight for survival in a post-apocalyptic world. One thing's for sure, it's definitely not for the fainthearted! It doesn't matter if you're a super fan or you've never seen an episode, you're guaranteed to enjoy this scare-fest- if you manage to escape the walkers that is!
If you're looking for the ultimate adrenaline rush, Revenge of the Mummy- The Ride features special effects, unexpected twists and turns and 45mph speeds in total darkness, while Jurassic Park-The Ride is an exciting river raft adventure that brings you up close to a 50-foot T-Rex, before a mammoth 84-foot plunge into the water below. Prepare to get soaked! Transformers- The Ride 3D will get your heart racing as you fight alongside Optimus Prime in a battle to save the entire human race.
Afternoon:
If you're not really a fan of the big rides, don't worry, as there's plenty of tamer attractions you can enjoy instead. Whether it's the kids (or big kids!) that love the mischievous Minions, you'll definitely have fun on the Despicable Me Minion Mayhem ride. Join Gru and his daughters on this 3D adventure through his super-villain laboratory, before an encounter with the Minions leads to a real-life dance party! Take things a step further and experience Shrek in 4D. Put your ogre-vision glasses on and prepare for water, wind, fog and much more as you become part of the fairy-tale.
Another highlight of a day at Universal Studios Hollywood, is the chance to meet some of your favourite movie characters. Throughout the day there will be several opportunities to come face to face with your heroes. You're likely to pass characters as you make your way around the park, but if you're desperate to get on the rides and beat the queues, you could save the meet and greets until the afternoon. You can expect to see the likes of SpongeBob SquarePants, Scooby-Doo & Shaggy, the Transformers, The Simpsons, Shrek & Donkey and Marilyn Monroe to name a few. Make sure you pick up a park map when you arrive, to  find out where they'll be, so you don't miss out.
For those aspiring wizards out there, now is a great time to head back to The Wizarding World of Harry Potter to pick up something that every witch or wizard needs- a wand! Ollivanders offers a completely magical experience where "the wand chooses the wizard". There's also several shops where you can pick up wizarding supplies to take home. It's a good idea to do your souvenir shopping in the afternoon to save you having to carrying it around all day.
Evening:
After an unforgettable day at Universal Studios Hollywood, it's important to end your visit with something truly spectacular. From 23rd June, guests can enjoy a brand new show called 'The Nighttime Lights at Hogwarts Castle'. This breath-taking show will illuminate the night sky with bursts of colour, projecting a dazzling light show onto the front of Hogwarts Castle, as a nostalgic medley of music recorded by a live orchestra, plays through a high-tech sound system. You really won't want to miss it!
Don't forget Universal CityWalk has plenty of bars and restaurants if you're looking for somewhere to unwind and rest your feet after a long day of fun.
Tickets:
There is so much to discover at Universal Studios Hollywood, so if you want to enjoy all of the amazing live shows, and spend more time exploring the village of Hogsmeade, meeting characters and riding your favourite attractions over and over again, a Universal Studios Hollywood 2-Day Ticket will give you the extra time that you need and you'll be able to enjoy the park at a more relaxed pace. Plus, a 2-Day Ticket is only around £15 more than a 1-Day Ticket, so it's great value for money!
Fancy living like a movie star for the day and experiencing the red carpet treatment yourself? You can choose to upgrade to the Universal Studios Hollywood VIP Experience, which gives you VIP front of line for the most popular rides, reserved seating for the shows, a gourmet lunch in a private VIP dining room, exclusive access to the multi-storey prop warehouse and the chance to explore movies sets that aren't open to the general public! Sounds good, right?
Want to start planning your visit? Click here, to view our great value Universal Studios Hollywood tickets.
Liked this post? You may also like…