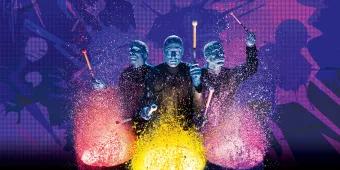 ...that you didn't already know!
Everything you need to know about Blue Man Group at Universal Orlando Resort
There are so many brilliant shows at Universal Orlando Resort, guests are spoilt for choice. Whilst most of Universal's epic entertainment is inside the parks, there is one show that continues to wow crowds outside the gates, at Universal CityWalk. Blue Man Group Orlando has been playing to audiences at Universal since 2007, and the messy, ultramarine mayhem has no plans to clean up its act any time soon. If you're not sure what the phenomenon is all about, below are 12 things you might not know about Blue Man Group:
1. What is Blue Man Group Orlando?
Describe Blue Man Group in one sentence: three crazy blue guys putting on a rock concert with paint... Sounds absurd, but that doesn't even begin to explain the pandemonium that goes on once the lights go down. Blue Man Group is a one-of-a-kind spectacle that mixes music with comedy and more than a few bonkers theatrics to put on a show like no other. There may be only three performers on stage, with a band, but every member of the audience becomes part of the show. From the moment the curtain goes up, with Blue Man Group Orlando tickets, consider yourself invited to the liveliest party in town. There will be dancing, laughing, audience interaction and, let's just say, a splash of paint…. The iconic show provides entertainment for the whole family – if Blue Man Group Orlando reviews are anything to go by, kids and adults will be blown away.
2. There is a Blue Man Group in Orlando but it wasn't the first production.
The show originated in New York City, opening off-Broadway in 1991 and audience response to the show has gone viral. Since then, Blue Man Group has performed in 15 countries and been seen by more than 35 million people. There are currently six permanent productions around the world and an on-going world tour. The epic show in Orlando takes place in a 1000-seat theatre, which was designed especially for the Blue Man Group.
3. You don't need Universal Orlando admission tickets to see Blue Man Group
Blue Man Group tickets are not included in your admission for Universal Orlando, but you also do not need admission tickets for the parks in order to see the show. The Blue Man Group theatre in Orlando is in Universal CityWalk, a shopping, dining and nightlife complex at Universal Orlando Resort,between the Hard Rock Cafe and the main entrance to Universal Studios Florida.Here you will find everything from live music at Jimmy Buffett's Margaritaville, 14 different types of hot dog at the Hot Dog Hall of Fame and a choice of bars, pubs and clubs. Universal Citywalk sits between Universal Studios Florida and Universal's Islands of Adventure and is easily reached from all the Universal Orlando Resort hotels.
4. Shh… there is no speaking in Blue Man Group
 Well, on stage anyway. One of the huge successes of the show is that is doesn't rely on any spoken language, and can therefore be enjoyed by a totally international audience, as well as guests who are deaf. The clever choreography relies on mime, gestures, physical performance, props, percussion and special effects. Intrigued yet?
5. Just be grateful you don't have to clean up…
You may have been sampling some of the sweet treats at Universal City Walk, such as Voodoo Doughnuts and Menchies but did you know that every week at Blue Man Group show, eight boxes of crunchy cereal, 40 pieces of white chocolate, 385 marshmallows and 30 twinkies is released into the auditorium? Like we said – this is not like any show you have ever seen before.
6. We need to talk about the Poncho Section at Blue Man Group Orlando
SPLASH ZONE. Uh oh, be warned, the first four or five rows on the theatre are referred to as the 'poncho section'. (I think you know where we're going with this...) If you're sat in these rows, you'll be asked to wear a Blue Man Group poncho during the show as you may get splattered with paint and other materials throughout the performance. You guessed it. Blue Man Group uses 50 gallons of paint per week, so if you're at the front, you will almost certainly be in the splatter zone. But don't worry if you get anything from on-stage on your clothes or shoes, it's all completely washable. You can buy your Blue Man Tickets UK in advance so if you fancy being in the splat zone, booking your Universal Orlando Blue Man Group tickets in advance in the UK is recommended to secure the best seats. If you'd rather be further back and enjoy watching other people get sprayed, make sure you're sat in row 7 or behind.
7. Why is Blue Man Group blue?
True story – the show was named because 'blue man' sounds like 'human'. It really is as simple as that. However, it probably hasn't escaped your notice that the men are, in fact, bald and blue, so that is probably not a coincidence.  The performers go through a whopping 28 tubs of blue makeup and 21 bald caps (to cover their real hair) for the show every week. The transformation process takes about 45 minutes and the help of a talented makeup artist. The blue makeup they apply is greasepaint stage makeup that never dries which helps them keep their signature shiny, gloppy look throughout the entire show.
8. Blue Man Group Orlando is ideal for the whole family
Blue Man Group is designed to wow all ages in a timeless show that appeals to kids, teens, parents and grandparents alike. However, due to the sometimes-loud music and audience interaction, it is not recommended for children under 3 years. If you have a child under three, they may be allowed in at the management's discretion and there is no charge if they are sat on an adult's lap. Every audience member over three years of age needs their own Blue Man Group Orlando Tickets for the show. Make sure you go to the loo before the action begins, the performance is one hour and forty-five minutes long with no intermission.
9. You can buy Blue Man Group Orlando tickets UK side, in advance before you fly and for a limited time you can get your Universal Orlando Blue Man Group Tickets for FREE.
You can buy your advance Blue Man Group Orlando tickets UK all year round at Attraction Tickets Direct but for a limited time only, you can get FREE tickets to the incredible Universal Orlando Blue Man Group show with all Universal 3 Park Explorer tickets Blue Man Group will rock your world. Blow your mind. And unleash your spirit. 35 million people of all ages, languages and cultures have experienced the imaginative, multi-sensory world of Blue Man Group. Now it's your turn to see what all the hype is about. Book now to take advantage of this incredible offer. *T&CS BELOW
10. There is a secret entrance to Universal Studios Florida park behind the Blue Man Group theatre.
Did you know that there's a secret entrance to Universal Studios' park HIDDEN behind the Blue Man Group Theatre? Universal Orlando Resort is very popular during high season and booking your theme park tickets in advance is always recommended to save time, money and queues at the gate. However, if you have pre-purchased your tickets, those in the know head straight to the secret entrance to Universal Studios Florida, which is next to the Blue Man Group auditorium at Universal CityWalk. Just follow along the side of the theatre and head towards the tracks of Hollywood Rip Ride Rocket roller coaster, to find a small group of turnstiles – usually with no lines at all! There is no booking office here, so you wont be able to enter the park through the secret entrance if you haven't already purchased your admission tickets.
11. Blue Man Group Orlando Parking is often free*
Parking at Blue Man Group Orlando is at the main multi-story car park for Universal Orlando and guests can park for free after 6pm. Show times for Blue Man Group Orlando vary and it is recommended you aim to arrive at the resort 45-minutes before the performance to allow enough time to get to the theatre from the parking garage. During special events like Halloween Horror Nights, parking does come with a fee and you'll want to leave a littler earlier to tackle the crowds. If you are staying at a Universal Resort Hotel, [EMBED BOOKING LINK HERE ] transport to Universal Citywalk by water taxi or bus is free of charge.
12. You may even get your photo with the Blue Men after the show.
The audience are not permitted to take photographs during the the Blue Man Group Orlando show, but if you head to the lobby straight after the performance, you can get a photo with the show's performers to keep as a holiday souvenir. Don't expect them to be very chatty though. The performers never break character – but they are guaranteed to still provide a few laughs even after the show has ended.
Find out more about Universal Explorer Tickets and this Blue Man Group Offer HERE.
*Terms and Conditions
Receive one free Blue Man Group ticket with every Universal 2 or 3 Park Explorer ticket purchased to a maximum of one per person for each member of your party. Offer valid for all new bookings made at full retail price. Whilst stocks last.
We reserve the right to withdraw this offer when price matching against a competitor.
This offer is valid for all Blue Man Group performances at Universal Orlando starting 01st June 2019 through to 13th Jan 2020 with blackout dates where the offer cannot be redeemed: 21st December 2019 through to 31st December 2019. All age ticket for Tier 1 or Tier 2 seating based on best availability at the time of booking. Pricing is per person and not valid on Poncho or Premium seats. Savings based on pre-tax amount and cannot be combined with any other offers, promotions, discounts, or prior purchases. Prices are higher for Poncho and Premium Adult seating. Sales tax, parking fee and discounts on food or merchandise are not included. Prices, dates, operating hours, entertainment and performance schedules are subject to availability and may change without notice. Children ages 3-9 must have a ticket; Children 0-2 years old are not required to have a ticket but must sit on the lap of another paid adult in the party. No rain checks, returns, refunds or exchanges. Savings based off Blue Man Group Orlando box office Adult ticket price starting at $95 per adult, plus tax, for the Tier 1 purchases. Additional restrictions may apply. © 2019 BMP. Blue Man Group Photo by Lindsey Best. Universal elements and all related indicia TM & © 2019 Universal Studios. All rights reserved.