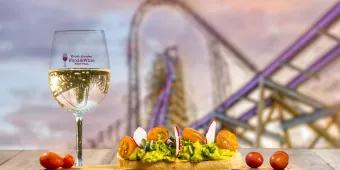 By AT.com's Florida Experts, Susan and Simon Veness
Our Florida experts get their culinary fix at Busch Gardens Food & Wine Festival!
Festival season is well and truly underway in the theme parks. Last week we took you to SeaWorld, and this week we're hopping to its sister park, Busch Gardens, whose offerings have expanded to 31 Festival Cabins, 37 food items (27 of which are NEW) and 85 (!!) craft beers, wines, and cocktails.
We're grazers by nature, so food and wine festivals perfectly suit our dining style and our love of variety. This year there is even more to enjoy as Busch Gardens' Food & Wine Festival has gone from 13 Festival Cabins to 31, and stretches along the walkway between Walkabout Way and Xcursions gift shop, as well as its previous location in the shadow of Gwazi.
And speaking of Gwazi, we have to take a moment to update you on the park's transformation of the old brain-rattling wooden Gwazi into the absolutely jaw-dropping new Iron Gwazi. Standing in the festival area with a cocktail in hand, looking up at the most astonishing drop since SheiKra (not to mention the rest of this looping, swooping demon!), there is no way coaster fanatics aren't going to swoon over Busch's impending new beast of a ride. Just…WOW!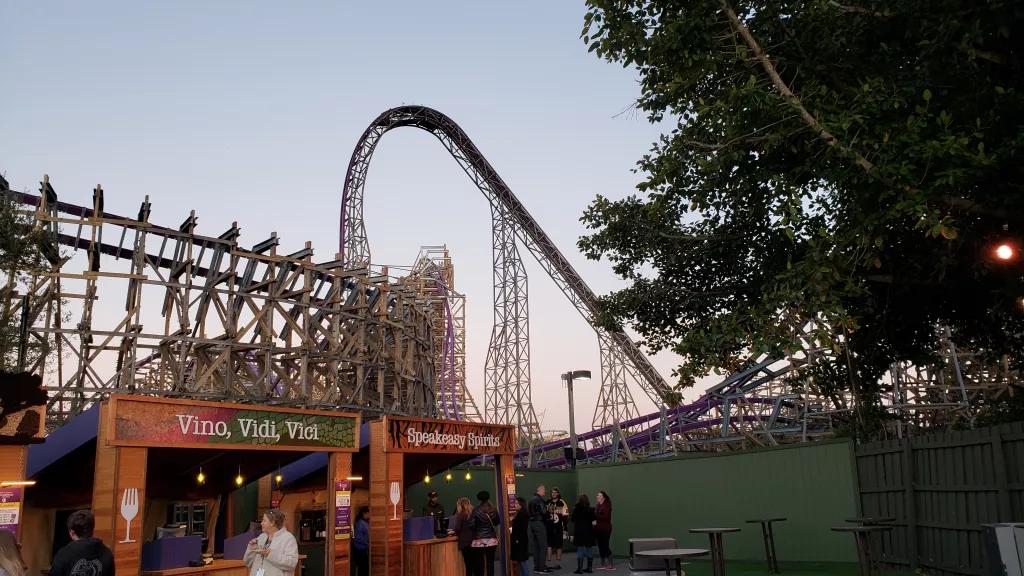 But back to the festival. Equipped with 12-Item Sampling lanyards, our goal was to sample as many new items as possible, and here's our verdict:
Nola Eats
Contender 1: Red Beans & Rice With Sausage is as omnipresent in New Orleans (often called "N'awlins" or simply "Nola") as great jazz music and Mardi Gras bead necklaces. It's just what it says it is (cooked red beans over flavour-filled rice), making it a gentle introduction to Creole cooking.
Contender 2: Chicken Gumbo, the quintessential Creole stew that made New Orleans famous wasn't a new dish this year, but we couldn't resist. Chicken and Andouille sausage over a bed of rice had just the right amount of spice.
Winner: The gumbo just edged out the Red Beans and Rice for us, mainly because we love a good kick of heat.
Southern Kitchen
Contender 1: Pan-seared Blackened Catfish is a new item, served with a more-ish dollop of scrummy Sweet Corn Pudding.
Contender 2: The Southern Fried Chicken & Biscuit Slider pairs extra-crispy fried chicken with a light buttermilk biscuit (savoury scone) spread with bourbon blackberry jam. We found this one easier to eat when deconstructed, like a traditional Southern chicken dinner.
Winner: Blackened Catfish for the win! Its supporting cast of sweet corn pudding pushed this one into the spotlight.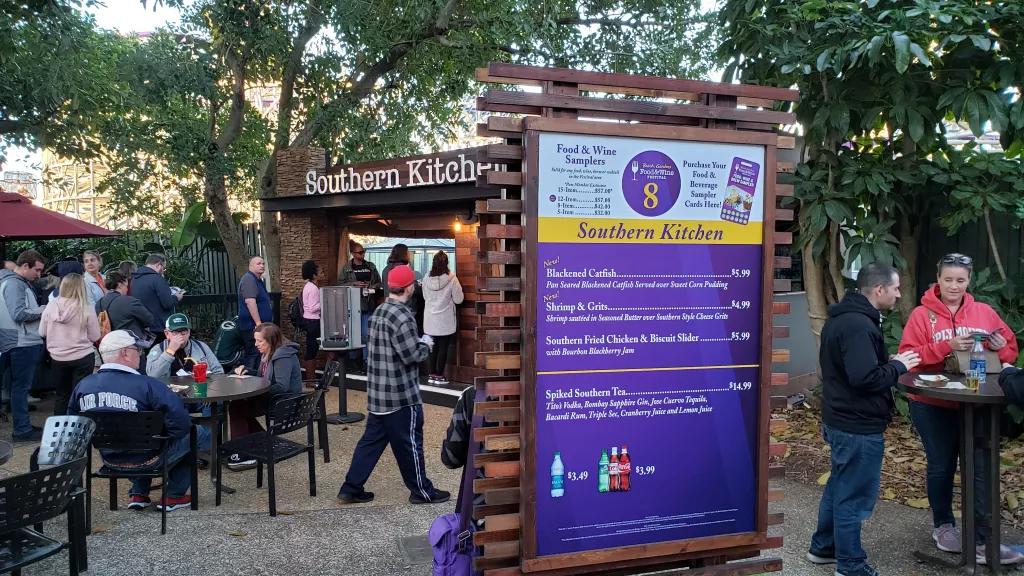 Wave Shack
Contender 1: A shellfish allergy took this one off of Susan's menu, but Simon dug into Shrimp Bacon Fritters with gusto—once he made it to the front of a second queue just to get them! This dish was so popular the servers couldn't make them fast enough, but oh, were they worth the wait!
Contender 2: We're not at the end of our savoury food sampling, but it's time for dessert anyway! We choose the Key Lime Waffle Cone, and boy, are we glad we did. So creamy! So luscious! So Key-limey! This is a terrific choice for a real taste of Florida, with a twist. We'd go back for seconds on this one if it didn't make us look like piggies.
Winner: These were both serious winners, so we don't want to choose. The fritters may have won. Or maybe it was the waffle cone. No, the fritters. But then there's the waffle cone… (get both).
Chef's Corner
Contender 1: Who doesn't love a good Pork Belly Taco? Not only were these two mini tacos filled with cubes of crunchy pork belly and sweet mango salsa, the kimchee slaw the fillings nestled on gave it a wonderful tang. We aren't always fans of kimchee, but this version was delicious. Plus, we liked that there are two tacos so we could share equally, with no squabbling over who gets the last bite.
Contender 2: Like Wave Shack, each of the foods at this cabin are new, so we made the Arroz con Pollo our second item. A small bundle of bone-in, Adobo-seasoned chicken (the bone acts as a handle for picking up the chicken) sits on top of fragrant sofrito and rice, with a slice of avocado and crunchy plantains on the side. You'll be forgiven if you (like us) use the plantains to scoop up some of the rice.
Winner: Chef's Corner set out to highlight Hispanic flavours, and it does so beautifully. We thoroughly enjoyed both dishes, but it's a narrow win for the Arroz con Pollo.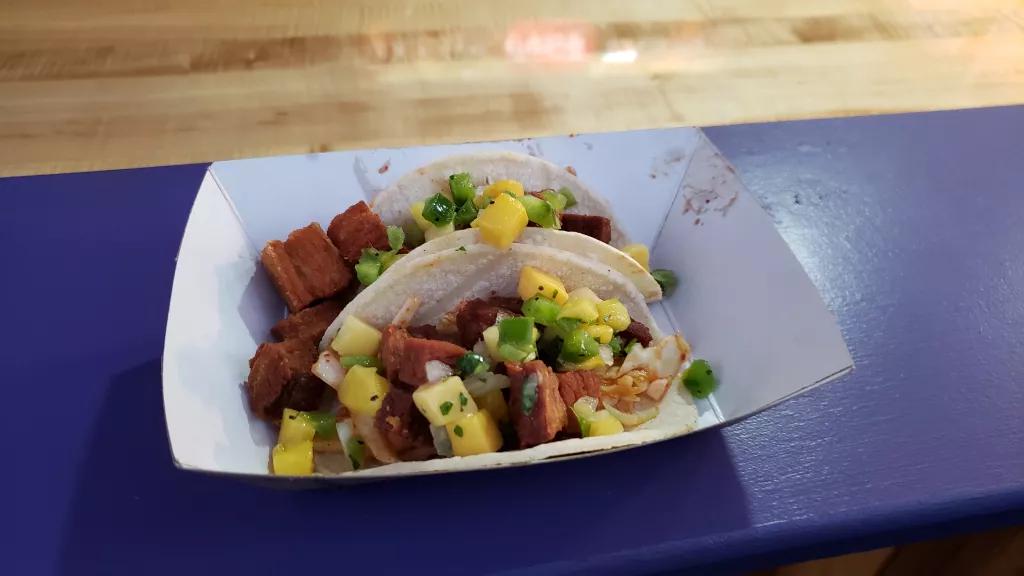 Hog Heaven
Contender 1: Not one, but two Kung Pao Ribs gave us a second opportunity to share a dish evenly, and these slightly sticky, spicy ribs hit the spot. They have a kick, but in a good way, though anyone with a nut allergy will have to be aware chopped peanuts garnish this dish. These pair well with the cabin's second savoury choice, the Charred Brussels Sprouts with bacon (in a tangy, lemony sauce), but there is a second contender here that entered the battle…….
Contender 2: We moved from dinner to breakfast (if breakfast was an exercise in decadence rather than a nourishing meal to break your overnight fast) with the Maple Bacon Cinnamon Roll, a soft pillow of perfectly baked sweet dough encasing bits of bacon and the down-home taste of maple, topped with an icing sugar glaze.
But wait….!
Contender 3 enters the race! There was no way we could pass up the "Boujee" Bacon (because, bacon!), and it was with great delight that we devoured these strips of crisp, streaky bacon swimming in a "yummy"- inducing maple sauce.
Winner: It's an upset! Contender 3 takes the prize! The "Boujee" Bacon is a super-simple dish, but it totally owns its simplicity and turns it into an art. No serviettes needed; you'll lick your fingers clean.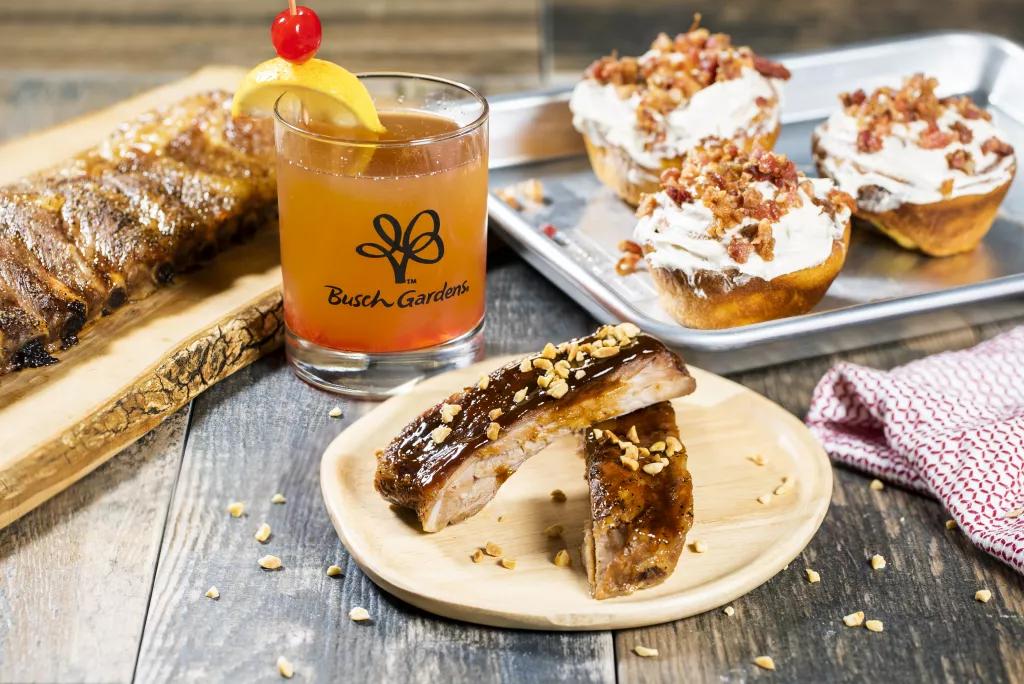 Speakeasy Spirits
Contender 1:  Amid a wealth of craft beers, wines and cocktails, we gave the Spiced Vanilla Old Fashioned a try (Jim Beam Bourbon Whiskey, Angostura Bitters and vanilla spice), and it proved a powerful contender. As in, this is one boozy concoction, giving new meaning to the term "punch drunk." Pace yourself, because you're probably going to want more than one.
Contender 2: Equally boozy Black Cherry Gimlet (Beefeater gin, black cherry and lime juice) brought a distinct wallop of sweetness to the game. The black cherry came through well, even against a backdrop of some serious gin.
Winner: After much deliberation, we opted for the Spiced Vanilla Old Fashioned as our winner.  If you plan to imbibe, be sure to designate a driver!
There are far more items than we were able to sample, but the good news after all that food and drink is that you can sit and enjoy a live, outdoor concert. Headliners include The Commodores, THREE DOG NIGHT and KC & The Sunshine Band. A perfect way to cap off your evening.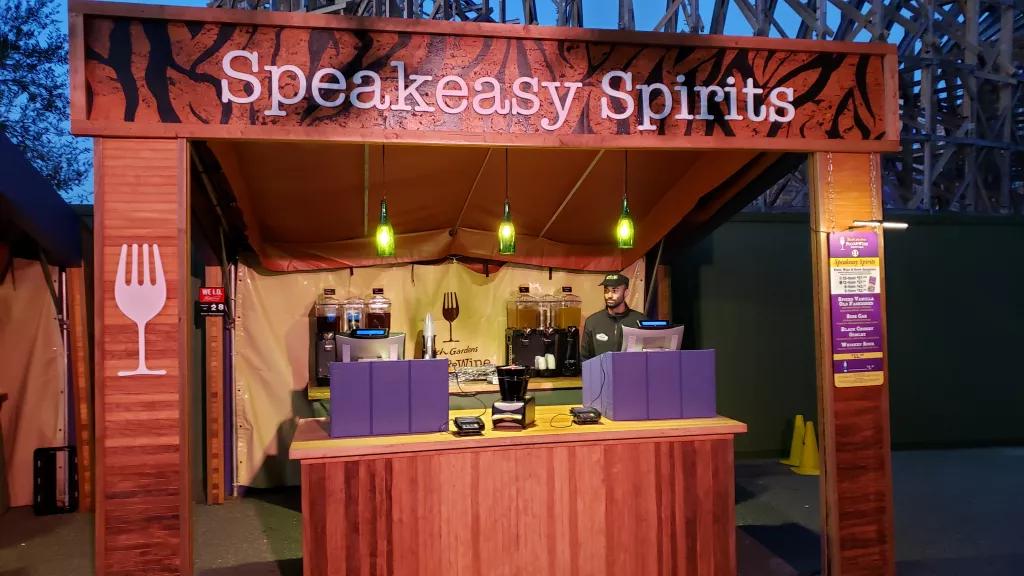 The entertainment aspect of the festival also includes musicians, living topiaries and a living fountain who stroll the festival area, and each week a new artist creates a gorgeous mural while you watch. Also new this year are the "Pick-A-Barrel" tasting bars featuring gin, bourbon or tequila tastings with an expert, starting at $24.99 per person (21 and up only).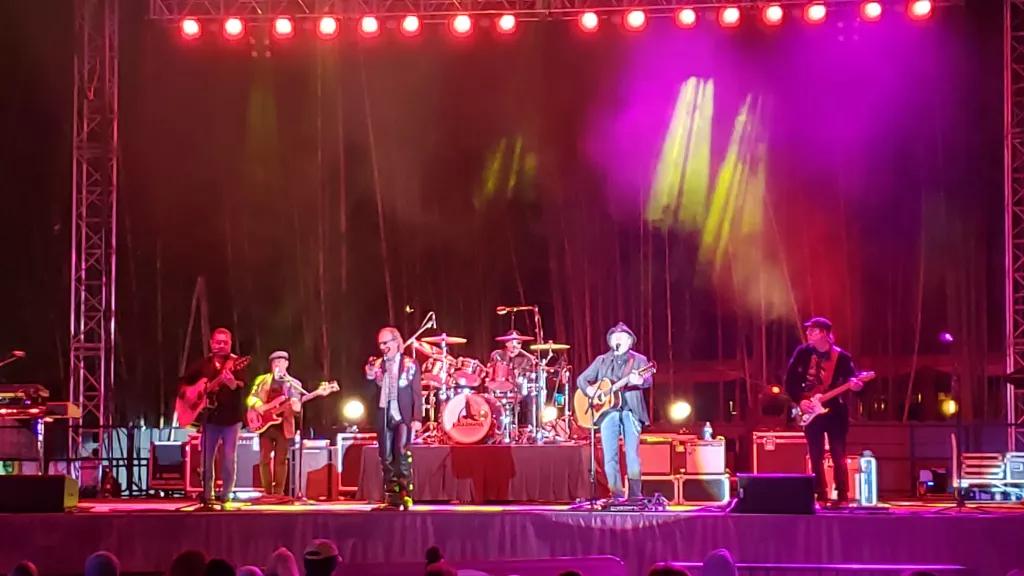 There are 3 sampling lanyards for those who want to try several items. The 5-Item Sampler is $32; 8-Item Sampler is $42; and the 12-Item Sampler is $57. You can also purchase VIP Seating Packages for the concert, giving you front-and-centre or rear-and-centre seating, PLUS a 5-Item Sampling lanyard.
Busch Gardens' Food & Wine Festival runs on Saturdays and Sundays from February 29 through April 26, and (with the exception of the food and drink items) it's free with park admission.