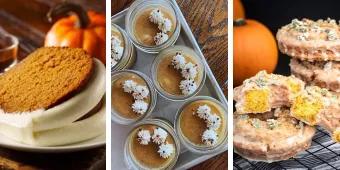 It's pumpkin season!
If you weren't a pumpkin lover before, you may be after reading this next post. Check out these places to get pumpkin-flavoured treats in Orlando.
Autumn - the season of Halloween, longer nights, and - our favourite flavour - pumpkin! Whether you're enjoying it spiced in a drink, or as a good old fashioned pumpkin pie, there's plenty of places to get your pumpkin fix in Orlando. Find a new local favourite and explore more of the city, while sampling this delicious delicacies. 

P is For Pie - 2806 Corrine Drive
Serving bite-sized treats like mini pies, layered mason jars, and seasonal whoopie pies, P is For Pie an adorable dessert spot, popular with locals. They also serve savory pies and sandwiches too, making them ideal for any diners who prefer salty to sweet. Pumpkin-flavour goodies include mini pumpkin cheesecakes, caramel maple pumpkin pie, and pumpkin whoopie pie (launching October 16th). They also create loads of other seasonal flavoured goodies, so it's definitely worth paying them a visit.
For Instagram-worthy food, head to The Glass Knife. You won't be disappointed. Alongside scrumptious desserts, the restaurant also serves breakfast, lunch, evening bites and weekend brunch. But sweets are really their thing - the cakes and donuts taste just as good as they look! For autumn, dive into a chocolate pumpkin cream puff, or maybe the pumpkin spice cake donut takes your fancy? Either way, you'll be satisfied. 
Nothing Bundt Cakes - 7339 W Sand Lake Rd
You can't go wrong with classic Bundt Cakes, and this next shop has certainly got them covered. They serve bite-sized treats and 10-inch tiered creations, coming in a variety of different flavours such as white chocolate raspberry, confetti and carrot. However, their seasonal pumpkin spice flavour is the flavour we pair most with these autumn days, and soon  you will do too. 
Dairy Queen - 6321A International Drive
The Blizzards at Dairy Queen are already a fan favourite, and each fall, the company mixes up their menu with a brand new autumn menu. This year, dive into Snickerdoodle cookie dough, harvest berry pie, Heath caramel brownie, Snickers and… pumpkin pie! Customers love it, as it features actual pumpkin puree rather than just pumpkin spice (as many drinks/treats do), giving it a rich, autumnal flavour. 
Image: Dairy Queen on Facebook
 
Drunken Monkey Coffee Bar - 444 N Bumby Ave
If you're vegan or vegetarian, this place has got to be on your 'places to eat' list. They serve an extensive meat-free menu, including hearty soups to help warm you up on those cooler autumnal days - not that you'll need it in Orlando! Many of the dishes are gluten-free, too, making it a great place all round for those with dietary requirements. The coffee bar actually serve pumpkin lattes all year long (alongside a host of other amazing flavours), which can be made vegan and sugar-free. Their pumpkin spice syrup is homemade, so you know it's going to be rich in quality. Check in for their range of sweet treats - in the past, they've served a vegan pumpkin spice cheesecake, and a pumpkin craisin scone. We hear their Anzac Biscuits are legendary too.

Image: Drunken Monkey Coffee Bar on Facebook

We trust that this has convinced you to give pumpkin a go during your autumn trip to Orlando! 

Ready to plan your Florida adventure? Click here to browse our Orlando ticket deals now. 
Main Image (L-R) - Nothing Bundt Cakes, P is for Pie, The Glass Knife

Read next…