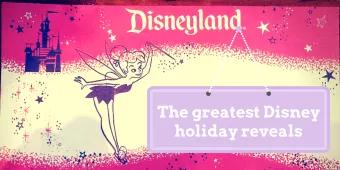 Here we list some of the best Disney holiday reveals, as well as offer tips for those looking to plan a surprise themselves.
Many of us have dreamed about a holiday to one of Disney's theme parks, whether that was as a child, or  to this day as an adult. Those of us that are lucky enough to have been, will probably remember the moment of realisation when the holiday was actually booked, while those that haven't been before have probably witnessed the joys of those whose reactions were captured on camera and uploaded to YouTube.
To capture the excitement and delight of those who have been surprised, as well as potentially inspire you to pass the magic on to others, we've teamed up with a number of Disney holiday reveal experts to give you some inside information.
Bluffing
Probably the most famous of all Disney reveals, is one involving a young girl named Lily, whose sister Chloe ends up stealing the limelight. Posing as an ordinary day, the girls' parents pretend to take the eldest daughter to school, before driving straight past, and announcing that they're in fact going to Disneyland. While Lily cries with hysterical tears, sister Chloe is less than impressed, with her confused face soon becoming an internet sensation.
Similarly, Joey Cowett convinced his son for months that he was going on a trip to Boston, before finally revealing at the airport that they would in fact be heading to Orlando as he was in possession of Walt Disney World tickets. After being presented with a box which had Disney MagicBands on the inside, the little man in question realises where he's actually about to go, and becomes overwhelmed with emotion.
Clues
In the video below, two children are made to go on a scavenger hunt around the house, using the letters found to spell out a message by working together. Watch to find out their reactions as they realise what the message reveals, although be warned, there's plenty of high pitched screaming involved!
Becky Vigil writes for Tips from the Disney Diva, and has plenty of ideas for surprising your children with clues in the form of gifts. These tips will be particularly useful for relatives wishing to recreate something similar to the above.
"I would go with some sort of gift basket or present they have to open. Scavenger hunts with little clues (and a little gift) along the way work nicely too. It's so fun to watch your little ones faces light up as they run from clue to clue, trying to solve the mystery as they go along!"
"You can also go with Disney-themed practical items that your child will need while there (hairbrushes, chapstick, backpacks, etc.), and if you are planning on doing some pin trading you can always pick up some Disney pins online as well. There's no reason to spend an arm and a leg- if it has Disney on it, lights up, or makes a noise, children will love it. And if you want to be really creative and don't mind the mess, throw some gold glitter in your suitcase for that extra special pixie dust effect."- Becky Vigil (Character Diva)
Similarly Kim Harrington who also writes for the same blog, surprised her two children with a trip to Disney World by utilizing Christmas presents in 2013.
"Our Christmas elf actually delivered the news! Edward, our Elf on the Shelf, wrote a note explaining that mommy and daddy asked him to fly down to WDW and bring back some friends for a special surprise (the Mickey and Minnie in the tree). They had a note with them telling our kiddos the exciting news. The final gift was given to them by my husband and I - a shirt saying they are going to WDW! Disney is filled with so much magic. It's so much fun to start the magic early with a surprise!" - Kim Harrington (Disney Magic Diva)
When Disney holiday reveals go wrong
However, no matter how carefully you plan, you may not always get the reaction that you anticipated. Here, Michelle Gardiner, tells her story.
"I planned our Walt Disney World vacation for months, finally coming up with, what I was sure would be the trip of a lifetime. Then, on Christmas morning, we sat around the tree while they unwrapped their brand new suitcases in their favourite colours. They expressed their gratitude, but the look of confusion on their faces was evident. Then it was the unwrapping of beach towels and new swimsuits. Again, gratitude, but I couldn't help but notice the looks being exchanged between them. It was December after all, and we live in Canada.
"Then it was the custom made t-shirts. The youngest's read "Look Out", while the oldest's was a simpler "Florida" with a subtle palm tree, and the middle son's read "Here We Come" under a graphic of an airplane. The reaction? A weak, "Thanks Mum." Finally they opened an envelope that contained their plane ticket from Santa and spending money from grandpa and grandma. The confusion was extensive now as my youngest wondered aloud where the toys were, my oldest began to clue in and my middle son just gawked at his plane ticket.
"Then the tears started. Convinced he was being punished by Santa as he hadn't received any toys to play with, my 6-year-old sobbed. My oldest looked at the dates on the plane tickets and was also upset as it would mean he would miss the New Year's dance; his last before we planned on moving away in the spring. My 8-year-old was in shock, still staring at the ticket as he had always dreamed of flying, having long been fascinated by aviation in general. So overall, not the reaction I had imagined nor had hoped for.
Everything, though, changed once we reached Orlando, drove to the park and boarded the tram with our Florida tickets. Almost immediately every bit of confusion and disappointment evaporated as they took in the atmosphere and magic and we ended up having the best vacation ever, just as I had dreamed we would."- Michelle Gardiner (Florida Diva)
Image Credit: Cory Doctorow (Flickr.com) Tips from the Disney Diva