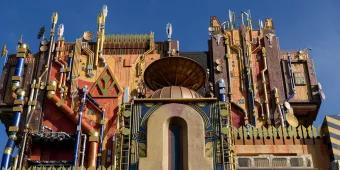 Brand new Marvel adventure!
Get ready to be launched into the Guardians of the Galaxy universe, with Disney's exciting new ride…
On Saturday, an exciting new ride was unveiled at the Disney California Adventure Park. Ever since Disney announced plans to give the iconic Tower of Terror ride an epic Marvel transformation, fans have been eagerly anticipating the big reveal, and now the wait it over- Guardians of the Galaxy-Mission BREAKOUT is officially open!
The Twilight Zone Tower of Terror has always been one of the park's most popular attractions, and we're sure this incredible new ride will be just as popular with guests. If you've been on the Tower of Terror before, you'll be pleased to know that the exhilarating surprise drop element and free-fall sensation remains, but with lots of exciting new features themed on the Guardians of the Galaxy saga.
To celebrate the grand opening, the Guardians of the Galaxy stars and filmmakers were out in full force. Zoe Saldana (who plays Gamora), Benicio Del Toro (The Collector), Pom Klementieff (Mantis) and Kevin Feige (President of Marvel Studios) were just a few of the stars that put the new attraction to the test. Check out the video below to see what they had to say…
If you haven't heard much about this ride, it blasts you straight into the Guardians of the Galaxy universe alongside famous characters like Peter (aka Star-lord), Gamora, Groot and the mischievous Rocket Racoon. The Collector's Fortress might look colourful on the outside, but those brave enough to venture inside, will soon realise that there's something very strange about his eerie lair.
The evil Collector is keeping the Guardians captive in glass display cases suspended over a dark abyss. What the Collector doesn't know, is that Rocket has managed to escape, and he needs your help to save the rest of the gang. After boarding a rickety gantry lift, you'll be catapulted upwards and back down again when you least expect it. Music is such an important part of the movies, that it had to be an equally important part of the new ride. That's why riders will rise and fall to the beat of music inspired by the film's popular soundtrack. You can expect to hear songs from the 60s, 70s and 80s, like "Born to be Wild", "Burning Love" and "I Want You Back".
That's not all though, you'll get the chance to meet your favourite Guardians of The Galaxy characters too! Come face to face with Groot, Gamora and Star-Lord and get ready to show off your moves as Star-Lord fires up his boom box and gets the party started in new attraction- Guardians of the Galaxy: Awesome Dance Off!
Want to experience this exciting new attraction for yourself? Click here, to view our Disneyland California tickets.
Liked this post? You may also like…