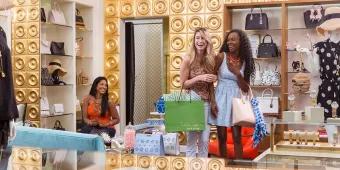 A handy guide to the best shops in Florida!
From designer outlets to discount stores and your favourite high street shops, Florida is a shopper's paradise…
When you think of Florida, your first thought will likely be 'theme parks', but while the sunshine state may be famous for its amazing theme parks and epic roller coasters, it's equally famous for its fantastic shops.
We've put together a handy guide to shopping in Florida to give you some retail therapy inspiration. Here is our pick of the best shopping experiences you can enjoy on your holiday…
The Florida Mall
If you're looking to do some serious shopping in Orlando, the Florida Mall is a great choice. It's located just a short distance from the Walt Disney World theme parks and is approximately a 30-minute drive away. This makes it an ideal shopping destination if you're staying at either a Disney hotel or near the Disney parks.
The Florida Mall is Central Florida's largest shopping centre, which of course means that there are plenty of shopping options. You'll find clothing, footwear, technology, jewellery, beauty products and much more.
The Florida Mall is home to more than 250 different retail, dining and entertainment options. You'll be able to explore department stores like Macy's and Dillard's, as well as popular retailers like the Apple store, Abercrombie & Fitch, Bath & Body Works, Coach, Gap, H&M, MAC Cosmetics, Pandora, Victoria's Secret and Zara to name just a few.
If you're visiting the mall with the whole family, you might be surprised to hear that there's also lots to keep the little ones entertained. The Crayola Experience is always popular with the little ones as there's more than 25 hands-on attractions to try including an indoor playground.
You'll also find American Girl which is exclusive to the Florida Mall in Central Florida. This is where you can pick up matching accessories for you and your doll, dine alongside them and even pay a visit to the doll's hair salon!
When you've worked up an appetite, you'll have plenty of options as there's 23 eateries to choose from. If you've got a sweet tooth, we'd recommend visiting Carlo's Bakery. The desserts and cakes are delicious!
Orlando International Premium Outlets
If you want to get yourself a good bargain, you've come to the right place. There are several Florida outlets that are known for their incredible discounts, but Orlando International Premium Outlets is the biggest, spanning over 773,586 square feet!
This huge outlet store is located on International Drive, just a 5-minute drive from the Universal Orlando Resort and 10-miles away from Walt Disney World. With impressive discounts ranging from 25% up to 65%, this is well worth a visit.
Orlando International Premium Outlets has more than 180 designer outlet and name brand stores, including Calvin Klein, DKNY, Forever 21, GAP, Karl Lagerfeld, Kate Spade, Lacoste, Levi's, Michael Kors, Polo Ralph Lauren, Reebok Ted Baker, UGG and many more.
If you want to stock up on souvenirs, head over to Disney's Character Warehouse, which is a Disney outlet that sells discounted clothes, character toys and collectibles. This will definitely put a smile on the kids (and big kids!) faces.
When you're ready for a bite to eat, choose from mouth-watering Asian cuisine, burgers, pretzels or subs on the go. If you need to rest your feet, Vinito Ristorante is a full-service Italian restaurant that is sure to satisfy your taste buds.

Orlando Vineland Premium Outlets
If you want to find Florida discount shops this outlet mall is a must visit. This mall stands out from the rest because it's considered one of the country's most upscale outlet centres. You'll find lots of high end, designer products here at hugely discounted prices. So, if this is the kind of thing you're after, Orlando Vineland Premium Outlets is the best place for you.
Visitors can benefit from amazing savings with discounts between 25-65% available every single day. This Florida outlet store is for serious shoppers and is the kind of place you're likely to find a bargain worth bragging about!
Orlando Vineland Premium Outlets has more than 160 different shops. You'll find designer brands like Bottega Veneta, Burberry, Calvin Klein, Coach, DKNY, Jimmy Choo, Karl Lagerfeld, Kate Spade, MaxMara, Michael Kors, Polo Ralph Lauren, Prada and many more.
If you want to grab a bite to refuel in between all that shopping, there are lots of tasty options, including Chinese, Japanese and Italian cuisine to name just a few.
Disney Springs
Like the name suggests, Disney Springs is part of the Walt Disney World Resort. If you're staying on-site at a Disney Resort hotel, you'll be able to get on one of the free buses from your hotel and it will take you straight there.
Disney Springs is a shopping, dining and entertainment complex and with so much to offer, we'd highly recommend spending some time here during your holiday- especially if you love to shop. In recent years, Disney Springs has expanded, and there are now more shopping options that ever before with more than 100 different stores, including the largest Disney store in the world! You'll find clothing, footwear, toys, accessories, homeware, gifts and much more.
You'll be able to browse popular shops like Anthropologie, Coach, Havaianas, Kate Spade, Lacoste, Levi's, MAC, Sephora, Superdry and Zara. One of the things we love most about shopping at Disney Springs is that you can find lots of exclusive merchandise that you wouldn't find anywhere else. Explore the Super Hero Headquarters, Star Wars Galactic Outpost and Ever After Jewelry Co & Accessories for some unique Disney goodies.
If you're shopping for sweet treats, Goofy's Candy Company, Ghirardelli Ice Cream & Chocolate Shop and Disney's Candy Cauldron are all great places to look. Sprinkles bakery also has its very own cupcake ATM where you swipe your credit card and a cupcake 'magically' appears- definitely a must-try!
Disney Springs is a great place to visit at night, as there are lots of amazing restaurants where you can enjoy a tasty meal after a long day exploring the Disney theme parks. There's also lots of entertainment, with live music and street performers ready to put a smile on your face.
The Mall at Millenia
This is the place to go for high-end shopping in Florida. So, if you want to treat yourself, a visit here is a must. The Mall at Millenia is a huge, multi-level shopping destination. It's modern, bright and spacious, which makes for a relaxing and enjoyable shopping experience.
The Mall at Millenia features department stores like Macy's and Bloomingdales, as well as designer stores like Coach, Tag Heuer, Bvlgari, Hugo Boss, Prada, Gucci, Tiffany & Co, Burberry, Giuseppe Zanotti, Jimmy Choo, Versace Chanel, Louis Vuitton, Rolex and Saint Laurent.
If you're not looking for big name brands, this is still a lovely place to come for a spot of window shopping. There are also high street stores like Urban Outfitters, Bath & Body Works, Sephora, Pandora and Victoria's Secret. We'd also recommend stopping for something to eat at the famous Cheesecake Factory for hearty meals followed by a delicious slice of cheesecake!
Lake Buena Vista Factory Stores
This is another great shopping destination for those of you who are looking for some impressive discounts. This mall is considered by some to be "one of Central Florida's best kept secrets for outlet deals".
The items you'll find here have come directly from the factories which means that you'll be able to purchase premium quality merchandise at incredible prices. The Lake Buena Vista Factory Stores offer up to 75% off on top brands, so this is well worth visiting if shopping is high up on your list.
American Eagle, Calvin Klein, Converse, Levi's, Nike, Reebok, Timberland, Tommy Hilfiger, and Under Armour are some of the shops you can explore here. There's also a Theme Park Outlet, where you can pick up fun theme park merchandise to take back home.
Lake Buena Vista Factory Stores is just 2 miles from Walt Disney World, so it's really easy to get to if you're staying in this area.
Ready to start planning your Florida holiday? Click here, to view our great value Orlando attraction tickets.
For more blog posts like this try…
Find out all the latest news from Orlando on our BLOG