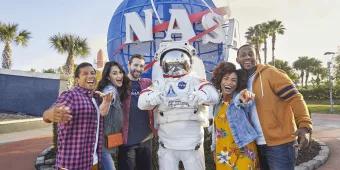 It's out of this world!
Not sure whether to add Kennedy Space Center to your next Orlando itinerary? Here are seven reasons why you should!
Located about an hour outside of Orlando, the Kennedy Space Center Visitor Complex is the perfect day trip if you're looking to take a day's break from the craziness of the big theme parks. Whether you're an astronaut aficionado or a NASA novice, you're sure to have the best day at this attraction - here are just 7 reasons why you should visit Kennedy Space Center on your next Florida holiday. 
1. You can meet real astronauts and NASA scientists
There is an astronaut appearance almost every day at the Kennedy Space Center Visitor Complex, giving guests the opportunity to meet a real astronaut at no extra cost to their regular admission. At the Astronaut Encounter, guests can hear about what it's really like to live and work in space during a live presentation and question and answer session. You could get the chance to get an autograph from the Astronaut of the Day too at certain times at The Space Shop and Shuttle Express. 
For a more up close and personal experience, you can book a spot at a Chat With an Astronaut session, for an additional cost. Here you can sit down in a smaller group for a more intimate Q&A, and you'll get a continental breakfast (during the morning session) or selection of culinary samplings (during the afternoon session), 1 alcoholic drink per adult ticket, and a commemorative gift and signed portrait too. 
Previous Astronauts of the Day have included Terry Wilcutt, whose missions include STS-68 and STS-89 Endeavour and STS-79 and STS-106 Atlantis, Winston Scott, whose missions include STS-72 Endeavour and STS-87 Columbia, and Susan Kilrain, whose missions include STS-83 and STS-94 Columbia. 
2. You can experience a simulated shuttle launch
You couldn't have an attraction in the theme park capital of the world without at least one thrill ride! In the Shuttle: A Ship Like No Other exhibition, the Shuttle Launch Experience allows guests to experience the next best thing to flying aboard the space shuttle during an eight-and-a-half-minute-long simulation. 
If you've got a budding astronaut in your party or any young thrill seekers, this is such a fun and immersive experience, and it's included in the cost of your admission!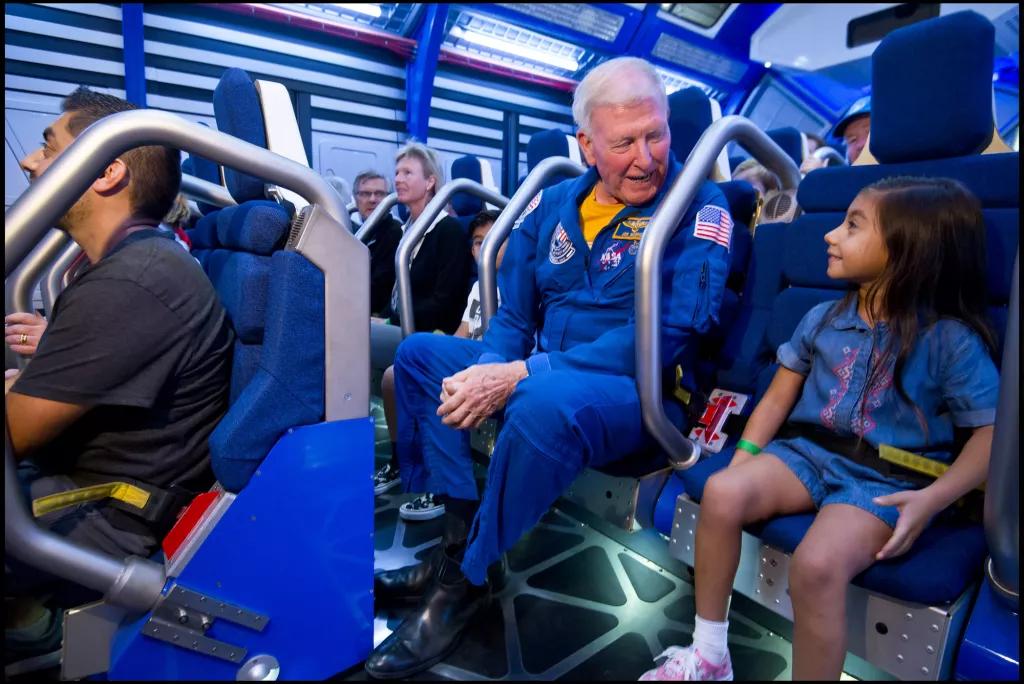 3. You might get to see a real rocket launch
Cape Canaveral is still a working air force station, with rocket launches happening on a regular basis. While there's no guarantee that they'll go ahead as planned and they might be cancelled or rearranged at short notice, we'd always recommend checking the launch calendar before planning your visit as there might be one happening while you're there! 
 There are a few different locations that will give you a great view of the launches (they happen just a few kilometres away!) at both the Main Visitor Complex and the Apollo/Saturn V Center. You can access these at no extra cost to your regular admission, but space will be available on a first come first serve basis. If you want to make sure you get the best view, you can also purchase launch tickets that will give you access to the closest viewing area, plus a souvenir, snacks and refreshments. 
4. There are interactive activities kids will love 
If you're wondering if there will be enough to entertain your little ones at Kennedy Space Center in comparison to the big theme parks you'll be visiting, the answer is yes! All of the attractions in the visitor complex have fun (and educational) interactive activities that keep young minds and hands busy. 
In the Shuttle: A Ship Like No Other exhibit, kids can take a slide down to the lower level where they can experience what it's like to eat, sleep and move about on the International Space Station, or use the Astronaut Training Simulators to learn how to pilot and land the Space Shuttle. At the newest attraction, Gateway: The Deep Space Launch, interactive screens allow you to try fuelling and igniting a rocket engine, explore the James Webb Space Telescope, and interact with 40 different space missions on the Robotic Space Explorers Wall. 
Make sure you also visit Planet Play, a multi-storey play experience with soft play, climbing activities, digital games and more!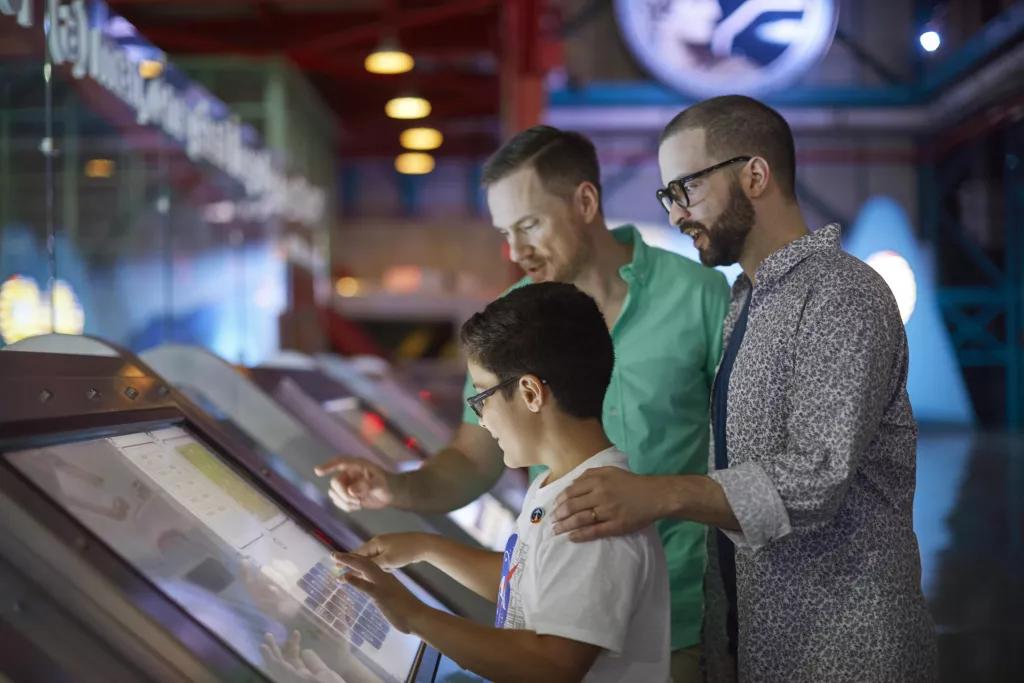 5. There are artefacts and exhibits for adults to enjoy
It's not all about the kids though! Whether you can remember seeing the Apollo 11 mission live on your TV or you've grown up in the dawn of commercial space flight, there is so much for adults to learn and reminisce about. There is all kinds of information throughout the Visitor Complex about the past, present and future of space exploration, which is sure to come in handy at your next pub quiz, plus plenty of interactive experiences aimed at older guests like an IMAX 3D film and a reproduction of the Apollo 8 Firing Room. 
6. You can get up close to real space-flown vehicles
While some of the rockets, capsules and shuttles in the attractions at Kennedy Space Center are models and replicas, many of them are the real deal that have flown in space! Gateway: The Deep Space Launch Complex has three flight-flown vehicles; the Orion EFT-1 Capsule, the SpaceX Cargo Dragon COTS-2 and the SpaceX Falcon 9 Booster, but the real star attraction is the Space Shuttle Atlantis. This huge orbiter is displayed as if docked at the International Space Station, rotated 43.21 degrees and suspended in the air as if in mid-flight.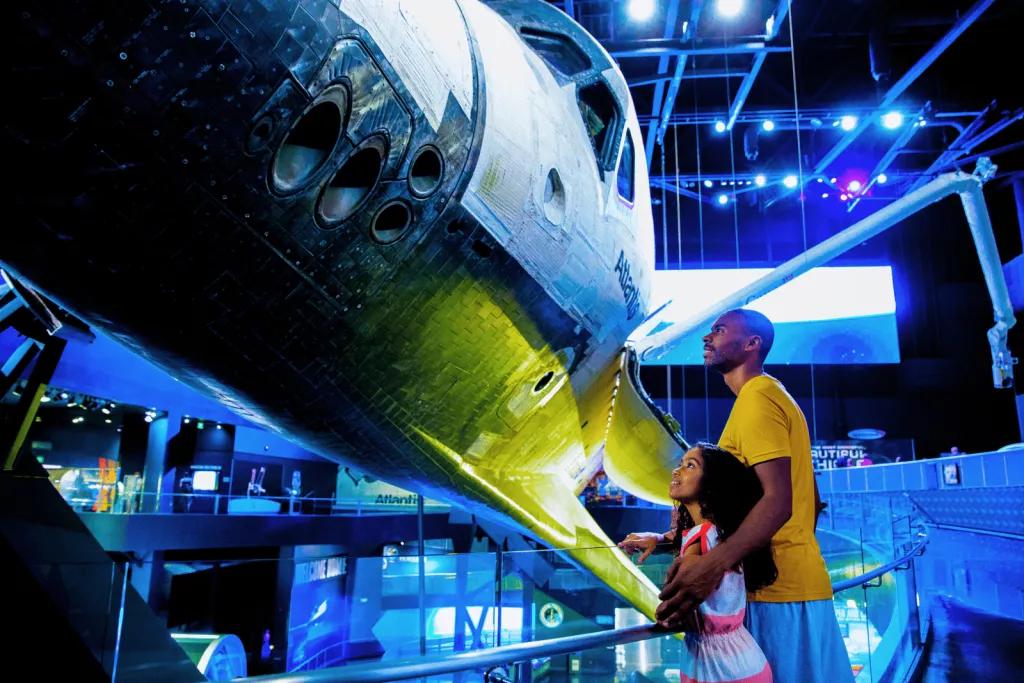 7. You can get lunch on us
That's right - book your 2023 Kennedy Space Center Visitor Complex tickets before 30th June 2023 and you'll get lunch on us! With the Gateway Package, you'll get admission to all the major attractions, including Gateway, Space Shuttle Atlantis and the bus tour to the Saturn V Centre, plus a $15 meal voucher with every ticket. Our tickets are flexible and open-dated, so you don't have to commit to a date if you're waiting to find out the launch schedule during your visit to Orlando! 
Don't miss out! Book your Kennedy Space Center Gateway Package now for a day you'll never forget!