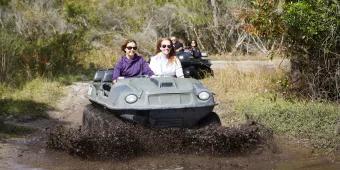 By AttractionTickets.com's Florida Experts, Susan and Simon Veness
Get your hands dirty (literally) as you discover the more adventurous side of Florida
Are you ready for a roaring good offroad adventure on your next Orlando holiday? Then let us introduce you to Revolution Adventures, home of the wackiest, raciest and downright muckiest fun in Central Florida.
Roller-coasters? They're for wimps. This is all about hands-on fun and excitement, with quad bikes, amphibious vehicles, jet-skis, archery tag, fishing and trap shooting. It's a genuine Floridian experience, and it gets you out into the Lake County countryside, where you can take your pick from a variety of different activities, most of which promise to get you good and dirty on their offroad trails and ponds.
Whenever we are asked for ideas for attractions that might suit older teens and young adults, this is one we're happy to recommend every time for guaranteed family entertainment.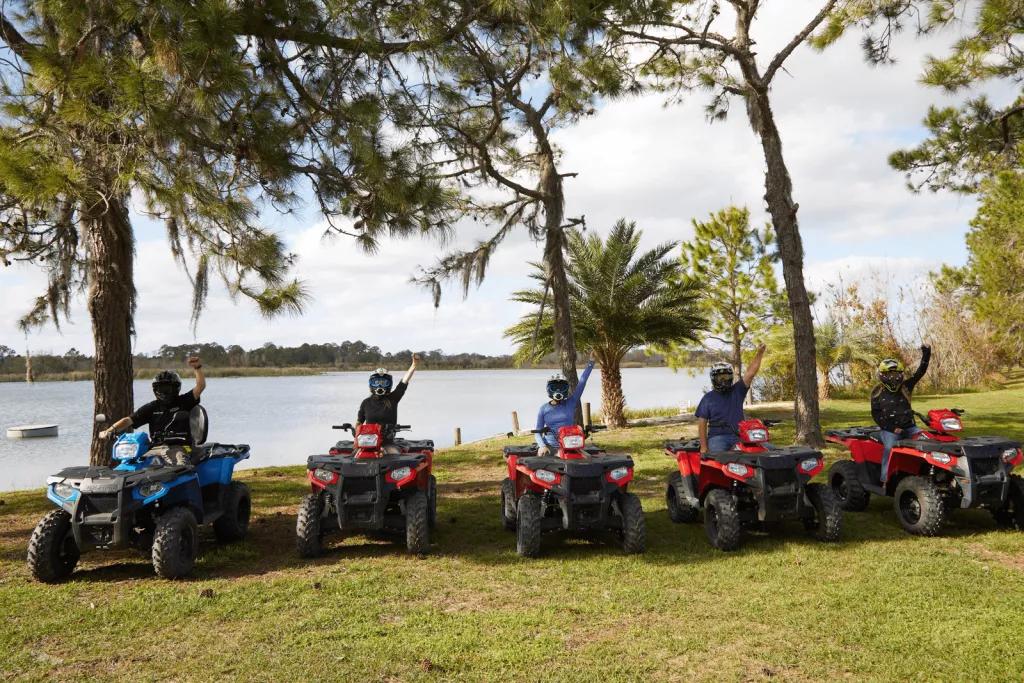 Set in 230 acres of pristine rural Florida, it is distinctly off the beaten track but easy to find, just off Highway 27 (at the extreme western end of Kissimmee's Highway 192). Only 20 miles from Walt Disney World Resort, it feels lightyears away in terms of the country vibe that surrounds it.
In short, when you're looking for that extra bit of excitement on holiday, or something your jaded teens won't forget, or just a chance to escape the tourist frenzy, Revolution Adventures is the place to go. It's also a British-owned and run operation, which means they are always keen to see AttractionTickets.com guests, and it usually leaves visitors coming back for more visits in future.
The highlight attraction is their series of 4 x 4 vehicles, the ATVs, otherwise known as quad bikes. These powerful two-seat offroad trail-blazers are huge fun to ride and extremely safe, even for novices. You start with an orientation session into the vehicles themselves to make sure everyone is comfortable in control of them (especially the stopping part!). They provide the necessary safety gear, as well as dust hoods for under your helmet – and you WILL get dusty, or even downright filthy, so be sure to wear old clothes, as well as close-toed shoes.
Once everyone is ready to roll, your guide leads you out on two 35-minute sessions across specially created trails that are ideal for these off-road rambles. Safety is the watchword here, hence you can't go off on your own, but the guides always ensure lots of four-wheel fun, and just driving these machines provides plenty of excitement.
You must be at least 16 to ride unaccompanied and have a valid photo ID to participate, while those under 18 need to be with a parent or guardian.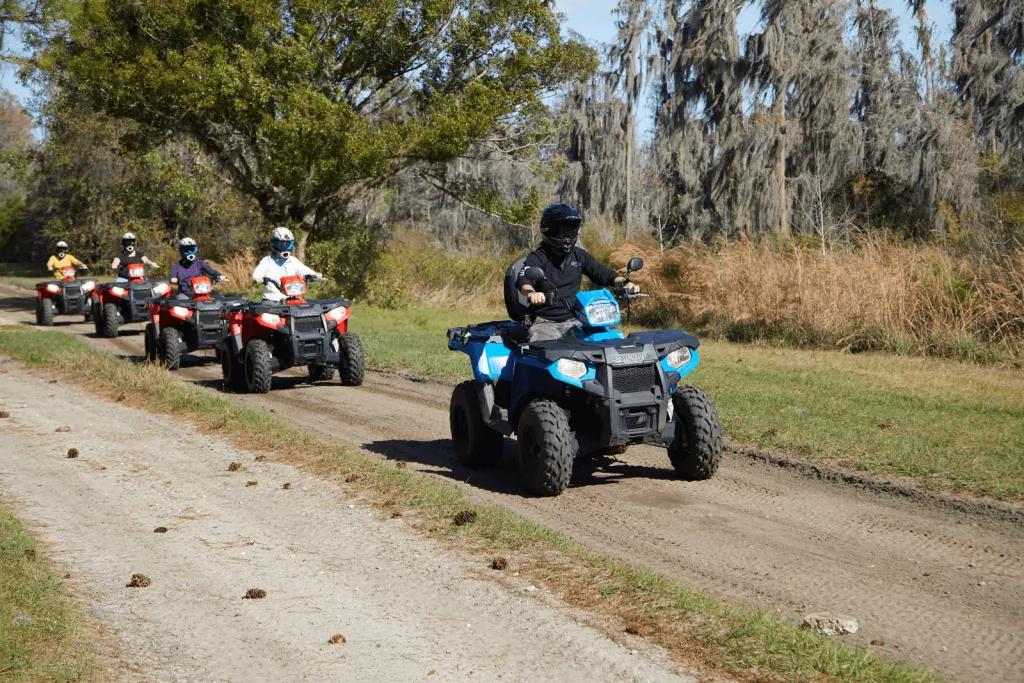 If you want to rev things up even more, consider one of Revolution's more audacious options that cover much of the same territory but in a drastically different style.
The Mucky Duck is a unique eight-wheeled amphibious vehicle, commonly known as an Argo, that allows riders to leave terra firma behind and cross through some serious large-scale waterways as well as the main lake at the heart of the attraction. You have to be at least 21, with a valid driver's licence, to get behind the wheel, but it can seat up to four, can carry passengers as young as four and features a full hour of traversing the offroad terrain in high style.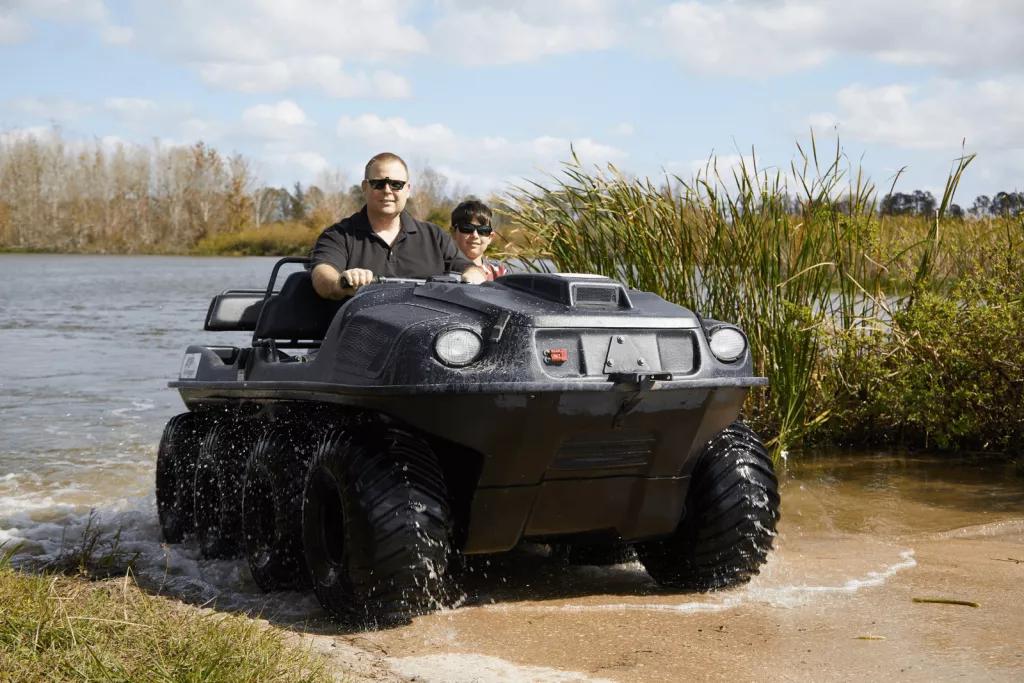 Equally high in the fun offroad stakes is the two-person buggy, a side-by-side version of the ATV that allows for a passenger alongside the driver. Using the rugged Can Am Maverick buggy, it covers the same trails as the ATV tour in a similar guided fashion, but is a great option for couples as well as mum or dad with junior in tow (must be 4ft tall and able to sit unaided).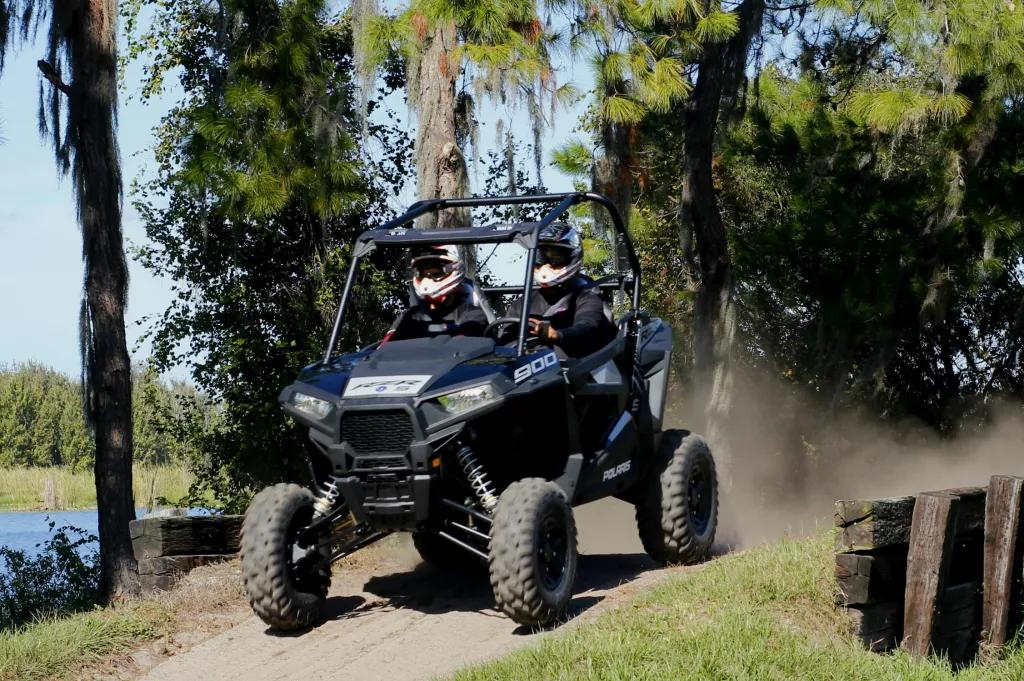 Want to get the best of the land and water combo? Try the Surf & Turf experience with both an ATV and a Sea-Doo jet-ski on the 65-acre lake.
After your 4x4 rumble in the (almost) jungle, you get to take out one of these super-fun watercraft behind a guide, following a prescribed route around the water course and soaking up the sights of this beautiful setting. A passenger is allowed behind the driver (who must, again, be at least 16), as long as they are at least five and can sit upright unaided, while life vests are provided for all participants, and must be worn at all times.
With so much wide-open space to explore, it stands to reason this would be a good place to try out some alternative activities, and that is most definitely the case here.
The main lake is an angler's dream as it is stocked with trophy bass, and you can sign up for a four-hour, fully equipped and licensed fishing expedition. It operates on a catch-and-release basis, but you WILL get the chance for a priceless photo with your prize catch before you have to return it to the lake.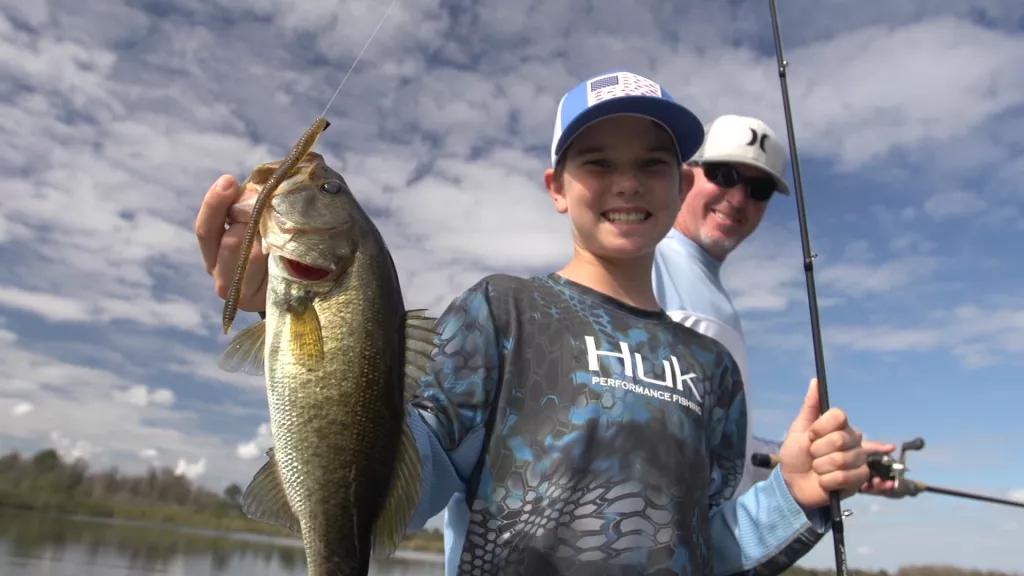 Alternatively, raise your adrenalin levels with a real sporting challenge on the Clay Shooting range, with all safety equipment, shells and a double-barrelled shotgun provided. This is a keen – and competitive! – activity for all the family, and there are major bragging rights to be earned for those aged 16 and up.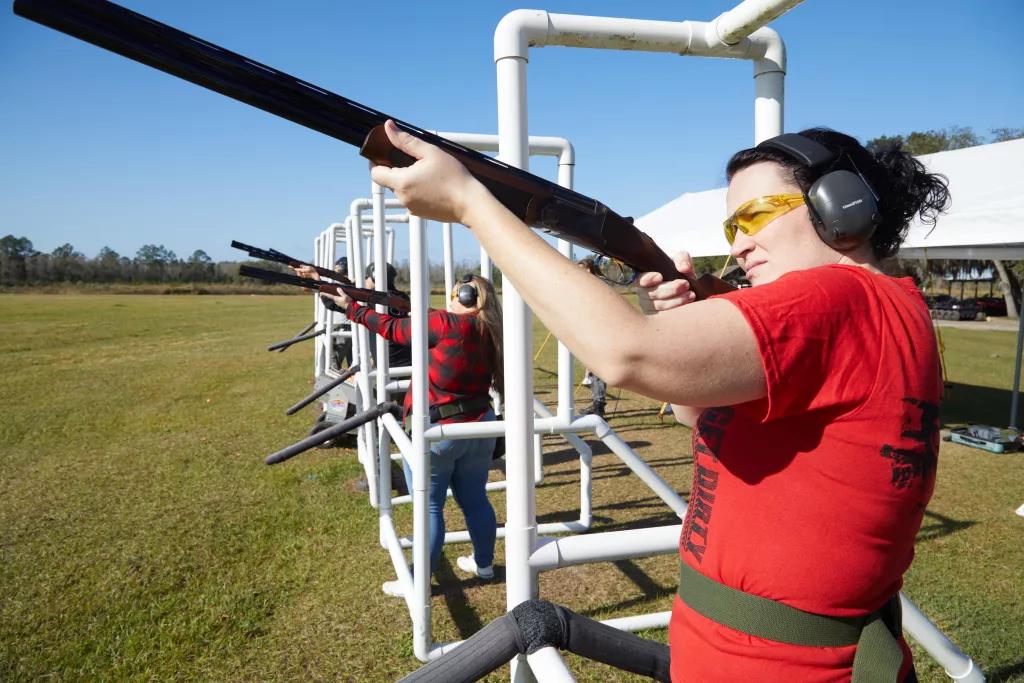 Finally, archery is a rapidly growing sport and you can try two different versions here, with both Target Shooting and Archery Tag on offer. Again, it is a terrific family choice and is available for everyone seven years old and up (at least six people required for archery tag). A fully trained coach is on hand to supervise and offer tips, as well as to keep score (and you WILL want to keep score. Mini-golf? Ha, that's for amateurs!).
So, when you're looking for adventure and excitement, just head for Revolution Adventures, and tell them Susan and Simon sent you.
For tickets to Revolution Adventures, be sure to check out our Orlando Activities and Experiences, including Driving Experiences and Trophy Bass Fishing. 
What off-the-beaten-track adventure or experience have you tried in Orlando? Tell us about it on the friendly ATD forums, our Community Facebook page, on Twitter or Instagram.