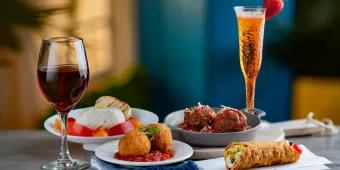 Take your taste buds on an adventure across the world
The Seven Seas Food Festival is back at SeaWorld Orlando, and it's bigger and tastier than ever before! More than 200 food and beverage options are available for you to explore, including over 50 food dishes and 75 craft beers, and most of them are brand new for 2023! 
But with so much on offer how will you decide what to try first? Take a look at the 24 marketplace menus below to help get you started:
Flamecraft Bar 
Drinks 
13 Rotating Draught Beers
Flamecraft Mule - Tito's Vodka, ginger, lime
Frozen Orlando Vice - Pina Colada and Strawberry Daiquiri
Smugglers 
Drinks 
Cloud Chaser 
Two Hearted IPA 
Moscato 
Riesling, Semi-Dry
Caribbean Moonshine Tasting 
Drinks 
Marmalade Mayhem 
Cat 5 Coconut 
Passionfruit Prohibition 
Banana Breeze 
PB&C Cannonball 
Café De Mar 
Food 
(NEW) Maple Hog - cinnamon roll, bacon, whiskey maple glaze 
Drinks 
Frozen Orlando Vice - Pina Colada and Strawberry Daiquiri
Strawberry Daiquiri - Flor de Cana rum, strawberry
Pina Colada - Flor de Cana rum, pineapple, coconut
Peach Moscato
Sangue di Giuda
Caribbean Market
Food 
Smoked Jerk Chicken Slider - smoked chicken, brioche bun, pineapple slaw, cilantro 
(NEW) Ropa Vieja - shredded beef, plantains (GF) 
Pineapple Dream Cake - pineapple cake, cream cheese, whipped cream (V) 
Drinks 
Prestige Lager 
Red Stripe Lager Beer
(NEW) Island Rum Punch - Bacardi light rum, dark coconut rum, orange, pineapple, cranberry
(NEW) Caribbean Sunset Mocktail - orange, lemonade, sprite, grenadine
All-American Market 
Food 
(NEW) Classic Reuben - pastrami, marbled rye bread, sauerkraut, swiss cheese 
Lobster Mac and Cheese - sharp cheddar mac and cheese, lobster, crispy shallot, green onion
(NEW) Crispy Brussels Sprouts - Brussels sprouts, applewood bacon vinaigrette, almonds (V, Ve) 
(NEW) Strawberry Shortcake A La Mode - vanilla ice cream served with yellow cake, topped with strawberry 
Drinks 
(NEW) Southern Peach - fistful of bourbon, peach schnapps, sprite, peach, simple syrup 
Goon Squad IPA
Bud Light
Polynesian Market
Food 
Lamb Ribs - tender roasted lamb served with Hawaiian slaw, sesame seeds, pickled red onion and a BBQ sweet and sour sauce (GF) 
Ahi Tuna Poke Nachos - tortilla chips, wakame, furikake, spicy aioli, toasted sesame oil  
Drinks 
(NEW) Frozen Polynesian Summer - Captain Morgan pineapple rum, coconut cream, mango, pineapple 
Big Wave Golden Ale  
North Atlantic Market
Food 
Classic Lobster Roll - brioche, tender butter lettuce, garnished with micro celery 
(NEW) Prince Edwards Island Shrimp Fritters - Prince Edward Island shrimp, succotash, fermented spicy aioli 
Fish and Chips - deep-fried beer battered cod, siderwinder fries, tartar sauce, garnished with rosemary
(NEW) Chocolate Bailey's Mousse - chocolate whiskey cake, Baileys chocolate mousse, whipped cream
Drinks 
Cranberry Limeade 
(NEW) Moose Juice - Canadian Club whiskey, raspberry, cranberry, lemonade 
Coaster Cocktails 
Drinks 
(NEW) Pipeline - Henrick's gin, Tito's vodka, Bacardi rum, peach schnapps, orange juice, pineapple, grenadine
Kraken - Tito's vodka, Midori, green apple, pineapple juice 
Mako - Milagro tequila, pineapple, blueberry, lime sour
Ice Breaker - spiced rum, passionfruit, lemonade, sprite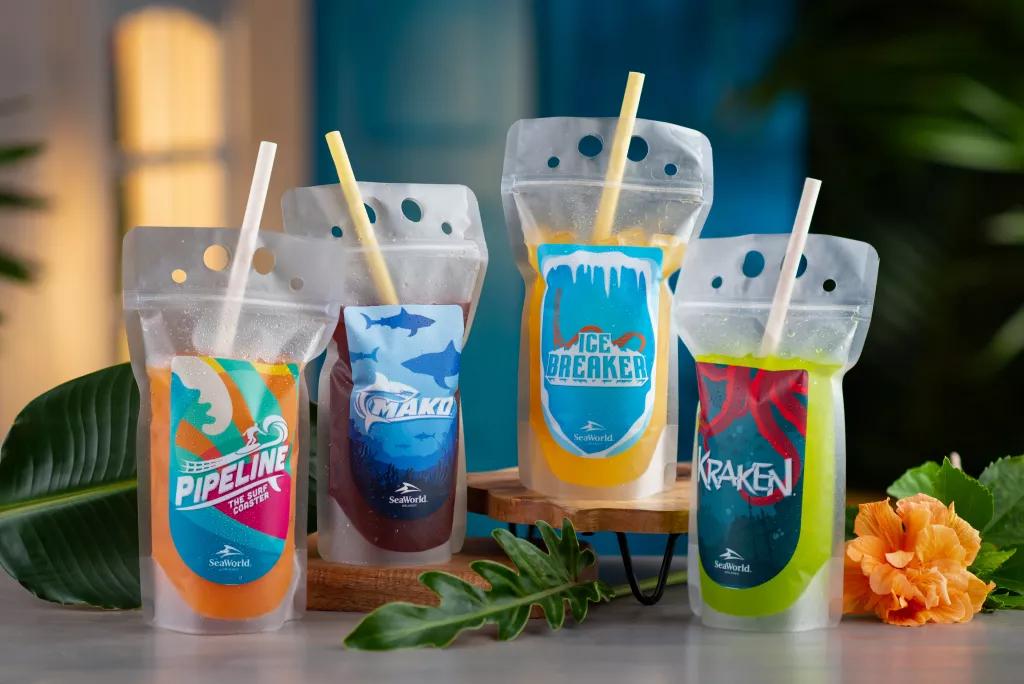 Sweet Sips 
Drinks 
(NEW) Raz Dazzle Cupcake - vanilla cupcake, raspberry filling, vanilla frosting, raspberry 
(NEW) Coco Loco Cupcake - chocolate cupcake, chocolate filling, chocolate frosting, chocolate hard shell 
(NEW) Island Dream Cupcake - pineapple cupcake, Malibu frosting 
(NEW) - Orange Bliss Cupcake - orange cupcake, Grand Marnier frosting 
Drinks 
Riesling White Wine 
Peach Moscato Fruit Wine 
Moscato d'Asti Sparkling Wine 
Sangue di Giuda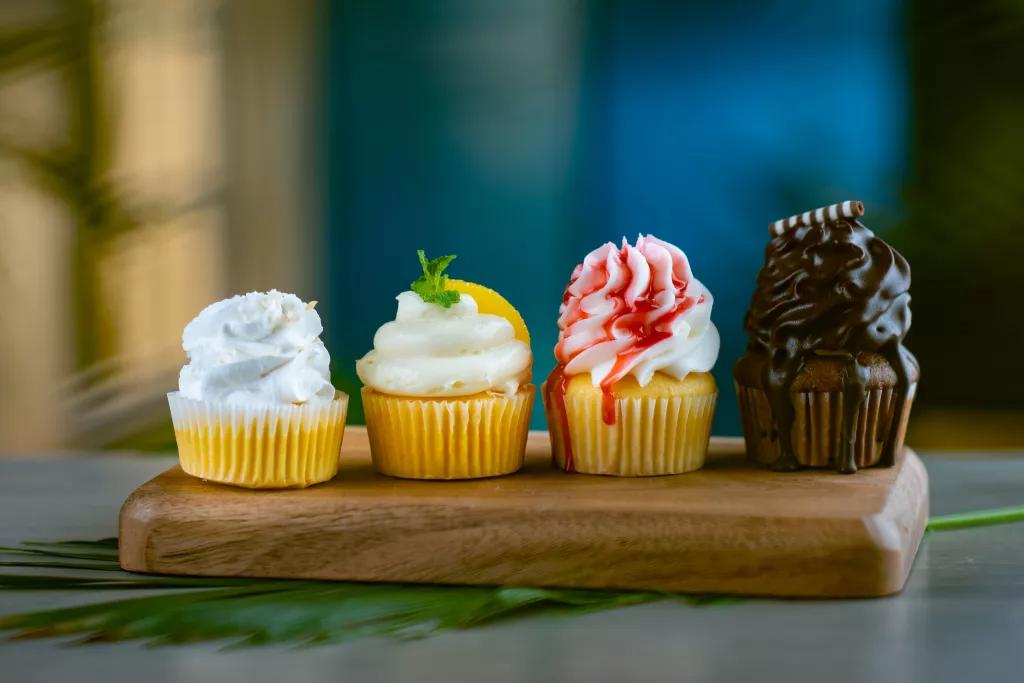 Italian Market 
Food 
Palermo Fontina Cheese Meatballs - homemade meatballs with fontina cheese and fresh herbs in pomodoro sauce garnished with garlic panzito 
(NEW) Italian Beef Arancini - arancini served atop San Marzano tomato sauce, garnished with fresh basil  
(NEW) Burrata and Tomato - heirloom tomato, fresh burrata, modena balsamic, extra virgin olive oil, ciabatta toast (V) 
Italian Cannoli - mascarpone vanilla cream, cherry and pistachio crumbs  
Drinks 
Italian Pilz 
Sangue di Giuda 
(NEW) Aperol Spritz - Aperol, prosecco
España
Drinks
Cava Brut 
Abadia Do Seixo 
Vendimia Seleccionada 
Cermeno Vedimia Seleccionada 
Salted Rims
Drinks 
Jalepeno Margarita - jalepeno tequila, Triple Sec, lime sour 
Strawberry Margarita - Rock N Roll strawberry tequila, Triple Sec, strawberry lime sour 
Watermelon Margarita - Milagro tequila, Triple Sec, watermelon, lime sour 
Smoked Bloody Mary - Tito's vodka, smoked tomato juice, siracha, horseradish, worcestershire, salt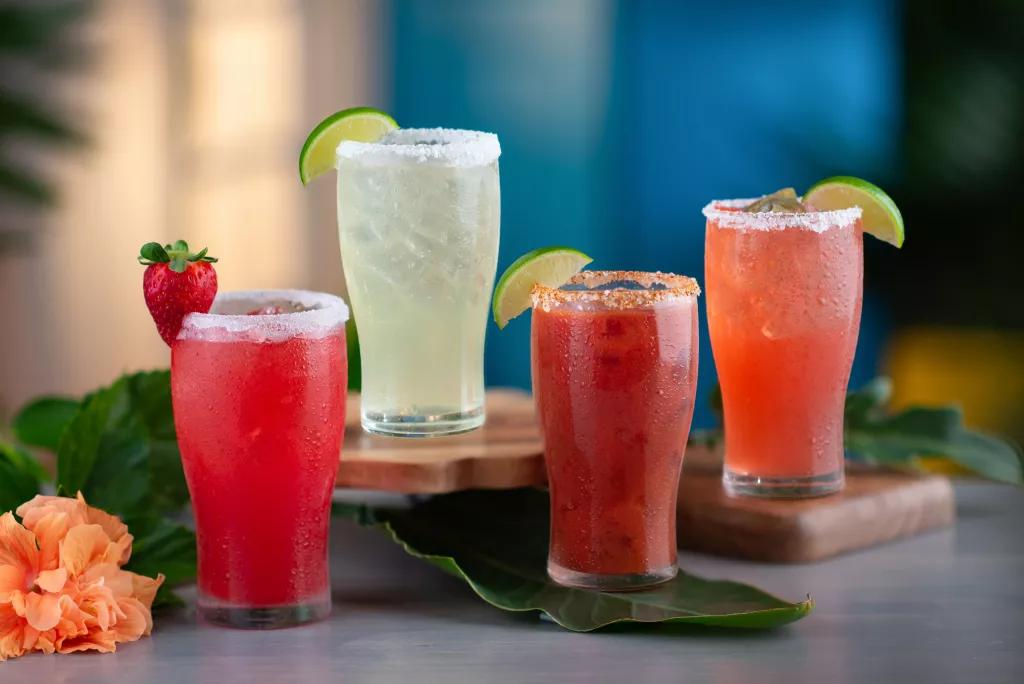 Mediterranean Market 
Food 
Bay Scallop - tricolour couscous, red quinoa (GF) 
Moroccan Grilled Lamb Chop - Boursin whipped mashed potatoes served with tzatziki sauce, micro celery garnish (GF) 
(NEW) Parmesan Truffle Fries - Grana Padano, fresh parsley, winter white truffle oil (V) 
Baklava - flaky filo dough layered with honey drenched walnuts (V) 
Drinks 
(NEW) Mediterranean Sangria - red sangria, red wine, cranberry juice, orange juice, lime 
Nemea Agiorgitiko 
Anosis Moschofilero
Brazilian Market 
Food 
Picanha Steak - cilantro chimichurri, three bean salad (GF) 
Pao De Quijo - Brazilian cheese bread, honey whipped butter (V) 
(NEW) - Pork Belly Feijoada - pork belly and black bean Brazilian stew, garnished with green onions (GF)  
Drinks 
Frozen Guava Mint Caipirinha - cachaca, guava, mint, coconut water, lime juice 
Reserva Malbec 
Brazil Loves New England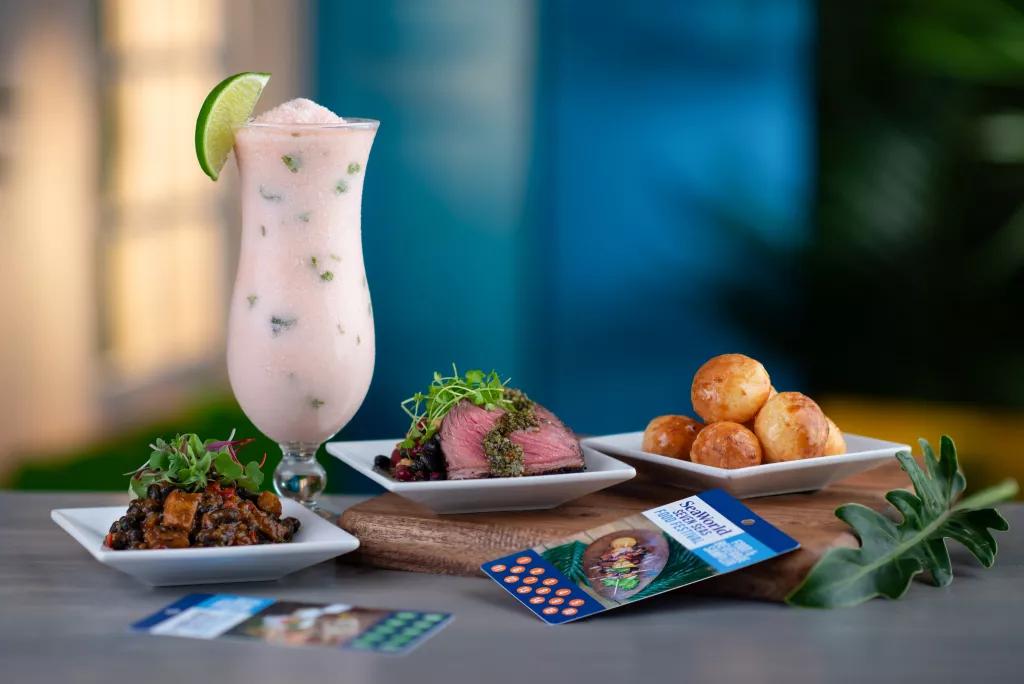 Asian Market 
Food 
(NEW) Gua Bao - grilled pork belly, steam bao bun, pickled cucumber, shredded carrot and garnished with micro cilantro 
Korean Corn Dog - fish sausage, mozzarella cheese, yellow mustard, smoked ketchup 
(NEW) Deep Fried Dumpling - Asian vegetables served atop Ponzu sauce (V)
Bing Su - salted caramel ice cream topped with caramel popcorn caramel 
Drinks 
Asahi 
(NEW) Tokyo Rose - shimizu-no-mai pure snow sake, Tito's vodka, Triple Sec, cranberry
Shimizu-No-Mai Pure Snow Sake 
Kobai Plum Wine 
Waterway Bar 
Food 
Pipeline Surfboard Pretzel 
Drinks 
12 Rotating Draught Beers 
Cut Water Frozen Margarita Popsicle 
Cut Water Tequila Margarita 
Cut Water Tiki Rum Mai Tai 
Sauvignon Blanc
 
Ireland Market 
Food 
(NEW) Corned Beef Hash - hash brown waffle, corned beef hash, chives  
(NEW) Guinness Beef Stew - tender beef stew with sweet potato and roasted root vegetables 
(NEW) Jameson-infused bread pudding topped with Jameson Anglaise sauce 
Drinks 
Guinness Draught 
Magners Original Irish Cider 
Irish Cold Brew Latte - Jameson Cold Brew, coffee, cream, simple syrup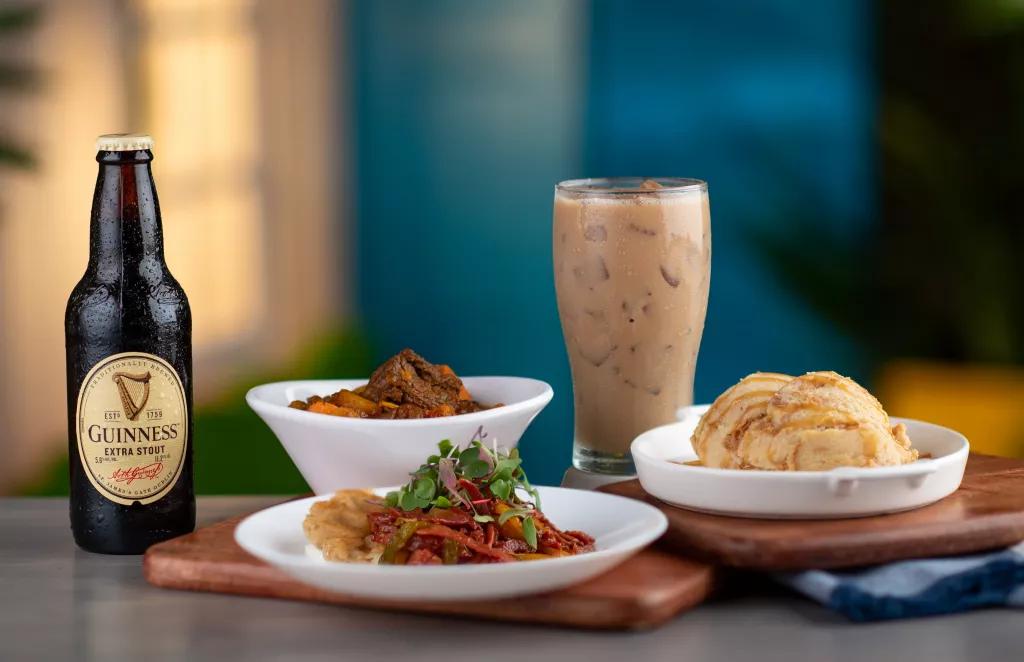 Mama's Pretzel Kitchen 
Drinks 
German Market 
Food 
Bratwurst - smoked bacon and cheddar brat, pretzel bun, sauerkraut, served with beer infused cheese
Pretzel on a Stick - choice of: chocolate, sprinkles, or cinnamon sugar (V) 
Apple Strudel - warm pastry filled with apple filling 
Drinks 
(NEW) Eistee - vodka, lemonade, iced tea 
(NEW) Sparkling Strawberry Punch Mocktail - sparkling spritzer, strawberry 
Riesling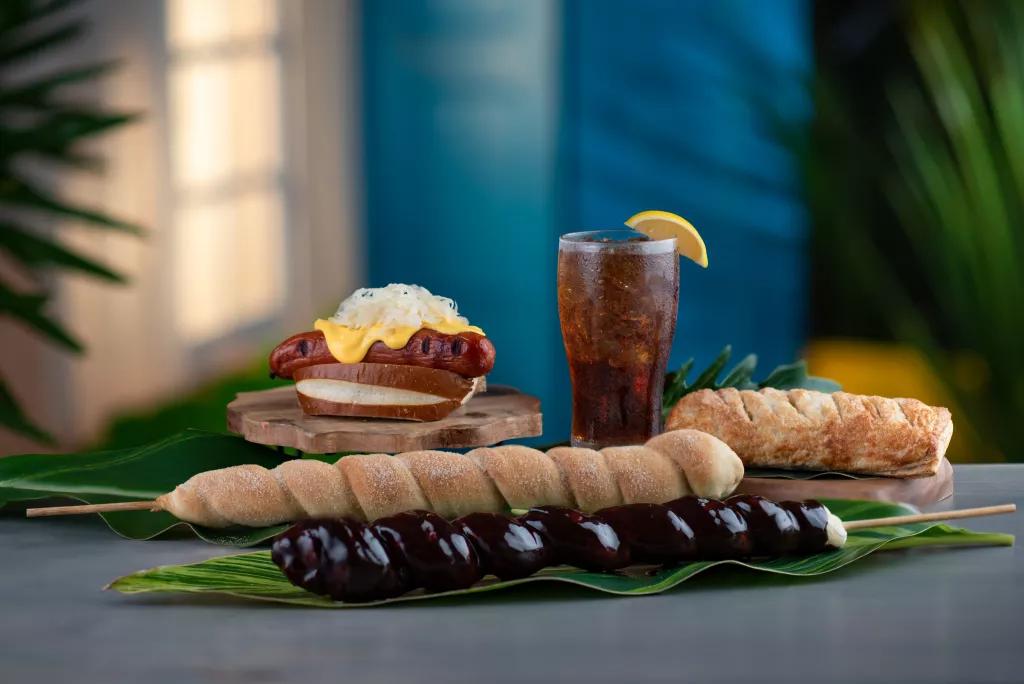 Beer Garden 
Drinks 
Florida Special Lager 
420 Extra Pale Ale 
Passion Wheat 
Wavemaker Amber Ale 
Florida Orange IPA 
Prestige Lager 
Garnacha Gerbera Rosé
Gulf Coast Market 
Food 
(NEW) Cajun Shrimp and Grits - cheddar stone grits, royal red shrimp, andouille sausage, roasted tomatoes, green peas
(NEW) Impossible Jambalaya - kidney beans, roasted red peppers, mirepoix, Cajun broth (GF, Ve) 
Bananas Foster Beignets - rum glazed bananas, powdered sugar
Drinks 
Hurricane - Bacardi dark rum, passionfruit, orange and lime juices 
Purple Haze 
Mexican Market 
Food 
(NEW) Tostada de Barbacoa - guajilo ancho chilli slow cooked shredded beef, queso fresco, garnished with onion and cilantro 
(NEW) Taco al Pastor - mazina tortilla, chipotle ancho adobo chicken, grilled pineapple, nappa cabbage, onion and cilantro
(NEW) Mexican Street Corn - queso fresco with cilantro avocado crema, garnished with tajin (GF, V) 
(NEW) Sopapilla - Chantilly cream and champurrado sauce (V) 
Drinks 
(NEW) Frozen Pitaya Punch - Bacardi rum, Triple Sec, dragonfruit, cranberry, lime 
Dos Equis
Modelo Especial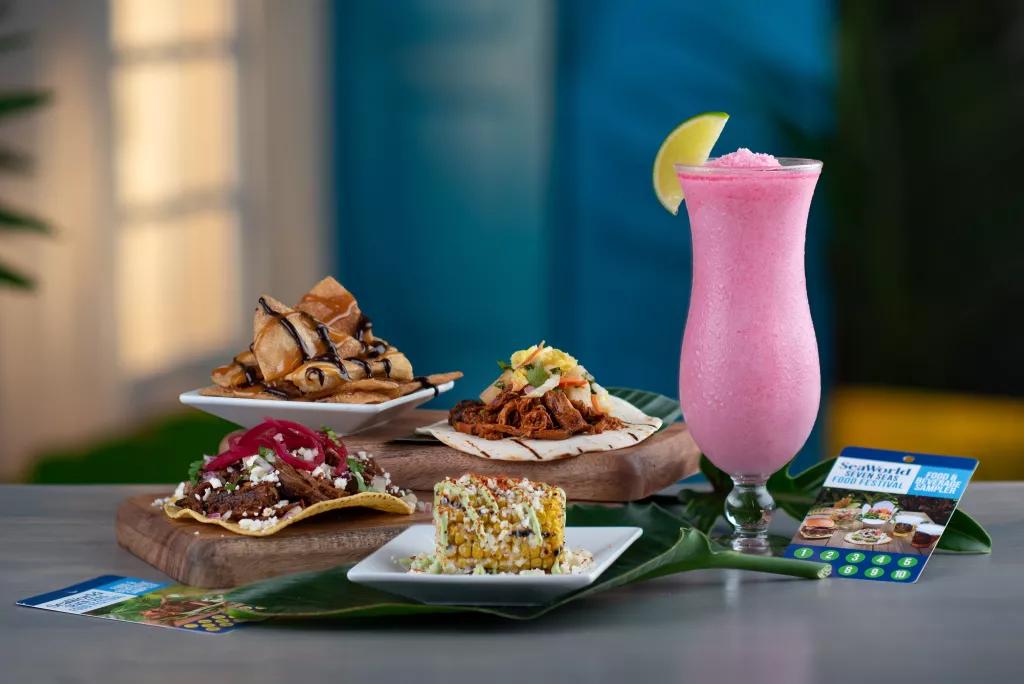 Glacier Bar 
Food 
Seven Seas Bougie Doughnut - strawberry cheesecake filling, strawberry buttercream, brown sugar crumble 
Drinks 
6 Rotating Draught Beers 
Spicy Pina Margarita - Milagro tequila, spicy pineapple, lime sour
Sparkling Mojito - Flor de Cana silver rum, club soda, mint 
Vidal Blanc Ice Wine
Find out more about the SeaWorld Seven Seas Food Festival, or book your tickets today.