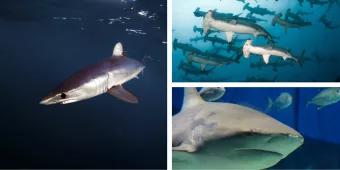 The different types of sharks found in the seas around Florida
To celebrate the opening of the new Mako roller coaster at SeaWorld Orlando we have created a guide to the different types of sharks found in Florida's seas.
The new Mako roller coaster at SeaWorld Orlando is now open and as a result the theme park now boasts the tallest, fastest and longest rollercoaster in Orlando.
Those lucky enough to have SeaWorld Orlando tickets this summer will be the first people to experience this eagerly awaited ride. The ride is 4,760 feet in length, reaches speeds of 73 miles per hour and is 200 feet tall, meaning riders can see the Orlando skyline.
Check out the below video for an introduction to the roller coaster.
To celebrate the new Mako roller coaster, which has been named after the fastest shark in the world, we have created a guide about the variety of sharks visitors can actually see in the Floridian seas. But don't worry, you won't bump into these sharks at the beach or when paddling at the sea as they live deep in the oceans around Florida!
Blacktip Shark
According to the Florida Fish and Wildlife Conservation Commission, the Blacktip Shark is a common visitor to Florida's waters.
The shark is often found in deeper water, but in summer can be seen in coastal waters, bays and estuaries.
Visitors may even get to see the shark leap out the water and spin around before plunging back into the sea.
Experts say the Blacktip Shark often reaches a maximum length of 6 feet and generally feeds on fishes, small sharks, rays, crabs, octopus and lobster.
Tiger Shark
One of the most well-known sharks in the world is the Tiger Shark and it can be seen in most tropical and warm-temperature waters across the world, including Florida.
The Tiger Shark, which is named so because of its dark stripes according to National Geographic, will eat virtually anything including sea turtles, marine birds, porpoises and even rubbish such as wood and small barrels.
Tiger Sharks can reach a size of 25 feet and are fished for their fins, skin, flesh and livers, which contain high levels of vitamin A.
Mako Shark
Visitors with multi Orlando theme park tickets who are visiting SeaWorld Orlando will soon learn all about the majestic Mako Shark.
Although not as commonly seen as some of the other sharks on this list as it generally spends its time in the deep waters around Florida, the Mako Shark is the fastest shark in the world.
They can swim at a top speed of 60mph and, according to Sharks World, they generally prefer to eat tuna, herring and swordfish, but they really aren't that fussy.
Mako Sharks are usually 6-9 feet long and weigh anything up to 1,000 pounds. Something that is unique about the Mako Shark is its very long and thin teeth, which experts say help them cling on to slippery fish.
Great Hammerhead Shark
The Florida Fish and Wildlife Conservation Commission also reveals that the iconic Great Hammerhead Shark can be found in the seas around Florida.
Although the Hammerhead Shark is usually found in the open ocean, visitors might be able to see it in the shallow coastal waters of the Atlantic coasts of Florida.
The Great Hammerhead Shark is one of nine species of hammerheads and is the largest as it can reach lengths of 18 feet.
It mainly feeds on stingrays and sea catfish, but has been known to eat a variety of other bony fish, crabs, squid and other sharks, including other Great Hammerhead Sharks.
Lemon Shark
One of the most abundant large sharks in Florida is the Lemon Shark as it prefers to live in shallow waters around reefs and shallow flats.
Lemon Sharks are renowned for being very docile and are on average four to seven feet long, although some have reached lengths of 10 feet.
Bull Shark
Found in offshore waters of both the Gulf and Atlantic coasts of Florida, the Bull Shark gets its name because of its short, blunt snout and its tendency to headbutt its prey before attacking it.
Bull Sharks are not threatened or endangered and are commonly seen in the waters around Florida.
Sharkopedia reveals that the largest Bull Shark verified was 12 feet long and (unusually for sharks) it can survive not only in the sea, but in lakes and rivers as well. The reason the species can live in freshwater and saltwater is because they have "super kidneys" that are able to remove large amounts of salty compounds.
Sharkopedia also notes that Bull Sharks will eat virtually anything from the usual dolphins, sea turtles and bony fish to the more unusual foods of dogs, rats and cows. Reports from Mozambique have even said bull sharks have fed on hippos there!
Nurse Shark
The Nurse Shark lives in deep reefs or shallow waters and commonly feeds on smaller fish and bottom invertebrates like lobsters, shrimps, sea urchins and marine molluscs.
Key Shark Diving says Nurse Sharks are often found resting on sand flats and inside corals. They often grow up to eight feet and weigh over 400lbs.
Image Credits: Oregon State University, Manoel Lemos.
Click here, to view our great value SeaWorld Orlando tickets and be one of the first to try Mako!
For more blog posts like this try...