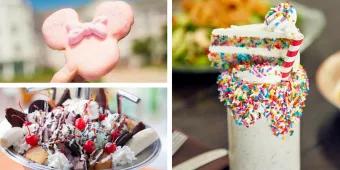 Orlando's most Insta-worthy snacks!
The Orlando theme parks have plenty of snacks that don't just taste delicious, but look delicious too…
Want to try some tasty treats on your holiday and give your friends back home some serious food envy? Here's our top pick of the most Instagram-worthy snacks you can find at the Orlando theme parks. Make sure you give them a try and don't forget to take a picture first…
1. The Big Pink
The 'Big Pink' is one of Universal's most famous snacks and for good reason. Not only does it taste incredible, it's absolutely huge. In fact, it's about the size of your head! Covered in pink creamy frosting and rainbow sprinkles, this will look great on your Instagram feed. These impressive doughnuts are less than $5 and are definitely enough to share, although we won't judge you if you keep it all to yourself. Stand underneath the enormous Lard Lad Donut statue or beside Chief Wiggum for the best photo opportunity.
Where to get it? Lard Lad Donut at Universal Studios Florida
2. Raspberry Cream Puff
Millennial pink is the colour of the moment and Disney recently introduced a brand new range of snacks in the popular shade at the Walt Disney World Resort. From mega milkshakes to pink cupcakes and cake pops, we want to try them all. One of our favourites has to be this Minnie-shaped millennial pink raspberry cream puff- filled with raspberry Bavarian cream and glazed with sugar icing. Finished with a pink bow, these are the perfect Instagram snack!
Where to get it? Disney's Yacht & Beach Club Resorts
3. Voodoo Doughnut
Voodoo Doughnut is one of the newest eateries at Universal CityWalk having opened in March 2018. With over 50 amazing doughnuts available, it will be hard to choose just one. Each doughnut here is picture perfect, and there's some delicious flavours to choose from, like the Bacon Maple Bar, Raspberry Romeo and Chocolate Coconut Cake. Although, the most Instagram-worthy choice has to be the traditional Voodoo Doll, complete with a pretzel stake right through the middle.
Where to get it? Voodoo Doughnut at Universal CityWalk
4. Mickey Ice Cream
Not only does everything taste better when it's Mickey-shaped, it looks better too! Of all the Mickey-shaped snacks at Walt Disney World, these have to be one of our favourites, as there's nothing better than having a delicious ice cream in the sunshine. For maximum Instagram likes, take this shot in front of the beautiful Cinderella Castle.
Where to get it? Various locations at the Disney Parks
5. Cauldron Cupcakes
Cauldron cakes have been a popular snack at the Wizarding World of Harry Potter for some time now, but they've recently had a bit of a transformation, making them more Instagram-worthy than ever! These tasty treats look amazing and taste great too- the rich chocolate sponge just melts in the mouth. The chocolate cupcake is now served in a miniature cauldron and topped with vibrant yellow and orange buttercream flames. We love it!
Where to get it? Sugarplums Sweet Shop (Diagon Alley) and Honeydukes (Hogsmeade)
6. Dole Whip
This is one of Disney's most iconic snacks and a visit wouldn't be complete until you've tried one. These are perfect for cooling down from the heat, thanks to their refreshing pineapple flavour. You can either get a cup of the frozen treat or have it served as a float with sweet pineapple juice drizzled all over. If you fancy a tipple, you can get a rum Dole Whip at Disney's Animal Kingdom park. Make sure you give it a go!
Where to get it? Various locations at the Disney Parks
7. Waturi Fusion Ice Cream
Universal's picturesque water park Volcano Bay has plenty of Insta-worthy spots, like its 200-foot-tall volcano. But, if you want to capture the perfect shot, why not include the popular Waturi Fusion ice cream? This tastes AMAZING- trust us, we've tried it! The bright rainbow colours will brighten up your snap and your day.
Where to get it? Koka Poroka at Universal's Volcano Bay
8. Cheshire Cat Tail
We love these unique Cheshire Cat Tails for when you fancy a light bite in-between exploring the park. The flaky pastry tails are filled with rich chocolate chips and drizzled with sweet pink and purple icing, to look just like the Cheshire Cat's stripes.
Where to get it? Cheshire Café at the Magic Kingdom Park
9. Toothsome Chocolate Emporium Milkshake
You might not consider a milkshake to be a snack, but at the Toothsome Chocolate Emporium, these mega shakes are more like a meal than a drink! There are loads of different flavours to try and each shake is covered with an array of mouth-watering toppings like, salted pretzels, chocolate cigars, chocolate brownies, marshmallows and even a slice of confetti cake! Try to resist the temptation to tuck in long enough to snap a selfie with your shake.
Where to get it? Toothsome Chocolate Emporium & Savory Feast Kitchen at Universal CityWalk
10. Kitchen sink sundae
Fancy a challenge? The Kitchen Sink Sundae is notoriously hard to finish, but if you think you've got what it takes, head to the Beaches and Cream Soda Shop to give it a go. This delectable dessert is supposed to serve four people and is made up of scoops of vanilla, chocolate, cookies and cream and mint chocolate chip ice cream, as well as sprinkles, marshmallow cream, Oreos, cookie chunks, cupcake slices and much more! Make sure you take a before and after shot.
Where to get it? Beaches and Cream Soda Shop at Disney's Beach Club Resort
Already dreaming of your next Orlando holiday? Click here, to view our full range of Orlando attraction tickets.
For more blog posts like this try…
Find out all the latest news from Orlando in our BLOG