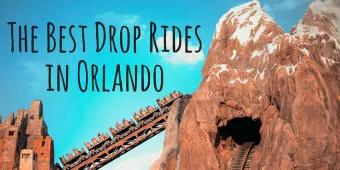 Calling all thrill seekers!
For the thrill seekers out there who are looking for something seriously scary, put your bravery to the test on these exhilarating drop rides…
1. Tower of Terror
This is one of the most iconic rides at Walt Disney World, and a visit really isn't complete until you've experienced it for yourself. You know a ride is scary when you can hear the screams echo across the park, so be warned- this one isn't for the faint hearted!
Step inside the infamous Hollywood Tower Hotel (which everyone knows is haunted!) and enter the rickety, old elevator if you dare. Get ready to be plunged into total darkness, as you slowly ascend to the 13th floor, only to be sent plummeting back down again when you least expect it. There won't just be surprise drops, but a few surprise guests too.
2. Jurassic Park River Adventure
Be warned- this drop ride is going to give you a serious soaking! While the scenic river cruise may seem innocent enough to start off with, things soon take a dramatic turn when out of nowhere, you're bumped off course and find yourself in the 'restricted area'. The grand finale comes when you have to escape from an enormous T-Rex. The problem is, the only way to escape is with a terrifying 85-foot drop into total darkness!
3. Falcon's Fury
We rate Falcon's Fury as one of the most terrifying rides in Orlando! The 335-foot tower is the tallest freestanding drop tower in North America! Its height isn't the only thing that makes this ride one of the scariest. Once at the top of the tower, your seat will pivot 90-degrees so that you're facing your fate. You'll be suspended in this position, before suddenly plummeting back to the ground at a staggering speed of 60mph!
4. Mako
Mako is one of SeaWorld's newest rides, having officially opened in June 2016. The record-breaking attraction is the tallest, fastest and longest ride in Orlando, which we're sure will make it appeal to thrill seekers. Designed to replicate the movements of a Mako shark in the wild, the ride will send you racing around the track at speeds of up to 73mph, before you take on an epic 200-foot drop! Think you're brave enough?
5. Hollywood Rip Ride Rockit
This is one of our favourite rides at Universal Studios Florida, because even though it's seriously scary, its also great fun! As you get strapped in, you'll get to choose your own soundtrack for the ride. Classic hits like 'Born to be Wild', 'U Can't Touch This' and 'Pump It' will blast through the speakers and get your heart racing as you speed around the track.
Prepare to climb towards the sky at a 90-degree angle, before facing a huge drop and 65mph speeds. Hollywood Rip Ride Rockit stands at an impressive 17-storeys making this one of the tallest coasters in town. The record-breaking ride was also the world's first coaster to have a non-inverting loop. Make sure it's on your must-do list. 
6. Expedition Everest
Out of all the rides on our list, this is the most family friendly, so if you're visiting with little ones that love the rides, we'd give this a go. Even though the drop isn't particularly high, we had to put it on our list, because of its backwards drop! That's right, Expedition Everest sends you hurtling into an 80-foot backwards drop deep inside the mountain, that leads straight into a double-looping turn. Look out for the yeti who's lurking in the darkness.
Ready to take the plunge? Click here, to view our full range of Orlando attraction tickets.
For more blog posts like this try…
Find out all the latest news from Orlando in our BLOG