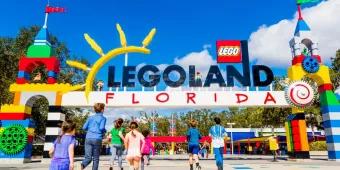 LEGOLAND Florida tips & tricks!
Let us help you plan your visit to LEGOLAND Florida with our handy top tips...
If you're visiting Orlando with young children, the LEGOLAND Florida Resort is the perfect place to go. This unique theme park is built for children between the ages of 2 and 12 with more than 50 rides, shows and attractions that will keep the whole family entertained.
LEGOLAND Florida is approximately a 45-minute drive from the Orlando theme parks, so the LEGO fun isn't too far away. Here's what you need to know before you go…
Book your tickets in advance
We always recommend booking your theme park tickets in advance for two reasons- it saves you both time and money! That's right, booking your tickets in advance means you won't have to wait in line when you arrive and can save money on the gate price.
Don't forget about the LEGOLAND Water Park
When you think of LEGOLAND, you might not think of a water park. But, in Florida where the sun is shining, you'll need a place to cool off and this is definitely it! Little ones can enjoy the kid-friendly water slides, the lazy river and fun activities like building your very own LEGO boat. Grown-ups can join in the fun too or rent a private cabana to unwind and laze the day away.
Explore the LEGO MOVIE WORLD
The LEGO MOVIE WORLD is the latest addition to LEGOLAND Florida. This exciting new land is inspired by The LEGO Movie and the LEGO Movie 2. There are 3 themed rides, character encounters, shops and much more. This is a must-visit, so make sure it's at the top of your list. We suggest making this one of your first stops, so you can experience the land when it's quieter.
Try Granny's Apple Fries
The signature snack at LEGOLAND Florida has to be the famous Granny's Apple Fries. Like the name suggests, these delicious fries are made from slices of Granny Smith apples that have been dusted in cinnamon sugar and fried. They're served with sweet vanilla-flavoured whipped cream and you can even choose to add caramel dipping sauce on the side!
Bring Minifigures to trade
If you're a serious LEGO fan, you might want to bring along some of your LEGO Minifigures as you can swap these with LEGO employees around the park. There's also a Minifigure Ambassador who has around 100 Minifigures ready to trade. They may be a bit harder to track down, but if you manage to find them, you can get trading and take your pick!
Take time out to play
A visit to LEGOLAND Florida wouldn't be complete without having the chance to get creative. With so many amazing attractions to enjoy it can be easy to forget about the fantastic opportunities to build- and after all, that's what LEGO is all about. Make sure you take the time to visit the Building Zone where you can let your imagination run wild.
Get your driving license
Grown-ups may already have theirs, but at LEGOLAND Florida the kids can get their own driving license at the Ford Driving School. Here, little ones can take the wheel and learn the rules of the road, before being awarded their very own driving license. This is one of the park's top attractions so come here first to avoid the queues.
Don't miss the shows
LEGOLAND Florida isn't just about the rides. There's plenty to keep you entertained during your visit, and one of our favourite things to do is watch the action-packed Battle for Brickbeard's Bounty Ski Show. You'll get to see a LEGO pirate gang zoom across the water in this exhilarating live-action water-ski show! Don't sit in the first few rows if you don't want to get wet!
Bring some snacks
At LEGOLAND Florida, you are allowed to bring your own food. So, if you want to save some money, it's a good idea to bring along a packed lunch. There are lots of tasty treats to enjoy inside the park, like the delicious ice cream you can find in Heartlake City, so you might want to save some room for those too.
Check what's on
Throughout the year, LEGOLAND Florida host's lots of fun seasonal events including Independence Day, Halloween and Christmas celebrations. You might also find that there are weekends celebrating Star Wars, LEGO Friends, The LEGO MOVIE and much more. It's always worth checking what's on before you travel, so that you can join in the fun.
Consider staying on-site
If you're visiting with super LEGO fans, you'll want to consider visiting the park for more than one day. Did you know, that the LEGOLAND Florida Resort has lots of places you can stay, like the LEGOLAND Hotel? This amazing hotel has themed rooms, a huge swimming pool, great restaurants and lots of fun activities to keep the little ones busy.
If you're thinking of a multi-day visit, it might be worth booking an overnight stay at one of the LEGOLAND hotels, so that you can be right in the middle of the action.
Ready to start planning your Florida holiday? Click here, to view our great value LEGOLAND Florida tickets.
For more blog posts like this try…
Find out all the latest news from Orlando on our BLOG