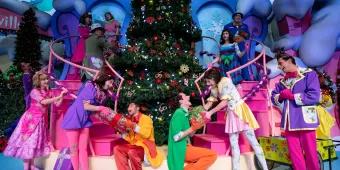 By AttractionTickets.com's Florida Experts, Susan and Simon Veness
Grinchmas, Harry Potter and a dramatic parade highlight the festive season at Universal
It's easy to enjoy the Christmas season in Orlando. Everywhere goes the extra yard to make the atmosphere fun and festive, and the theme parks are an absolute delight at this time of year. The period in early December, when the Yuletide programmes are in full swing but the crowds have yet to build up significantly is probably our favourite time of the year – all the 'feels' but none of the squeals.
The weather isn't bad either, with warm days, cool nights and (usually) very little rain, and that all adds quite a serene note to the Christmas period.
As a quick aside, if it wasn't for all the seasonal decorating everywhere, it would be hard to tell this is, actually, winter sometimes. There are so few "cues" from the weather, while Christmas dinner can often be an outdoor occasion! Happily, the theme parks offer a very quick reminder of the festive season, and Universal Orlando is among the leaders for adding that Yule pizzazz.
They recently announced their full programme for this year, starting on November 17 and continuing through December 31. So, for those who are heading to Orlando during that 44-day spell, we thought it was worth offering our Top 10 reasons to enjoy a Universal Christmas (or The Holidays, as they call it in America):
10. Grinch & Friends Character Breakfast – Adding a hearty meal to the Christmas experience is a speciality at Universal's Islands of Adventure theme park, and this one allows guests to start their day with breakfast and fun appearances by the Grinch and other Dr. Seuss characters. The Character Breakfast takes place in the Confisco Grille restaurant on select dates from November 17 to December 27 and costs $58.99 per adult (plus tax) and $32.99 per child aged 3-9.
9. Hot Butter Beer – While we love a nice, cold Butterbeer year-round at both Wizarding Worlds of Harry Potter, there is nothing quite like the hot version of an evening during the Yule period. Like hot chocolate in Trafalgar Square, it just seems to have the perfect taste for the time of year, and it is something everyone should try at least once during the Universal Holiday season.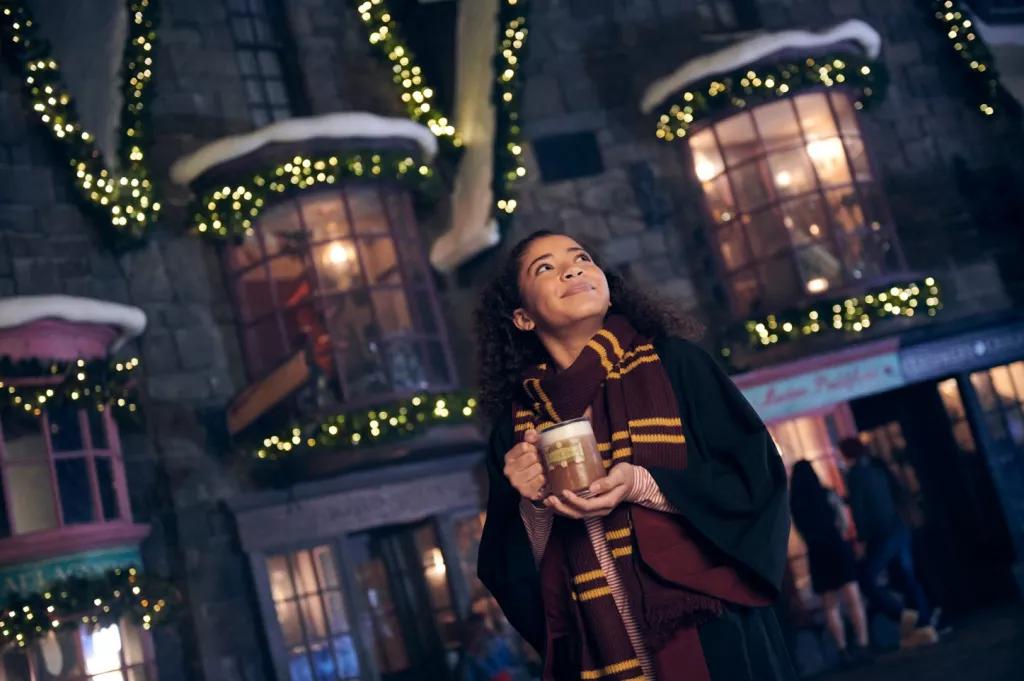 8. Universal's Holiday Tour – This is a great "extra" with all the Christmas events, a chance for guests to enjoy a special guided tour with exclusive access to all the holiday entertainment experiences taking place across both parks. The Tour is available on select dates beginning November 19 and can be booked on www.UniversalOrlando.com/Holidays. It consists of:
A chance to meet the Grinch, and his dog, Max, while enjoying light bites, desserts and drinks.
Reserved seating at the "Grinchmas Who-liday Spectacular" in Islands of Adventure.
A meet-and-greet photo opportunity with Santa Claus in Universal Studios.
And, perhaps the best experience of all, an exclusive, after-hours showing of "The Magic of Christmas at Hogwarts Castle" in The Wizarding World of Harry Potter – Hogsmeade.
7. The Frog Choir – The perennial crowd favourites at the Islands of Adventure Park are back during the November and December period with a whole new show. Forsaking their usual Hogwarts beat, they turn on the festive sounds with their own interpretation of some Christmas classics that are sure to go down well with all concerned.
6. Celestina Warbeck – The Carkitt Market songstress is another Wizarding World performer to re-tune her daily performances for the season. Instead of the usual routine, that includes signature songs such as "A Cauldron Full of Hot, Strong Love," Celestina and her Banshees offer a new programme called Nothing Like A Holiday Spell. It features the soon-to-be-classic number, "My Baby Gave Me A Hippogriff For Christmas," along with other gems from the Potter-inspired world in the Universal Studios park.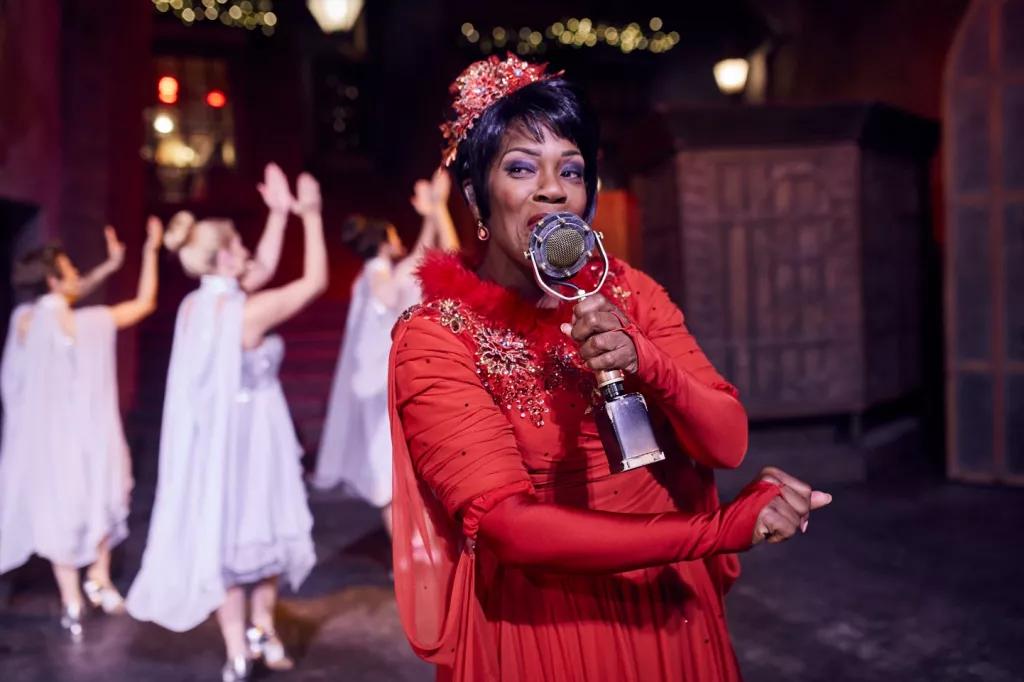 5. Mannheim Steamroller – This American neoclassical new-age group are the biggest-selling Christmas artist of all time, and also a fixture at Universal Studios at this time of year. Their concerts are free as part of regular park access and take place on the Music Plaza Stage in front of the Rip Ride Rockit coaster. This year their appearances will be on successive weekends, with concerts on December 2 and 3, and 9 and 10, beginning at 7pm each evening. Be aware it is first come, first served for places near the stage, though.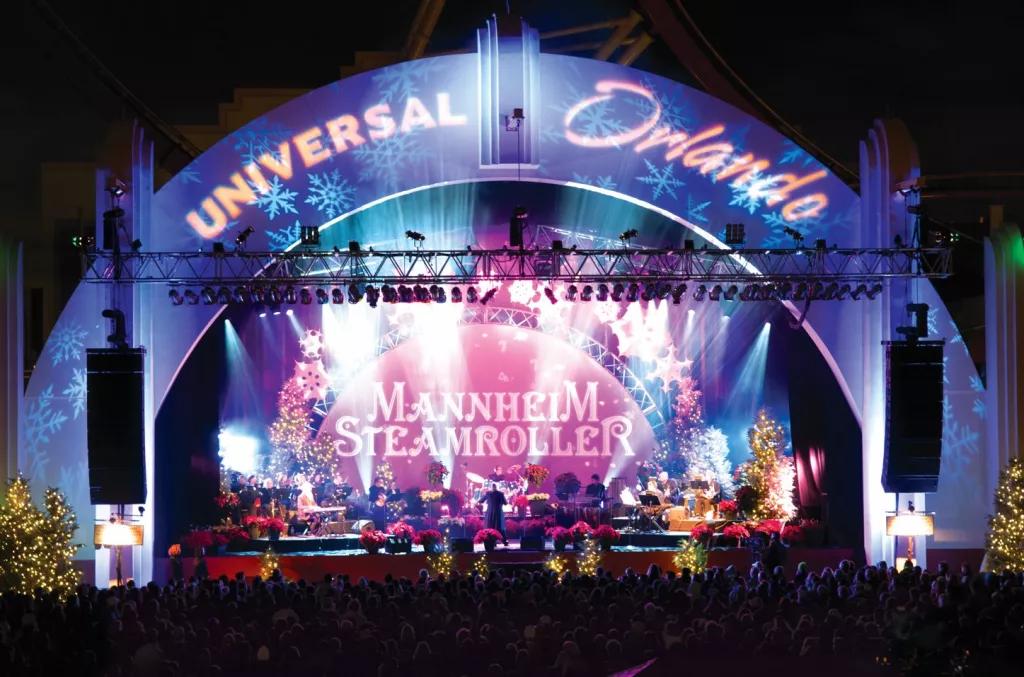 4. Universal Hotel Extras – If you're ready to consider a stay at one of the Universal Orlando Resort hotels, the festive months are the ideal time to book. All eight resorts will be decked out with festive decor and offer holiday feasts and activities. Special menus will be available for Thanksgiving, Christmas and New Year, and there will be menorah lighting ceremonies and more. Select hotels also offer specific holiday entertainment like Christmas tree lightings and strolling carolers. Plus, there is seasonal food and special entertainment at Universal's CityWalk district.
3. Grinchmas Who-liday Spectacular – When it comes to live entertainment at the Islands of Adventure park, the annual highlight is this Grinchmas special, "the warm fuzzies with a side of sarcasm," as they call it. The Grinch himself stars in this 30-minute show based on the Seussian holiday classic, How The Grinch Stole Christmas. In a riot of oversized candy canes, twisted Christmas trees, tinsel ornaments and more, the Mean Green One tries his best to ruin the day for the Whos of Whoville. You can also catch a character appearance from various Whos and a special photo op with the Grinch himself, which performs up to eight times a day.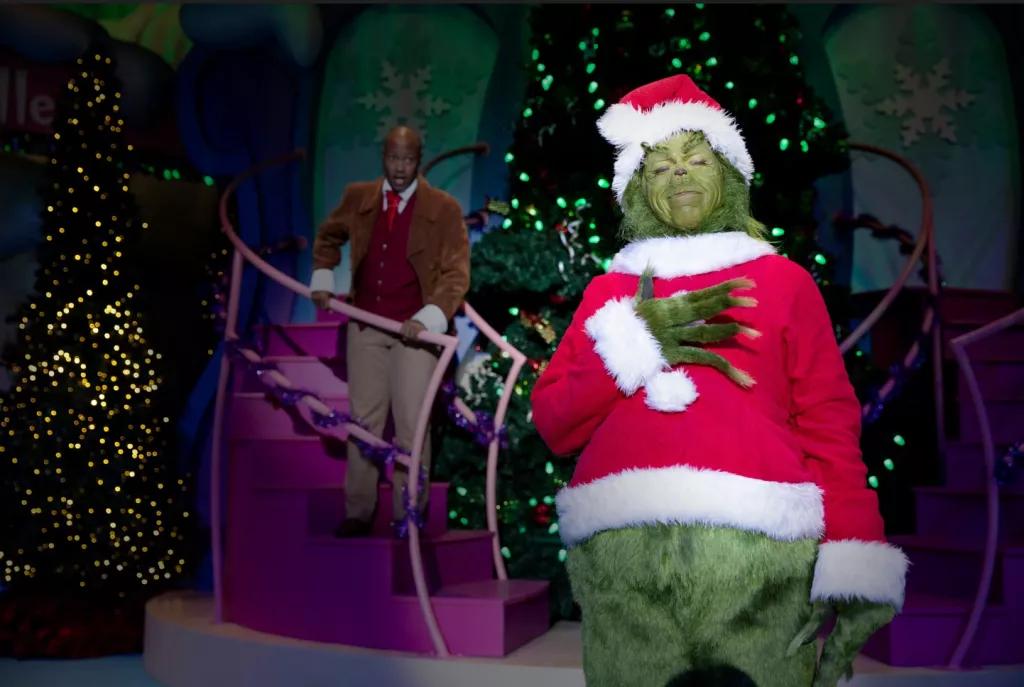 2. The Magic of Christmas at Hogwarts Castle – This has been a solid gold seasonal hit since it was first unveiled in 2019, and we can't wait to see it each year, as it really captures the seasonal fun, told through a different lens. It is basically a superb projection and special effects show on Hogwarts Castle multiple times each evening, and it goes beyond many of the usual images and motifs from the Potter-verse in favour of highlighting Christmas moments inspired by the characters and stories of the films.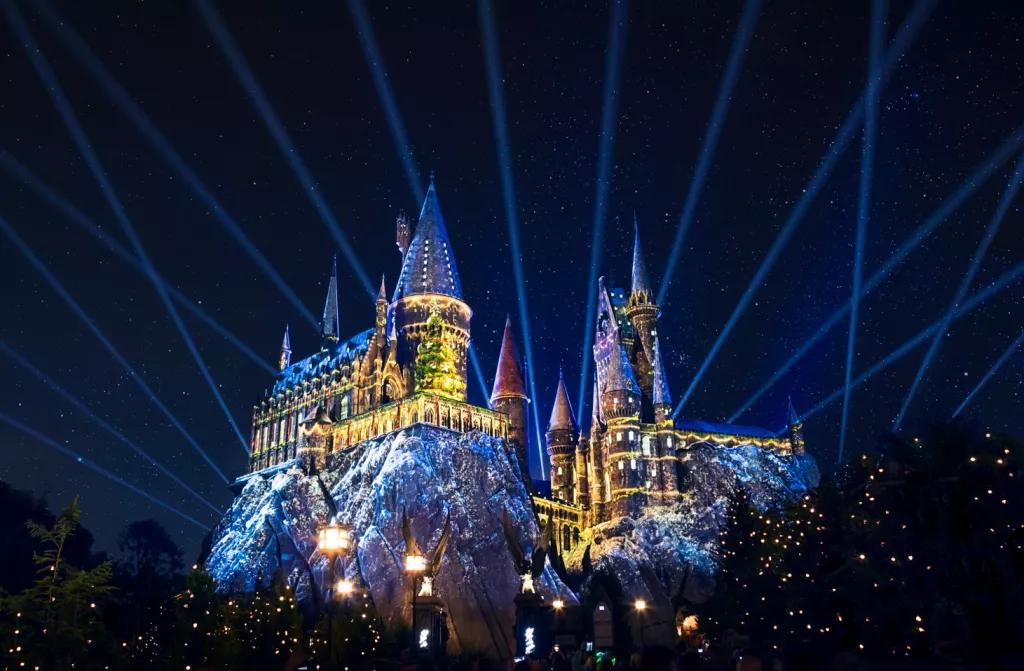 1. Universal's Holiday Parade featuring Macy's – This is THE big production show for the year, the 30-minute parade that is based on the headline annual celebration in New York. It starts off in the Hollywood area of Universal Studios, trundling along Hollywood Boulevard and then circling around New York before returning to its starting point, a cavalcade of the signature Macy's larger-than-life balloons backed up by colourful holiday floats and hundreds of performers. It leads up to a suitable finale with an appearance by Santa Claus and the lighting of the 80-foot Christmas tree in the Central Park area.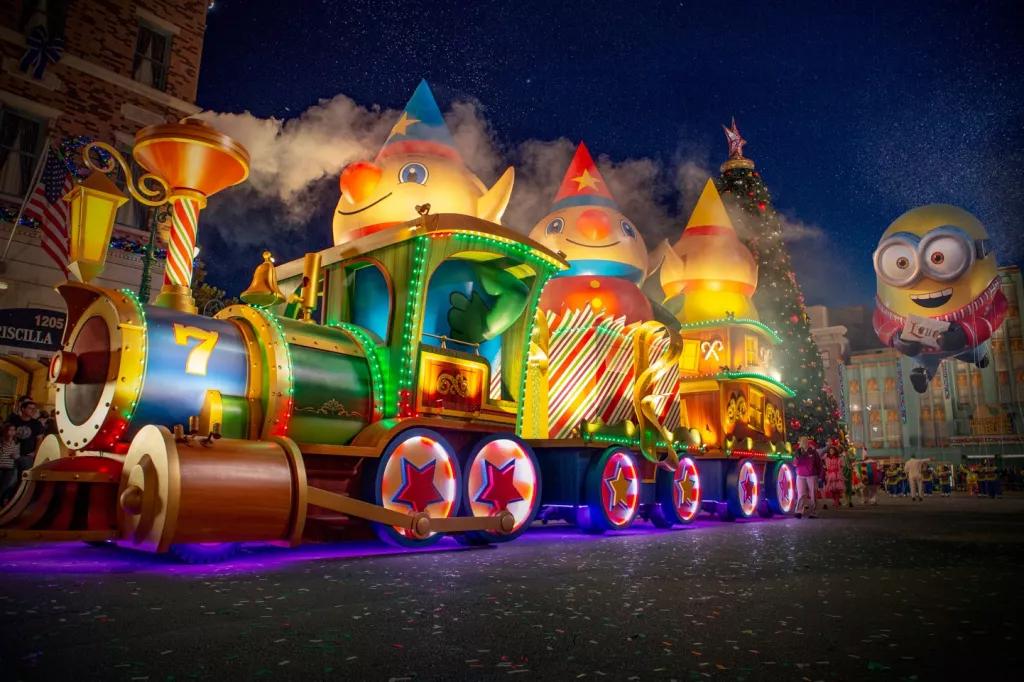 That is a LOT to take in even given a full day at Universal Orlando, so it's up to you make the most of your time and plan accordingly. But we'll be disappointed if you don't manage to take in our Top Three!
Have you been to Universal Orlando at Christmas in the past? Tell us about it on the friendly ATD forums, our Community Facebook page, on Twitter or Instagram.