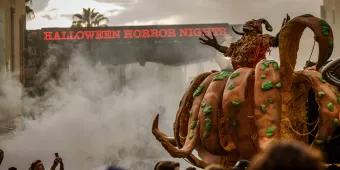 By AttractionTickets.com's Florida Experts, Susan and Simon Veness
Our Florida experts are back to give you their top 10 moments from Halloween Horror Nights 2022 at Universal Orlando Resort!
If there's one thing we can absolutely guarantee in Orlando at this time of the year, it is a FRIGHT-fully good time at Universal Orlando's Universal Studios park. Yes, it's that indisputable opportunity to scare yourself silly - and enjoy the superb, albeit twisted, creativity that is Halloween Horror Nights.
For almost two months, Universal's macabre maestros turn up the scream ratio to 11 and let bloody chaos reign over the night-time hours of their original park.
This is the 31st version of their annual fright-fest, and it once again hits the heights for horror, as well as providing superb adult entertainment (as a reminder, Universal advises that this is not a suitable evening for children under 13).
As they like to say:
"As the sun sets on days filled with thrills in all of Universal's theme parks, the night awakens with a frightening chill at Universal Studios Florida. Enter mind-ripping haunted houses inspired by the biggest names in horror. Face nightmarish creatures on streets twisted into sinister scare zones. Lose yourselves in outrageous live entertainment filled with diabolical surprises. Then escape to some of Universal Studios Florida's most exhilarating attractions."
So, basically, you have been warned!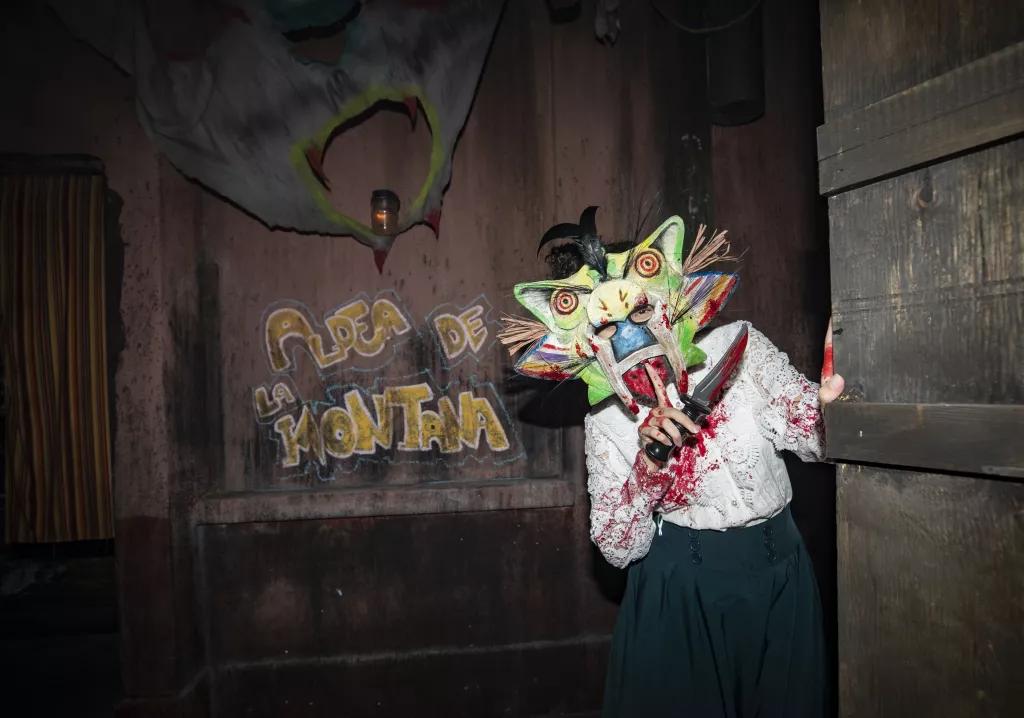 Of the two of us, Simon is a huge fan, and finds the haunted houses outrageous fun (his words), while Susan can appreciate the ingenuity involved, but is very happy NOT to visit the houses, thankyouverymuch.
This year's event once again features outrageous shocks and scintillating set-pieces, as well as excellent entertainment and the chance to ride the Hollywood Rip Ride Rockit coaster in the dark (another big-time thrill).
With that in mind, we thought we'd offer you our Top 10 moments of this year's Horror Nights programme, or 10 reasons to give yourself nightmares!
10. The NFT Experience - for the first time, Universal has introduced a Non Fungible Token option for HHN. Just look for the QR codes at participating locations to unlock and receive digital collectables featuring unique character art from the event.
9. Dead Coconut Club - a clever 'extra' this year is the Universal CityWalk location previously known as the Red Coconut Club, which has been repurposed as a ghoulish night-club, complete with classic monster movies, figures, DJ and 'Creature Cocktails.' Best of all, it's free to enter and you don't need HHN admission.
8. Ghoulish: A Halloween Tale - there are two live shows at this year's production and they are both essential viewing. This is the Halloween version of the park's usual night-time finale, and it paints a suitably brooding picture of the Grim Reaper and his cohorts.  A visual treat.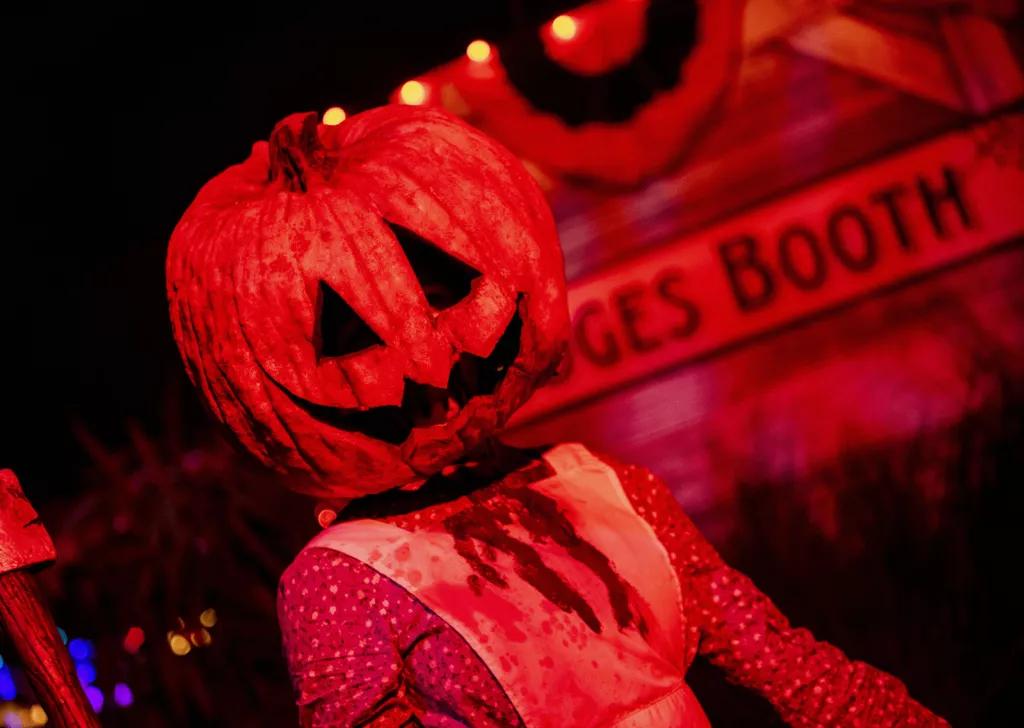 7. The Tribute Store - the last few years have seen the growth - and embellishment - of the special Tribute shop in the park's New York area. It has gone into overdrive this Halloween with theming for all 5 of the Scare Zones, including the 1950s-themed Sweet Revenge section, which extends from the street outside.
6. Fab Food - another way in which the HHN profile has improved and expanded in recent times is with its food and beverage options. While regular menus are available, you'll definitely want to try things like the Witches Spell Cauldron Stew, as well as the Ghoul Juice cocktail (Myers's Dark rum, Bols cherry brandy, simple syrup, mango nectar, lime juice, pimento and bitters - delish!).
5. Unmasking the Horror - if you like the general sound of things, but can't face the full night-time horror, you can still get a taste of the HHN style with this day-time park tour (for an extra $80) of three to six of the Haunted Houses with the lights on. You get to see all the creativity without any of the scare tactics.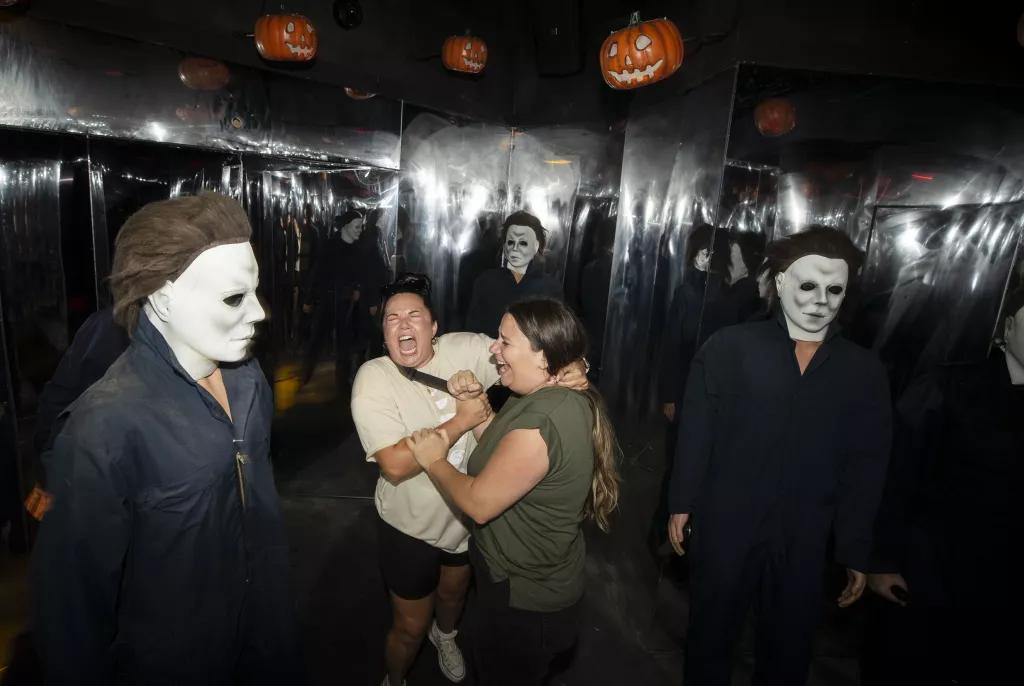 4. Horrors of Halloween - possibly the best of this year's Scare Zones (although all five are suitably forbidding), this is notable for the monstrous presence of The Pumpkin Lord, a fabulously grotesque, larger-than-life figure who looms above the fog effects just inside the main entrance. Quite an introduction!
3. Universal Monsters: Legends Collide - classic horror film fans (like us) will LOVE this no-holds-barred battle between The Mummy, Dracula and The Wolfman among the very best of the 10 Haunted Houses. Set in a brilliant Egyptian tomb recreation that has that 1950s movie vibe, it features several mind-boggling set-pieces as well as non-stop action from the Terrible Trio.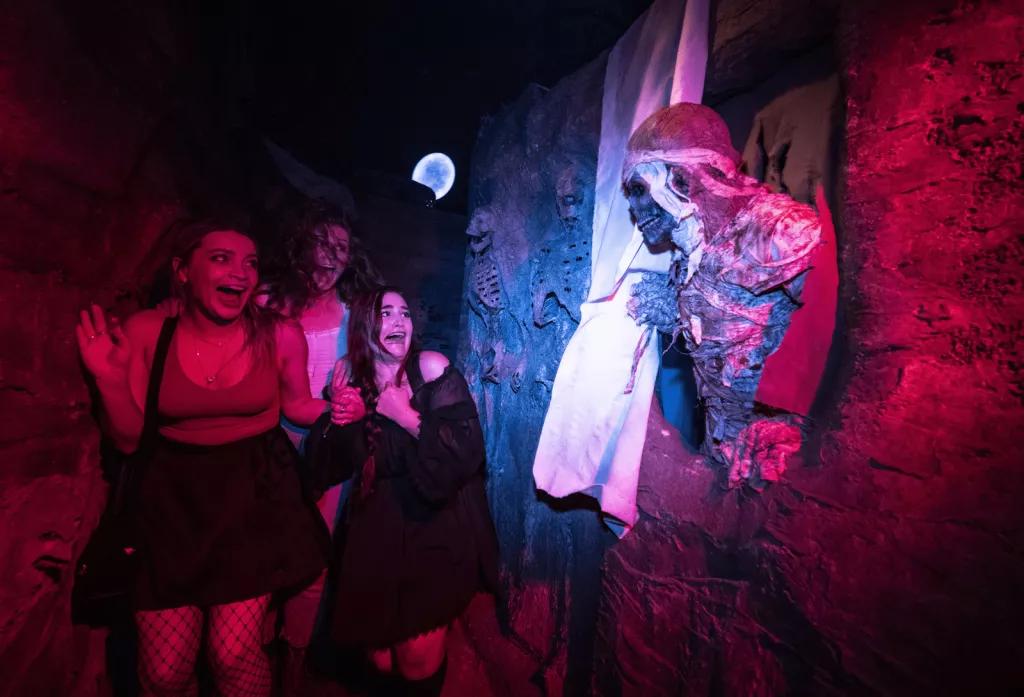 2. Halloween Nightmare Fuel Wildfire - while we were disappointed not to see the return of personal favourites the Academy of Villains as the headline live show, British group the Fuel Girls have more than made up for it in the high-energy dance and pyro effects stakes. This is a dynamic and eye-catching performance on the big stage, all set to a dramatic rock and electronica soundtrack that captures the edgy spirit of HHN.
1. Dead Man's Pier: Winter's Wake - while there are always arguments over the best Haunted House, the overwhelming consensus in 2022 is that the outstanding location - and one of the best of all 31 years - is this incredibly elaborate setting for the trauma of a dead seaman. Packed with truly chilling characters and settings, and with an overall nightmare winter scenario, Dead Man's Pier is a triumph of originality, invention and imagination on a grand scale and should not be missed at all costs.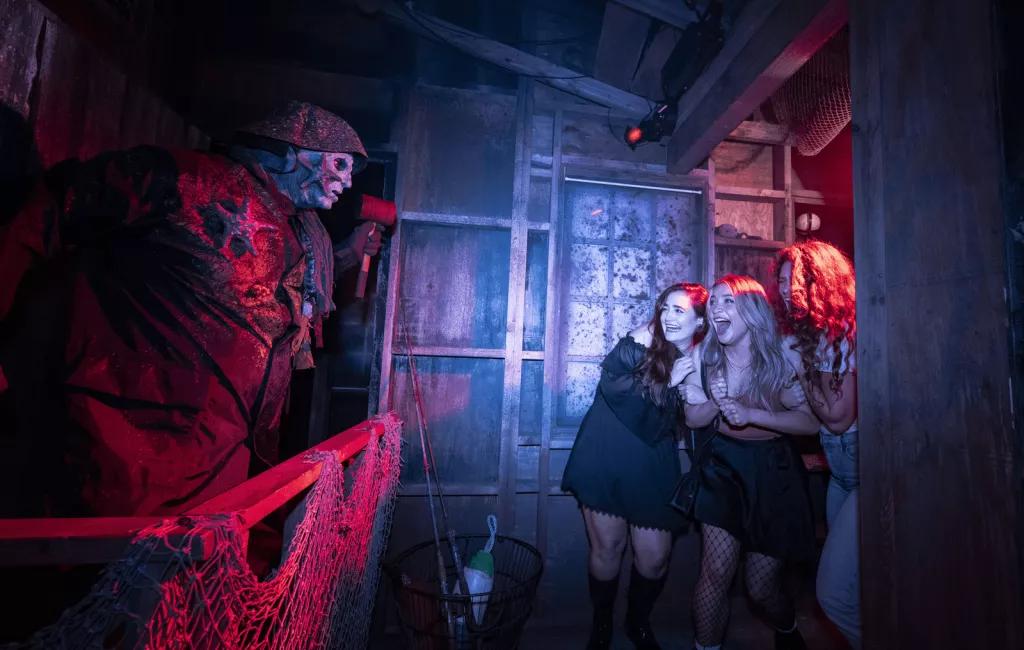 That's our Top 10 for this year, and there are plenty of debates to be had about our choices. But the best thing to do is simply to see for yourself. This is one of Orlando's most compelling experiences - if you're brave enough!
Oh, and be sure to get your Halloween Horror Nights tickets for this year before they sell out!
Have you been to Halloween Horror Nights in the past? Tell us your experience on the friendly ATD forums, our Community Facebook page, on Twitter or Instagram.