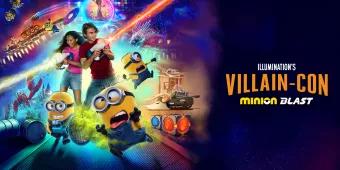 The date we have all been waiting for!
The ride will be the star attraction, alongside Despicable Me: Minion Mayhem, in Universal Studios' Illumination Avenue
Since Illumination Avenue opened in Universal Studios Florida back in June, with the debut of a number of Minions-themed dining locations, we have been (not so) patiently waiting for the opening of the star of the show: Illumination's Villain-Con Minion Blast. 
And, after a few weeks of technical rehearsals where a few lucky guests got to experience the attraction before it officially opened, we now have that opening date. That's right, Illumination's Villain-Con Minion Blast will open on August 11th 2023! 
But what do we know about this brand-new attraction? 
It is primarily based on Minions: Rise of Gru
Fans of the Minions franchise will instantly recognise the members of 'The Vicious 6' from the latest Minions movie before they even enter the attraction. Guests will then make their way through the trade show floor of the largest convention for villains around the globe - Villain-Con - where they can check out all the latest gadgets vehicles and fashion used to pull off the most heinous schemes… and that's all before the real fun begins! 
It is an interactive, game-based attraction 
The headlining event of Villain-Con will be a challenge to see who has what it takes to become the newest member of the Vicious 6. That means you'll get the chance to compete against your family and friends, as well as fellow guests, to prove just how bad you really are. 
At the beginning of the attraction, you'll pick up an 'E-Liminator X' blaster before stepping onto a moving pathway (there are no ride vehicles). You'll then use your blaster to shoot freeze rays, banana bombs, explosive nunchucks and more, earning points by causing as much mayhem and destruction as possible! 
There will be a connected gameplay experience on the Universal Orlando Resort app 
Fancy taking your gameplay and friendly competition to the next level? You can sync your blaster to the Universal Orlando Resort app with just a tap, where you can then track your scores, embark on special missions within the attraction and unlock extra perks to gain more points and digital collectables. This is the first Universal Orlando attraction to have this connected gameplay and we're excited to see it in action! 
The Vicious 6 will be voiced by the original cast from the film 
Each member of the Vicious 6 will appear throughout the attraction, all voiced by their original voice actors. These are: 
Belle Bottom (Taraji P. Henson) 
Stronghold (Danny Trejo) 
Nun-Chuck (Lucy Lawless) 
Jean Clawed (Jean-Claude Van Damme) 
Svengeance (Dolph Lundgren) 
Are you ready to test your skills and see if you have what it takes to join the Vicious 6 at Universal Studios Florida? Book your Universal Orlando Resort tickets today to experience Illumination's Villain-Con Minion Blast in 2023 or 2024.