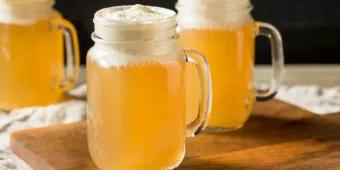 Wizard-worthy recipes to enjoy at home
While Universal Orlando Resort and The Wizarding World of Harry Potter has reopened its doors once again, for those of us unable to visit Orlando yet, it seems we'll have to settle with recreating the magic at home for now.
Whether you're hosting a Harry Potter-themed birthday party or looking to whip up some wizard-worthy snacks for a Harry Potter movie marathon, these spellbinding recipes are sure to add a little extra magic.
Harry Potter recipes to try at home 
Butterbeer
Image credit: Pip And Ebby 
First on the list is of course, Butterbeer! Made with vanilla ice cream, cream soda and butterscotch, this recipe from Pip And Ebby tastes just like the real thing and is certainly worthy of the Three Broomsticks. Cheers!
Chocolate Caramel Pretzel Wands 
Wingardium Leviosa! Practice your spells with these yummy Chocolate Caramel Pretzel Wands from Cooking With Curls. No house elves here - the recipe will require you to make the caramel from scratch, so pour yourself a Butterbeer and get stuck into this spellbindingly fun recipe.
Nimbus 2000 Broomsticks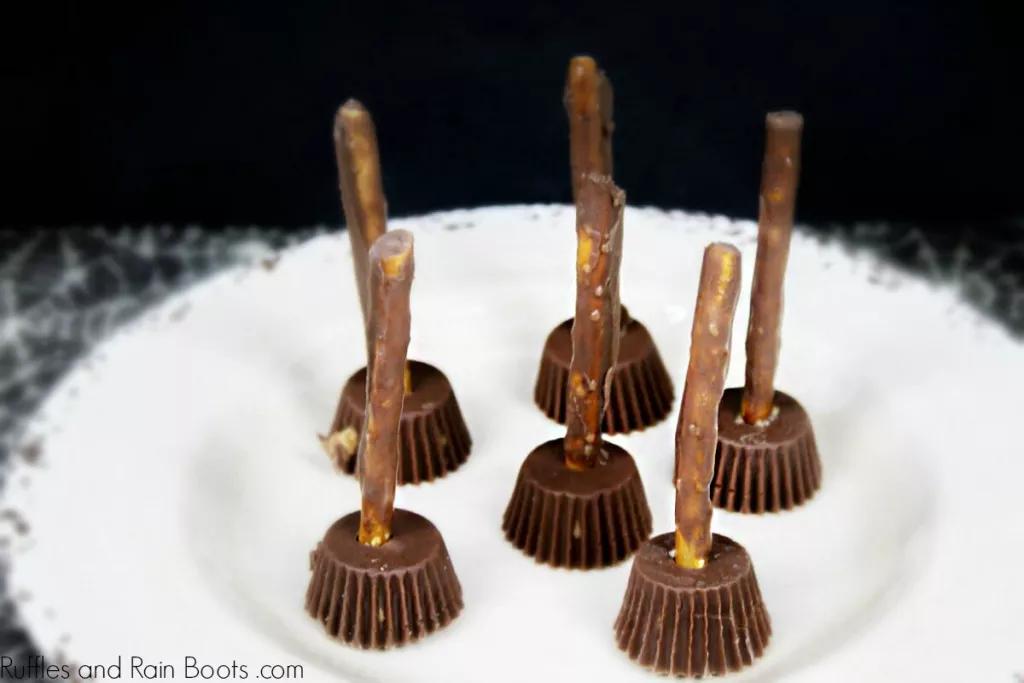 Image credit: Ruffles and Rain Boots
An easy recipe from Ruffles and Rain Boots, these Nimbus 2000 Broomsticks consist of chocolate, pretzel sticks and Reece's peanut butter cups. This 10-minute recipe is a great one to try out with kids, particularly those who love getting their hands dirty!
Polyjuice Potion 
Although the original Polyjuice Potion is said to taste like overcooked cabbage, this Polyjuice Potion recipe from Homemade Hooplah is a lot more appetising and will have you reaching for more. Perfect for all the family, this potion contains just three ingredients: lime sherbet, lemon-lime soda, and ginger ale.
Pumpkin Pasties
This Pumpkin Pasties recipe by MyRecipe is super easy to make, and is a delicious trolley treat you can get without having to board the Hogwarts Express. 
"We developed two pumpkin-based fillings," says the MyRecipe website. "One sweet and one savoury for these buttery hand pies, so they're perfect for serving (alongside a goblet of pumpkin juice!) at any point during a Harry Potter-inspired party." 
Butterbeer Cake 
Got a special occasion coming up? For those who love the flavour of Butterbeer, you'll want to try this Butterbeer Cake recipe from Liv For Cake. 
"This Butterbeer Cake, like the drink, is fairly sweet — but it's intended to be." Says the website. "I mean, you're combining cream soda, butterscotch, and marshmallow… it's kinda hard to tone that down (and why would you want to?). 
"If you're a Harry Potter fan, or have one in your life, you're going to want to add this Harry Potter Cake to your baking list!"
Gilly Water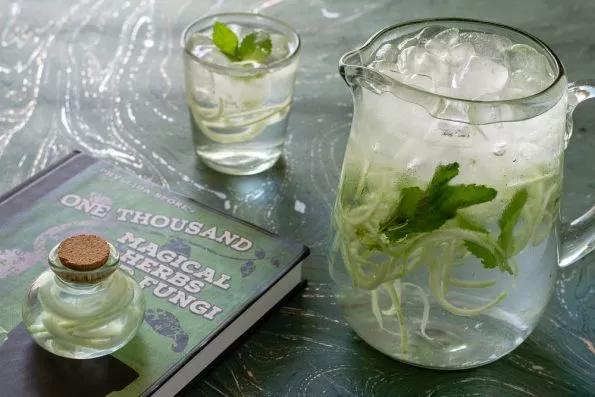 Image credit: Geeks Who Eat
Fans of Harry Potter and the Goblet of Fire will love this refreshing Gilly Water recipe. 
The creators of the recipe, Geeks Who Eat, were inspired by the Gilly Water available in The Wizarding World of Harry Potter at Universal Studios. However, they decided to add cucumber to their recipe, as it is close to the book's description of Gilly Weed - 'slimy and rubbery, like octopus tentacles'. 
"When spiralized, cucumber is a bit slimy and looks like tentacles," says their website. "Not wanting to only have cucumber-infused water, we added mint. This gives the water a cooling note."
Quidditch Player's Pie
Eat like a champ with this Quidditch Player's Pie by MugglesNet. This warm and homely shepherd's pie-style dish has been enjoyed by many Quidditch players in the Great Hall, and makes for a filling and hearty pre-game meal.
Golden Snitch Cake Pops
Image credit: With Sprinkles On Top 
For a golden snitch you'll actually be able to catch, these Golden Snitch Cake Pops from With Sprinkles On Top are simply adorable. Perfect for parties or a Harry Potter movie marathon, these are sure to be a hit.
Leaky Cauldron Pea Soup 
Another savoury dish, this Leaky Cauldron Pea Soup garnished with crispy prosciutto is lovely and warming, perfect for a chilly night. The inspiration for this divine recipe comes from the Leaky Cauldron, explains Pop Sugar: "'If you have the pea soup, make sure you eat it before it eats you.' Dre Head said that to Harry Potter on the Knight Bus in Harry Potter and the Prisoner of Azkaban as Harry approached the Leaky Cauldron. 
"Harry was probably wise to decline the murky pea soup after Cornelius Fudge offered it to him at the pub, but I'm 100% sure he'd approve of this version." 
Sorting Hat Cupcakes
Not only do these cupcakes have the infamous Sorting Hat on top of them, they also reveal your Hogwarts house when you bite into them! Whether you're a Hufflepuff or Gryffindor, these Sorting Hat Cupcakes by Good House Keeping are sure to delight both adults and children.
Exploding Bon Bons 
A treat worthy of the Weasleys' Wizard Wheezes in Diagon Alley, these Exploding Bon Bons by Delish have a secret ingredient – popping candy! Watch your family's faces as they realise there's an extra ingredient inside that's exploding with flavour.
Yule Ball Goulash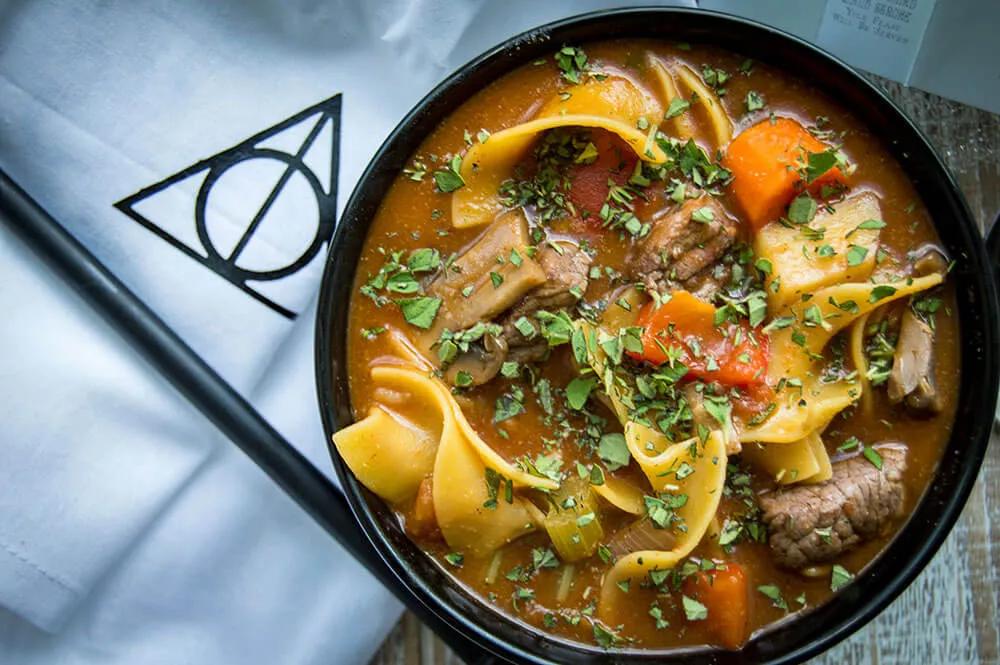 Image credit: The Starving Chef 
If you're looking for a savoury dish, you can't go wrong with this Yule Ball Goulash recipe from The Starving Chef. The inspiration for this dish comes from the Yule Ball celebration, a tradition of the Triwizard Tournament in Harry Potter and the Goblet of Fire. 
"At the Yule Ball, Harry dines on goulash," says The Starving Chef website. "A Hungarian dish that we can only assume was there to make the Durmstrang students feel at home. With all its hearty, homestyle flavours, it's hard not to feel warm and cosy after eating this dish."
Pumpkin Juice 
Just like the pumpkin juice you can get from Diagon Alley in The Wizarding World of Harry Potter; this refreshing brew is lovely and smooth with a spicy kick. For the perfect drink, this Pumpkin Juice recipe from Veggie Fun Kitchen recommends cooking it on the stove. 
"It will taste yummy served warm or hot if that is your choice," says the website. "But, for an authentic Harry Potter Pumpkin Juice experience that you can only get in the magical world of Harry Potter, serve this pumpkin juice very chilled!"
Bertie Bott's Every Flavour Bean Cookies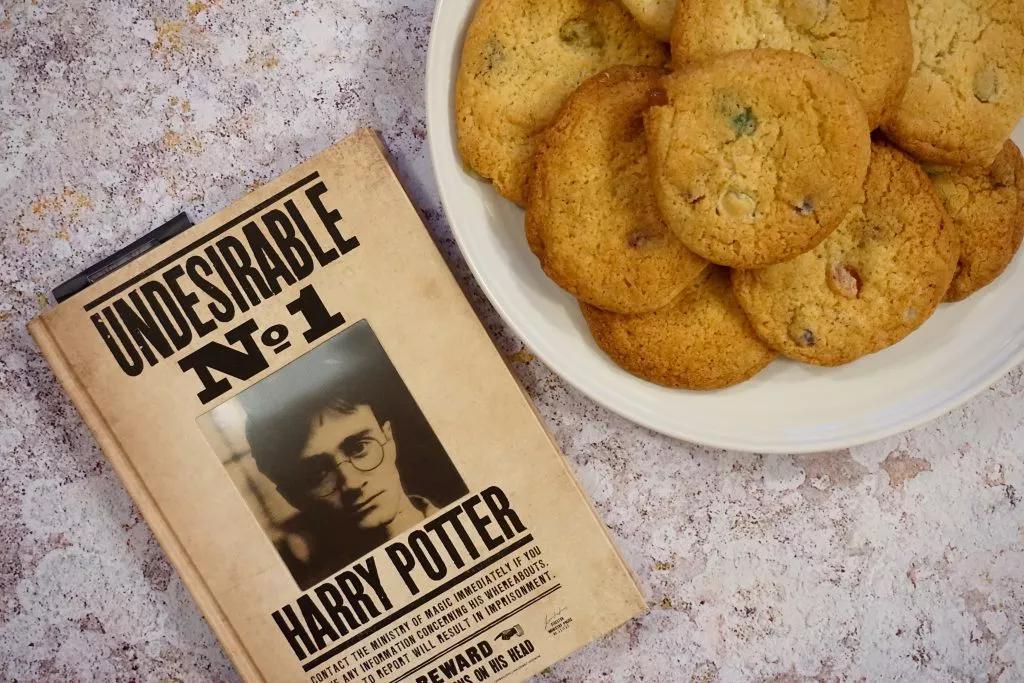 Image credit: Miss Pond 
This easy Bertie Bott's Every Flavour Bean Cookies recipe by Miss Pond is a great one for lovers of jellybeans! In the Wizarding World, Bertie Bott's Every Flavour Beans can either be delicious or disgusting, with flavours ranging from watermelon and cherry to rotten egg and vomit. 
This cookie recipe, however, just calls for regular old jellybeans, thank goodness – but you don't have to tell your guests that!
Whether you are making a batch of Butterbeer, cooking up some Sorting Hat Cupcakes or you want to enjoy some Harry Potter-inspired crafts, we've got you covered. If you're not yet able to visit any Orlando parks or Universal hotels, we hope these recipes can help you relive some of the magic of at home before you're able to visit again.